What is it?
The Anker 24W PowerDrive 2 car charger is a small device that fits into a vehicle's 12V accessory socket - also known as the cigarette lighter. The device promises fast charging for things like phones, dash cameras and Navigation systems.
Does it work?
Retailing at £6.99, this little gadget isn't the cheapest two-port car charger on the market, but it's quality makes up for that. And since it has two ports, you can keep a dash camera and iPhone plugged in at once (as you can see below) and in some cars that will leave a spare USB socket for any other tech you want charged, like a sat nav. 
The charger is nice and small, meaning it doesn't look obtrusively out of place in a car. The charger provides 4.8 amps, with 2.4 amps per port, which means devices charge quickly. Even if your phone works pretty hard in your car - streaming music, using Navigation etc, it still charges plenty on a 30 minute commute.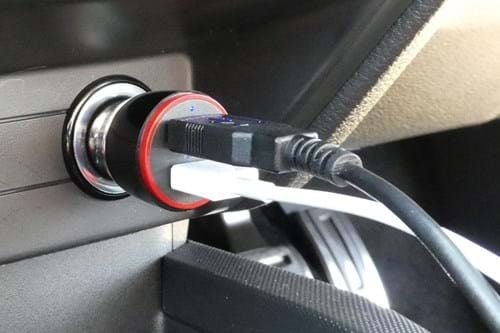 The Anker two-port charger fits snugly into any 12v accessory socket
The charger doesn't get hot unlike a lot of cheaper chargers and comes with surge protection, to stop your devices being damaged by voltage spikes. It's also well-rated on Amazon and it's not hard to see why. The Anker 24W PowerDrive 2 is reliable, feels well-made and isn't going to break the bank by any means. If you're looking for a quality two-port car charger, this might just be your best bet.
Price: £6.99
Key features: Outputs up to 2.4 amps per port. Smart circuitry to safely charge expensive tech.
Alternatives: Aukey CC-S7