What is it?
Since 2014, new cars have been fitted with mandatory tyre pressure warning systems (TPMS), but there are a number of retrofit options on the market to ensure older cars benefit from these safety systems too.
This aftermarket Tyre Pressure Monitoring System (TPMS) from British firm Fit2Go, with Michelin branding, aims to make keeping on top of tyre pressures simple and fuss-free without having to get your hands dirty with a tyre inflator. A small wireless sensor with a battery inside is fitted to the wheel, which constantly measures the tyre pressure and sends it to a solar-powered receiver that sits on the windscreen or dashboard.
If you get a slow puncture, the device will let you know before things take a turn for the worst. The TPMS setup is suitable for cars, vans and motorhomes - as well as for those towing caravans, horseboxes and light-duty trailers. A slightly different Michelin TPMS setup is available for motorbikes too. 
What's it like?
In the box, we get the four sensors to replace the valve caps, a solar-powered LCD screen receiver, four locking wheel nuts with accompanying spanner, USB charging cable in case the receiver needs charging, basic installation instructions and a 12-month warranty. The manual says to check all four tyre pressures to ensure they're all correct to begin with. You can check what the pressure should be in the vehicle's manual. We also suggest checking tyre pressure when the tyres haven't been driven on for several hours and have had time to cool down.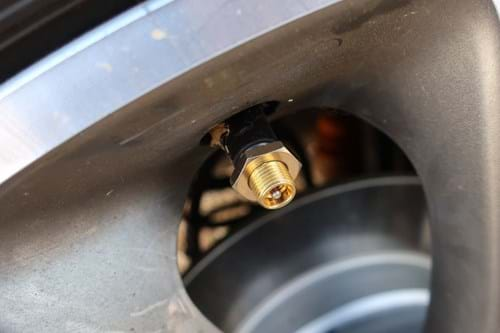 The TPMS sensors can be quickly and easily fitted in less than 10 minutes, just make sure you keep your tyre valve dust caps in a safe place. The auto-pairing and auto-calibration technology mean no programming is required either.
Once the valve caps are off, it's just a case of screwing the locking wheel nuts on (using the spanner is optional, but we did use it to tighten them). Then the sensors screw on over the locking nuts. Each sensor is labelled to fit a particular wheel so pay attention to which ones correspond to which wheel. If you buy the Trailer Pack, you get four additional sensors to monitor up to eight tyres at a time.
The solar-powered receiver displays the exact tyre pressures in psi or bar and has an adhesive backing to fit onto the vehicle's dashboard or windscreen. We chose to place it at the top of our windscreen so that we could easily see it while driving but it also wouldn't distract us. The screen is angled, so you need to be careful about where you place it - especially as reflective glare will make it impossible to see the TPMS readings.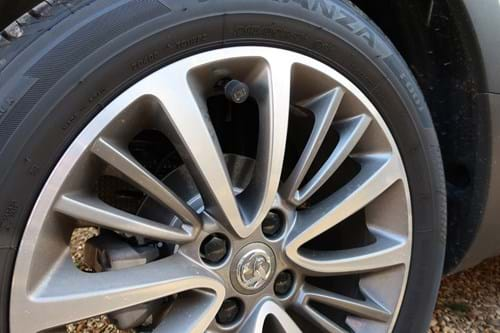 The sensors look a little bit odd because they're so much bigger than typical dust caps, but we wouldn't go as far as to say they'd attract attention. Yes, thieves could nab them very easily just by unscrewing them but they could steal dust caps just as easily. Although you won't be down £80 if that happens...
If the device detects a loss of pressure, fast leakage or an increase in temperature (exceeding 90°C) - often the sign of an impending tyre blowout - the driver is alerted and the affected tyre is shown on the screen. Low-pressure warnings are shown via a flashing light every 20 seconds if a tyre becomes under-inflated by 15 per cent. An audible alert is added when the pressure either drops by 25 per cent or should the tyre be over-inflated by 35 per cent or more.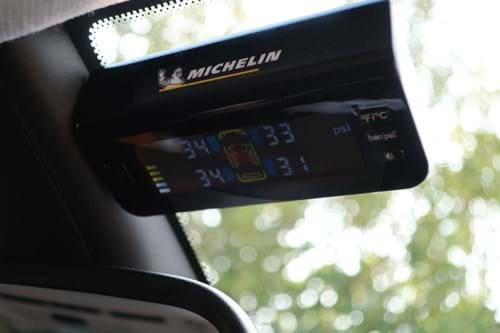 When it comes to cleaning your wheels with the sensors attached, Michelin says that the only thing to avoid is using specific wheel cleaning chemicals which may attach themselves to the sensor and cause discolouration. The sensors themselves have an IP67 waterproof rating - which means the unit can be dropped into water up to a meter deep for half an hour - and replacement sensors are available from Michelin too.
Each TPMS sensor has a built-in battery projected to last three to five years, depending on vehicle use and applications, while an accelerometer in each sensor allows it to sleep when stationary for a period, only waking up once the journey starts – to maximise battery conservation. This does, however, mean that there are no static readings - the wheels need to be rolling to check the tyre pressure readouts. On the plus side, there's a 12-month warranty on the device in case anything goes wrong. To register for the warranty after you buy the unit, click here.
Should I buy it?
An aftermarket TPMS is a useful investment for those with older vehicles that don't offer in-built tyre pressure monitoring systems - as well for those who want to keep an eye on towed trailers, horseboxes or the like. Much like a dash camera, it's much better to have the device and not need it than wish you'd had it after a tyre blows out and leaves you stranded.
This offering from Michelin is simple to fit and use with no batteries to change in the sensors or display unit and no cables to route around your vehicle. Tyre pressure readings are accurate and there's a loud beep when the wheels get rolling to let you know the TPMS is up and running. However, we worry about the security of the sensors considering it would only take a couple of minutes to make off with all four.