What is it?
Scalextric is celebrating 60 years of the Mini with the Mini Diamond Editon Commemorative Triple Pack - but it isn't cheap at about £120 (before you even buy the track). Each set is Limited Edition and comes with a card in the presentation box that tells you what number set yours is out of the 2000 made by Scalextric. For example, ours is 1476.
The original Mini was launched to much fanfare in 1959, with the first models being sold as a small, cheap, dependable family car. The trio of red, white and blue Minis are most notably remembered from The Italian Job, the 1969 classic heist film in which Michael Caine plans to steal a gold shipment from the streets of Turin by creating a traffic jam.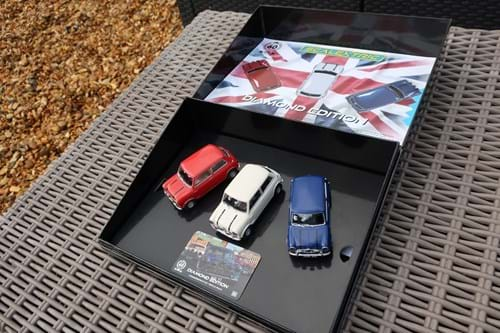 What's it like?
The Mini is a quintessentially British icon, so the Union Jack packaging comes as no surprise. All three cars are 1:32 scale and feature finely detailed interiors, magnatraction and working lights. The set is compatible with the Scalextric ARC AIR and Spark Plug. We used the ARC track, as you can see in the photos.
Like the Scalextric Legends Rusty Rides - Volkswagen Beetle and T1b Camper set that we reviewed, the Mini Diamond Edition set only includes the cars. This won't be an issue if you already have a Scalextric track, which we imagine most collectors will. If not, you can buy one separately - but with this set priced at £117 (at the time of writing), it's a big outlay just for the three cars.
However, if you're a big fan of Scalextric's high-detail models - you might not be too bothered about the premium price. After all, the models each feature details like working rear and headlights, windscreen wipers, graphics of the leather bonnet straps, door handles and the 'Mini 60' licence plates.
All three model cars also come with the magnatraction magnetic system, so you can build up a fair bit of speed without them losing traction in corners.
Should I buy it?
While Scalextric models aren't as popular as they used to be, we still think that the Mini Diamond Edition pack would make a great gift for the Scalextric fan in your life. The working lights are a great detail and even though there's no shortage of models for Scalextric buyers to choose from, both new and old, we think these stand out as something a bit special.