What is it?
Kenwood's newest kMix is a high-end, 1000W stand mixer that offers excellent performance and impressive style to match. The new kMix features nine mixing speeds and a 5-litre mixing bowl. It also includes a stainless steel beater, dough hook and balloon whisk - as well as a spatula and splash guard with a pouring chute so you can add ingredients without stopping the kMix.
The sturdy machine will no doubt handle anything you can throw at it, but does its performance  - and the shiny metallic finish - justify the premium price for this Chrome Collection kMix?
What's it like?
Heavy. At least that was our first impression. And that's no bad thing, we're pretty certain that the hefty KMX760 is durable enough to deal with whatever you need it for - just don't drop it. It's also a lovely looking stand mixer, with our Chrome model really adding an upmarket aesthetic to our kitchen. Kenwood's Chrome Collection offers this mixer in black chrome, gold and rose gold colour schemes too - although we think the gold option is a touch garish.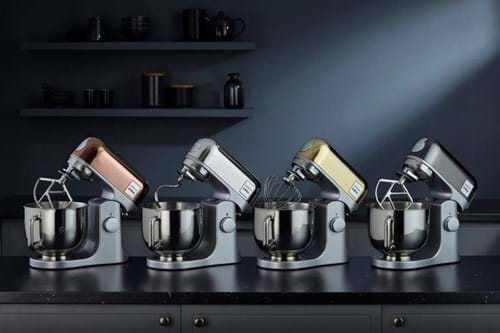 The downside to the metallic finish of the KMX760 is that it looks messy very quickly. Regardless of how tidy we tried to be, the machine appears to get dirty quickly simply because of the shininess getting smudged by flour, batter, fingerprints and whatnot. On the plus side, performance is outstanding and a few helpful touches really help to lift this mixer above rivals.
A handle on the side of the (relatively heavy) 5L stainless steel mixing bowl is much appreciated, as is the impressive Soft Start feature that prevents the mixer whisking or beating the mixture wildly if you turn it up to a high speed. Instead, the smart speed control keeps our ingredients firmly in the bowl by building up the speed gradually.
The dial features nine different speed settings with the fold function, min and max speeds on the dial bookending the six numbered speeds. Maximum is ideal for whipping egg whites and cream while the minimum is best for dry ingredients that have a tendency to make a mess.
The transparent, plastic splashguard is another useful addition, especially as it comes with a pouring chute so we don't have to stop the mixer and remove the guard to add more ingredients - which anyone who bakes can agree is a massive annoyance. When adding messy items like flour, a little door on the chute also closes so there's no splashes or puffs of dry ingredients escaping.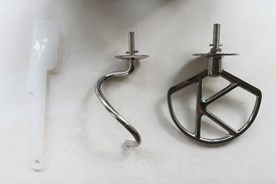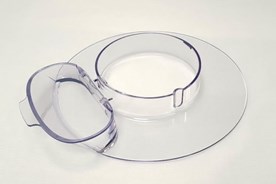 Two of the three metal utensils, the whisk was attached at the time
However, putting the splashguard on proved to be a touch tricky. While some people (my partner, for example) seem to get how it fits onto the machine instantly, it isn't immediately obvious. It needs pushing onto the mixer head forcefully and other premium stand mixers offer a splashguard that can easily be removed during mixing without even needing to stop the machine and raise the mixer head - but we don't think it's a big issue in reality.
Overall, the simplicity of the design is one of our favourite things about the kMix Chrome. There's one dial for speed settings and one lever on the upper right side for lifting the mixer head upwards at an angle, while the bowl simply attaches with arrows showing which way to turn it to lock it into place. Similarly, the attachments lock in and out of place with a simple turn.
The beater, called the K beater (with a notable K shape incorporated in the design), balloon whisk and dough hook are all stainless steel and feel durable. We found the K beater particularly useful considering we bake cakes more than anything else, although you'll need to find somewhere to store the fairly large accessories, they didn't fit in our utensils drawer.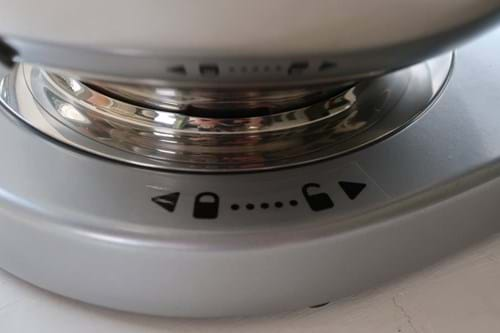 The dough hook is great for kneading bread and the manual is very helpful and easy to understand in its speed setting recommendations - along with approximate times and quantities of ingredients.
All the attachments are dishwasher safe and they, along with the large bowl, are all very easy to clean. Speaking of the large mixing bowl, the entire appliance is fairly big. While we'd assume that most people (including us) don't mind leaving the kMix on show, some people will want to store it away rather than keep it out on a worktop at all times - however, the sheer size of the KMX760 makes that fairly difficult unless you have a lot of spare space in a cupboard.
The Chrome KMX760 is pretty quiet as stand mixers go, with no discernable ratting even at high speeds with a lot of mixture in the bowl. The automatic shut off when the mixer head is lifted and non-slip feet are also nice touches in terms of safety precautions.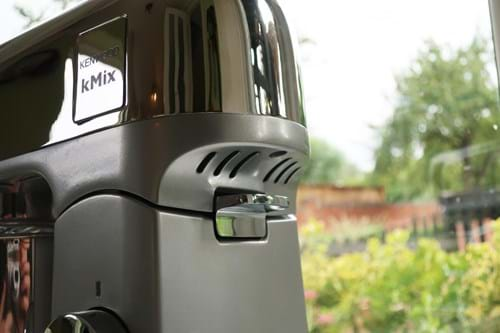 Should I buy one?
If we were to base our recommendation on the RRP (recommended retail price) of £420 - we'd say that it's an excellent mixer but the price is a little steep. However, we've seen price tags of £300 on John Lewis and Curry's  - which we've included links to - and, with that in mind, there's not really many negatives to bring up when it comes to the Kenwood kMix Chrome Collection KMX760.
For those that bake a lot or even those who fancy getting more into baking, the KMX760 looks great and offers fantastic performance across a range of baking techniques from bread and meringues to cakes and croissants. We've enjoyed using it a lot despite the domineering space it takes up on our worktop. However, if you tend to take your mixer with you to places, maybe invest in something a little lighter.