What is it?
If you want to host movie nights outside or you simply want a more dynamic approach to bringing your TV with you on the go - then the Anker Nebula Capsule II is a great option, giving you the ability to project a screen up to 100-inches in size (diagonally across) wherever you take it. Packing Android TV, 720p HD, an in-built speaker and long battery life into a can-sized device - we'd argue that Anker's newest smart projector is one of the best around if portability is your main concern.
The first thing you're likely to notice about the speaker is the huge £500 price tag. However, we think you'd be hard-pressed to find a smart projector that offers this many features in a smaller footprint for less money. The Anker brand name is also one we're well acquainted with, having tested all manner of products - from smart vacuums and headphones to Alexa-enabled car devices - so we're sure quality and customer service won't be an issue either.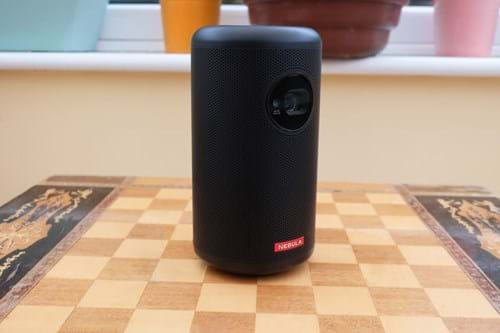 What's it like?
Weighing just 680g and sitting at about 15cm (5.9 inches) tall, the Capsule II looks a lot like a generic Bluetooth speaker - save for the lens on the front. Like most of Anker's products, the quality is fantastic and this comes across very quickly within the first few minutes of using the device.
On the front of the projector, you'll find the 720p lens and a small camera that focuses the projection output - meaning it automatically adjusts the autofocus. We needed to manually adjust the focus every now and then (by holding the HDMI button down for a few seconds) but, generally, it does a very good job of doing this itself. On top of the speaker, there are a few useful buttons (directional controls, back button, volume) too.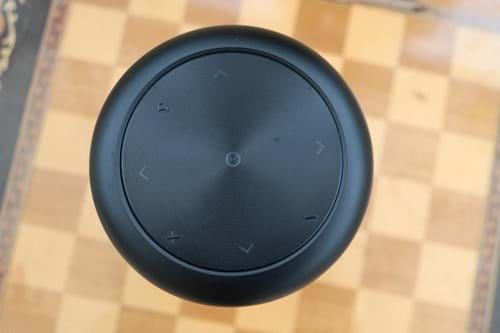 There's also keystone correction, which is a function that allows you to manipulate the projected image so that it appears as close to a rectangle as possible. This is a really useful feature if you want to project into a surface that isn't completely flat, like a wall with an angled section of ceiling. The feature works well and adjusts automatically (and quickly) if the projector is moved.
There's also the option to screw a tripod into the bottom of the projector, which we think is very smart and also the quickest and most fuss-free way to set it up. However, we didn't have a tripod on hand when we first started using the Capsule II. Instead, we fashioned a makeshift stand out of precariously stacked boxes. This is not exactly something we recommend doing when it comes to using a £500 piece of equipment, but it worked out well and proves that the device is small and dynamic enough to easily be used anywhere.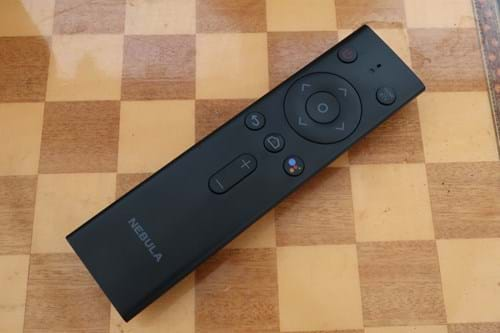 The 200 ANSI lumens projector isn't quite as bright as bigger, more expensive projectors so the Capsule II needs to be somewhere dark in order to work best, especially if it's sat far from the projecting surface. The ports on the back include a USB-C for charging and power (no data transfer), USB-A for external storage like memory sticks or an Amazon Firestick, full-size HDMI input for game consoles and the like, and an aux audio output. 
The interface will be familiar to you if you use the Android TV 9.0 operating system, with Anker advertising that there are over 3600 potential apps to download from the Google Play store. Connecting to WiFi using the settings menu is straightforward and navigating works well using the remote control, which will also be familiar if you use Android TV.
On the remote there's an input switch button (from Android TV to HDMI), an Android TV home button, a back button and a Google Assistant button. In reality, you'll probably just switch between your favourite three or four apps as we do.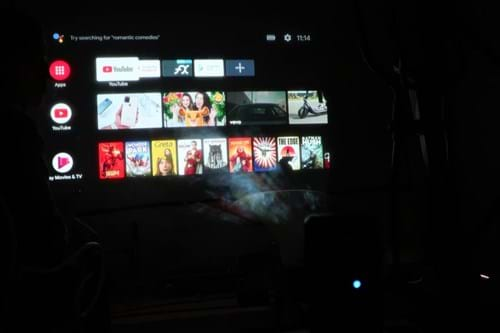 Unfortunately, here's where it gets a bit disappointing. Certain apps - like Netflix - need to be sideloaded. Anker hasn't yet been able to get the device certified by the streaming company, meaning you can't simply download it onto the Nebula Capsule II. You can sideload a version of the app onto the device using the USB port (which isn't extremely difficult), but we have a feeling that less tech-savvy buyers will struggle more with this than is really necessary when it comes one of the most popular streaming apps. Hopefully, this will be fixed by an update in the future.
If you were hoping to use Chromecast, that only works for some apps if you have the video saved locally on your phone. Airplay from Apple devices doesn't work either. When it comes to Amazon Prime, we have to use a Firestick - which isn't a big issue but it's one more thing to have to remember to chuck into a backpack if we're taking the Capsule II out and about with us.
The Amlogic S905X processor sometimes struggles with anything more advanced than a 2D arcade classic, but we managed to play Goat Simulator and Crossy Road just fine. The full-size HDMI port also means taking your gaming console on the go is a reality, albeit in 720p. The graphics are smooth as long as you've got a decent connection - which makes the thought of taking a Nintendo Switch or SNES Classic Mini to a gaming night, or on a trip, very appealing. However, storage is only 8GB, with 4GB available to users.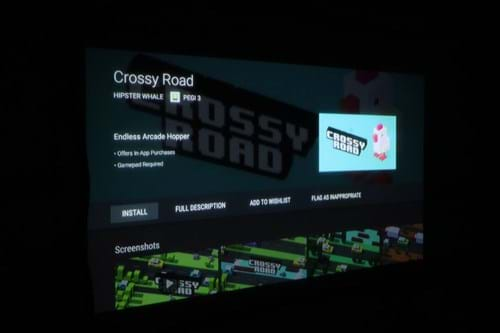 The video playback performance is excellent. Colours are vibrant and the quality is crisp even though it will only output 720p. Sound quality is another positive feature of the device with the addition of the loud 8w speaker, not quite reaching soundbar level excellence but doing far better than we expected for its size. The speaker can also be used just like a Bluetooth speaker if you don't fancy lugging both the portable projector and a speaker with you on the go. Using the Capsule II as a speaker will also conserve battery life when the lens isn't being used.
In our experience, the claimed battery life really is realistic with it reaching just short of three hours. If you plan to take the device out with you, it's worth bringing the charger or backup battery (it charges via USB-C) just in case. There's a free smartphone app called Nebula Connect as well to make controlling the projector even easier. Especially if you misplace the remote, which we've already done once.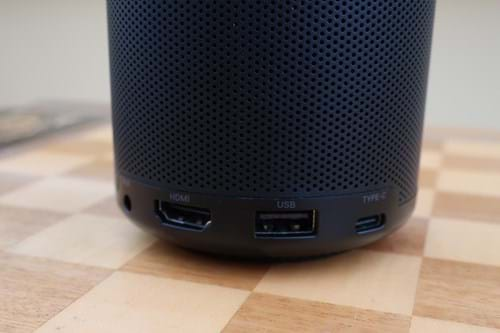 Should I buy it?
A portable projector that's nearly as easy to use as your smart TV, what's not to like? Well, a few things. Namely, the price because most people will really just want to know if it's worth shelling out £600.
We personally like it a lot. It acts as a TV in our bedroom, which is ideal because we didn't want to waste the space with an actual telly. It's also perfect for outdoor movie or gaming nights with friends when the weather is good and indoor screenings in our garage when the weather isn't so nice. The speaker is very decent, too, with a great picture quality despite being just 720p.
However, for the money, we wouldn't expect to be sideloading Netflix or figuring out how to watch Amazon Prime because we can't get the app on the Google Play store. Some people won't mind this issue, it's actually reasonably easy to find out how to sideload the apps - but in our opinion, if you have to make excuses before recommending a product then it's already lost part of the battle.
If you like the sound of Anker's portable projector, but want to pay a bit less, there's the option of getting the first incarnation of the Nebula Capsule for around £300. It runs Android TV, but doesn't feature a USB-C charging port or Google Assistant. It's also less bright, with a 100 ANSI lumen bulb (rather than 200), and a lower resolution.