What are they?
The Soundcore Life 2 are a pair of over-ear Bluetooth headphones that offer Active Noise Cancellation, 30 hours of wireless playtime and 60 hours of listening when wired. If you aren't familiar with the Soundcore name, we aren't too surprised. Soundcore launched in 2014 as Anker's audio brand, with Anker being best known for it's charging technology.
At about £80, the Life 2 headphones are very good value. We might even go as far as to say they're one of the best budget, over-ear headphones at this price. So, let's take you through it...
What are they like?
In the box, the Life 2 come packaged within a hard carry case, micro USB charger, 3.5mm aux cable and a user manual (which is massive, but the English section is only a few pages). The carry case and both aux wires are pretty basic but do the job regardless. The case also makes the headphones easy to travel with if you want to put them in bag/suitcase or the like. Set-up and pairing to Bluetooth is very easy.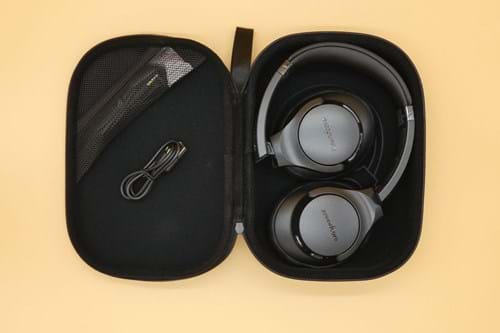 The design of the headphones won't win any awards; they definitely don't put the 'fun' in 'functional' - but they are packed with useful features. Firstly, the headphones fold down in on themselves to be as compact as possible and the earcups swivel to sit flat when hung around your neck so they aren't irritating to walk around with.
The Life 2 also feature Active Noise Cancelling (ANC), which means they're perfect for commuting and everyday use in the office - which is what we use them for. We can't hear the fairly loud purifying fan (review coming soon...) or the sound of keyboards tapping away. Similarly, the headphones will actively block out ambient noise - like the hum of a train, traffic on the road outside and almost all chatter.
The ANC button is located on the underside of the left earcup, along with the power button. Anker says you'll get over 30 hours of listening with the Life 2 when using Bluetooth and ANC. Plugged in rather than wireless, the headphones playtime extends to 60 hours. Plugged in and not using ANC, the Life 2 have unlimited battery life.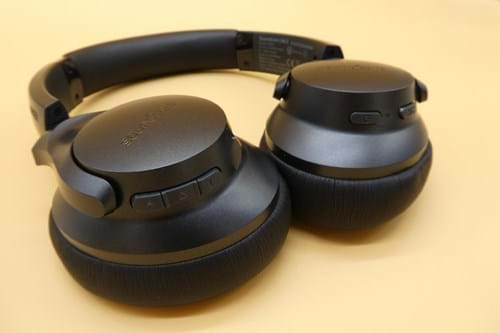 In fact, while we do hear a bit of noise, the Life 2 are exceptional when it comes out to silencing noise around us - even without ANC on. That's likely to do with the fact that they're also close-cupped, over-ear headphones. That simply means that there's not really much space for noise to get to our ears. We can barely even hear conversations going on right next to us with the volume up as loud as we like it. And, surprisingly, the Life 2 are also very comfortable to wear.
Most over-ear headphones have a tendency to be irritating over long durations of wearing them, but that's not the case with this pair. We aren't too big to admit that, from the looks of the headphones, we expected them to be a bit heavy and cumbersome. And, yes, they are quite large - but they're also very lightweight. The padded headband doesn't ever press into our head and the ear cups are constructed of very soft memory foam with a pleather exterior.
Compared to another budget set of headphones, the Mixcder E8, which are only £20 less - the Life 2 stand out as very comfortable and pleasant to use for a few hours at a time. They're adjustable too, so there's really not much to complain about. Although it's worth mentioning that they gave us a headache the first time we wore them, so make sure the earcups aren't pushing against your ears - we think that's what the issue was considering we've had no issues since then.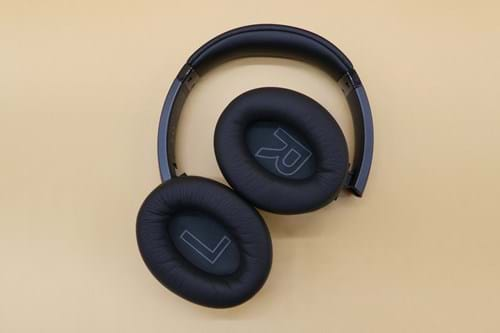 In terms of sound quality, the Life 2 are very decent. The BassUp technology, as Anker calls it, is a dual equalizer which 'deepens and intensifies bass'. It's activated via a multifunction button on the underside of the right earcup, between the plus and minus buttons which control volume, song skipping, answering calls etc. But does it work? Yes, but it isn't exceptionally noticeable. We can tell the difference when we double click the multifunctional button, but it mostly just seems like the vocals/higher range sounds become less prominent.
The Life 2's 40mm drivers are intended to offer a rounded, rich listening experience - and that they do. They aren't incredibly bass heavy, which we don't mind - but they won't suit those who want to listen to a lot of house, hip hop or R&B. They don't do a bad job of replicating low frequencies, but it's definitely not the thumping bass experience you'd get with higher end headphones. Nor would we expect it to be at this price point.
In short, we like what we hear. Like most budget headphones, the sound is smooth and the 14m Bluetooth connection has never dropped in our experience. They're much better at blocking out noise and offer better sound quality and comfort, than the £150 Sony WH-CH700N that our colleague has.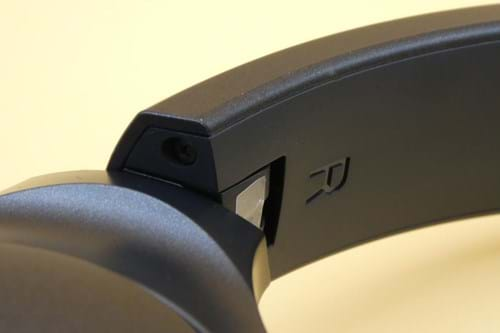 Should I buy them?
We'd argue that the Anker Soundcore Life 2 are one of the best pairs of over-ear, wireless headphones you can buy for under £100. A lot of the time, especially with audio kit, you're paying for the brand. And that's why the Soundcore are such good value. We recently tested the very good Marshall Major III headphones and, while they offer excellent sound quality, you'll pay considerably more for them despite the fact that they don't offer ANC or any sound customisation - they're on-ear too, so more uncomfortable.
With the Life 2, you get what you pay for - if not more. They're comfortable and lightweight, in addition to offering ANC, a long battery life and a rich sound quality. They can't compete with brands like Bose, but with a price difference of over £150, we think these are a much better value option - especially if you're new to the world of noise-cancelling headphones. They're also often discounted on sites like Amazon. Bonus.