What is it?
Most people know what Alexa is but if you don't, it's Amazon's virtual assistant, which you can connect to various smart devices in your home. The Anker Roav Viva offers you access to Alexa while you're in your car.
Want to know directions to the nearest Tesco or petrol station, want to play some music, want to know how old Macaulay Culkin is now? Well, just ask the Roav VIVA and it'll tell you. And he's 38 years old, if you're wondering.
The VIVA can ring contacts in your phone, tell you current road and weather conditions, charge your devices via two USB ports and a whole lot more. If you get a bit bored on your commute, you can also delve a little deeper and ask things like "Alexa, do you believe in true love?" or "Alexa, what's the meaning of life?".
What's it like?
Anker's Roav Viva is a solid bit of kit, which is just as we'd expect from Anker, the electronics company that brought us the Eufy RoboVac 11S and the Anker Soundcore Flare speaker. It's packaged nicely and comes with a few nice little details like orange USB ports, it really does feel like a quality device. The two fast-charging USB ports can also fully charge two iPhone 7 Plus in just under two and a half hours.
To get started, you need to install the Roav VIVA app, which is free and available on Android or iOS (iPhone). Once you connect your mobile to the VIVA via Bluetooth for the first time, it will then automatically connect to your phone whenever you start your car with the VIVA plugged into the 12v cigarette lighter. The app is easy to use, but it does involve creating an account (ugh) and then linking to your Amazon account.
One annoying point to mention is that once we got the device set-up, we were advised to do a firmware update. It was easy to do but extremely slow, especially because I had to sit in the car waiting for it to finish because I didn't want to leave my car running outside while I was away from it.
The Roav VIVA doesn't have a built-in speaker, which isn't really surprising, but it means that it relies on your phone for audio. If you have your phone connected to your car's audio system via Bluetooth or an aux cable then it'll play through the car's speakers. If you don't, you'll be stuck listening to audio from your phone's tiny speaker like those kids on the back of the bus.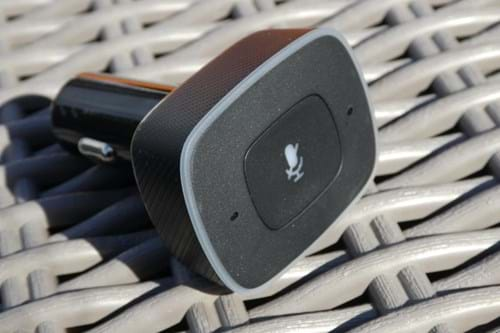 When you say "Alexa", you'll hear a tone and the light around the top of the unit will change from blue to cyan (a lighter blue-ish green) to let you know it's listening. Once you ask it your question, it sends your request to your phone to process an answer. This works well for us most of the time, but if you live somewhere rural, you might start to lose your data connection and then it won't work.
The Roav VIVA sometimes doesn't hear us very well, and we've had a few friends in the car mention that it's slower to respond than an Amazon Echo or Echo Dot would reply. I also have to say "Alexa" louder than I would if I were just speaking at a conversational volume.
Anker has attempted to counteract the background noise (road and wind noise) it expects the VIVA to compete with by including two microphones and a noise cancelling chip in the device, which provide a 30 per cent reduction in background noise. But it still often misses me saying "Alexa" a couple of times on my 45-minute commute. The button on the top of the VIVA activates Alexa and doubles as a mute button too.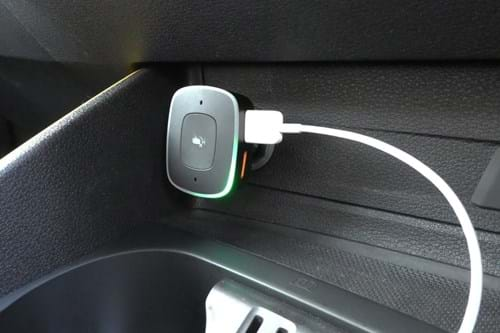 One major omission with the VIVA, which we found pretty irritating, is the lack of Spotify integration. I couldn't play any of my own playlists because of this, although it's currently being beta tested so might be added soon. Amazon Music is available and could play some of the music I requested, but wouldn't give me access to some newer albums I'd hoped to listen to because I don't pay for an Amazon Music Unlimited subscription. 
If you ask for directions, Alexa will read turn-by-turn directions aloud, with you being given the option to choose between Apple Maps, Google Maps and Waze. We personally don't like turn-by-turn directions compared to seeing a route on a map, but it's really down to what you prefer.
If you're listening to music or an audiobook in Audible, the sound will also cut out in order to process the direction request. You can't just listen to music in the background while the map shows on the infotainment screen like you can with Apple CarPlay.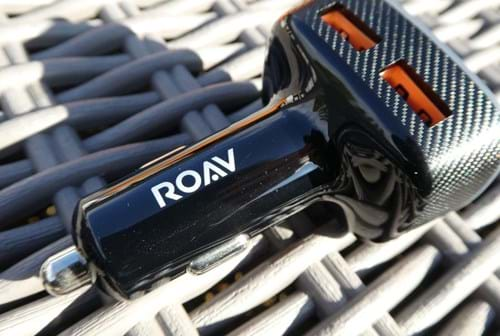 Should I buy it?
If you have CarPlay or Android Auto in your car, then there isn't much that should sway you to buy the Anker Roav VIVA. It also can't offer more than your current virtual assistant, like Siri, can already do. However, if you have an older car that you can use Bluetooth or an aux input in, the VIVA can offer a very useful functionality to your journeys.
For example, if your car lacks steering wheel controls like the ability to change songs or turn up the volume, being able to tell Alexa to do this for you if a helpful feature.
Likewise, if you have other smart devices at home then this is ideal — you can turn the lights or the heating on during your drive home as long as you have smart bulbs the other relevant devices. Although Amazon did recently announce its own Echo Auto...