What is it?
Ring, which was acquired by Amazon last year, is a smart security device company that's most well-known for its video doorbells. The Ring Video Doorbell 2 can be hardwired where your current doorbell (assuming you have one) currently sits or with a supplied rechargeable battery pack - which is what we're using.
The camera automatically records visitors as they approach your house and you can speak with anyone who comes to your front door via a call function. This is very useful for dealing with couriers, i.e. if you want them to leave a parcel somewhere secure rather than taking it back to the Post Office - as well as for safety if you want to keep an eye on the front of your house but don't want to invest in a full home security system.
What's it like?
The Video Doorbell 2 comes smartly packaged in a box which includes the quick-release battery pack, Satin Nickel and Venetian faceplates, adapter plate, wedge and corner install kits, two-headed screwdriver and screws (plus wall plugs and mini spirit level), USB charging cable, user manual and security sticker (to let folks know you have a Ring security system).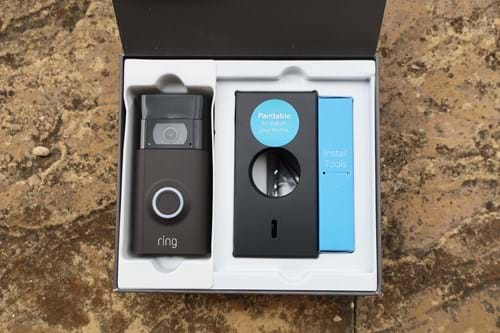 Essentially, Ring provides everything you need to install the doorbell so even if you aren't accustomed to doing any sort of basic DIY, you should be okay. The user manual is very helpful and Ring also has useful installation videos online. We didn't quite feel confident about wiring up the Ring doorbell, so we opted for the rechargeable battery route. It's a simple case of charging the battery pack with the supplied cable, then slotting it into the doorbell.
The battery allegedly lasts six months, but we don't quite believe that. We ended up needing to charge ours after six weeks but this is dependent on levels of sensitivity, how much it's used etc. We'd also advise buying a second battery so you can just replace one with the other when the battery runs low.
In terms of design, the Ring Video Doorbell 2 is quite chunky. It's much larger than a traditional doorbell and rivals like the Nest Hello. That is, of course, due to the battery that sits within the Ring option, but it's worth considering if you don't have that much space for the doorbell. If you don't want to hardwire the doorbell, the Nest isn't an option though so it'll just depend on your needs.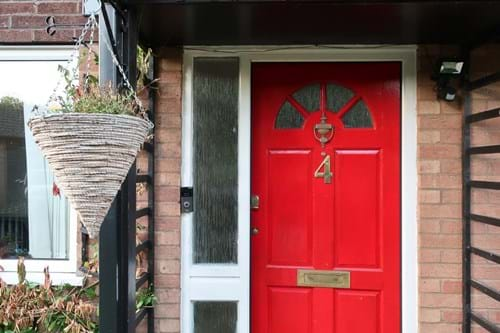 When it comes to recharging the Ring battery, it's a simple case of removing the battery to bring it inside to charge rather than unscrewing the entire unit. However, you will need a screwdriver handy to remove the security screw holding it. Fortunately, there's a screwdriver included in the box.
The Ring 2 comes with Wedge and Corner install kits, which mean the doorbell doesn't have to look straight ahead. Instead, it can suit those with that have steps leading up to the front door, for example, or for those who want to angle the doorbell camera away from a busy road that might trigger unnecessary motion alerts. The box also includes two faceplates (Satin Nickel and Venetian), which can be painted to match your house.
The Ring Video Doorbell 2 features 1080p streaming, which is an upgrade from 720p on the original doorbell. There's a 160-degree wide-angle lens and the video is crystal clear (yet, not quite as sharp as the video quality of the Nest). Night Vision is also fantastic, with no issues surrounding the image quality. The only problems we really had were to do with the audio, which isn't really important in our opinion anyway - but the sound can sound a bit distorted and skip at times when rewatching captured footage.
When motion is detected or the doorbell is rung, you'll get a notification on your phone (so long as you have the app notifications set up). You can see whoever is there via Live View and even speak to them in case your wary of answering the door. For us, it's useful to get the notifications because we can - for example - tell the delivery person to leave our parcel in a safe place even though we aren't home to answer the door. It's saved us multiple trips to the post office to collect our missed parcels.
The app is simple to get to grips with, allowing us to check the battery status, change the chime sound, add another user so anyone you live with can also use the smart doorbell. Ring boasts a comprehensive selection of video sharing options too, including email, posting directly to social networks and downloading the video onto your phone or computer. The system can also be integrated with Amazon Alexa and Google Assistant.
However, the app experience isn't perfect. The footage sometimes freezes, which doesn't happen very often but it could potentially mean missing out on seeing someone's face who is acting suspiciously outside your house.
The Ring doorbell offers motion detection up to 30ft. We customised the motion zones and sensitivity via the Ring app so that the residential road alongside our house didn't keep setting the doorbell off, although on windy days our hanging basket can set off the motion trigger. We've included sample video clips from daytime (a courier dropping off a parcel) and nighttime (our grocery shop arriving) above. YouTube compresses footage, so be aware that the quality is considerably lower than it looks on our phone via the Ring app. Also, you can hear our enthusiastic (i.e. yappy) dog barking in both clips.
Unless you've hooked up the doorbell to an internal chime, which will set you back £29, you'll just hear the relatively quiet and course speaker. We opted for the chime and, honestly, we're quite surprised we didn't get one included in the box. 
After 30 days, you'll be notified that you'll need to pay the monthly £2.50 subscription fee for the device to store video clips. We opted to do this just because if we miss the notification then we have no idea who was at our door. For those less anxious than us, Live View should be fine. £2.50 isn't a lot to pay for peace of mind though.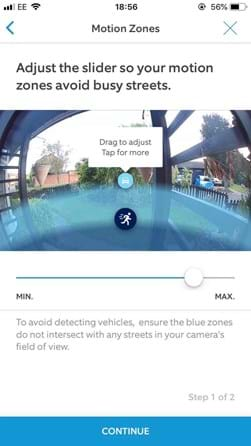 If, like us, you're thinking, "This looks pretty easy for someone to steal" - then you'll be glad to know that Ring offer a free doorbell replacement service in the event that your smart doorbell is stolen. You have to report the doorbell stolen to the police, but once you get your hands on a copy of the police report, you can then report the theft to Ring by using the email address theft@ring.com. After that, Ring should send you another like for like device. The Ring Video Doorbell 2 is also protected by a one-year parts warranty.
Should I buy one?
If you want a battery-powered device, then the Ring Video Doorbell 2 is worth considering. It's quite large and lacks the style and sophistication of more premium devices, but we like it. A combination of easy installation, friendly app, clear footage (including night vision) and a solid reputation make this smart doorbell an easy recommendation.