What is it?
There are plenty of retro-style bikes out there, but few have the heritage to back up the looks like Honda's Monkey. This is a 125cc commuter and city bike at its simplest, but the Monkey does so much more, notably plastering a smile over your chops every time you see it. When it comes to riding, it's the same smiles per mile ratio and other road users also seem to just get it. You don't need to explain the Monkey, it has an appeal that crosses over from two-wheelers to anyone who catches sight of it.
It's not the cheapest 125cc bike you can buy, nor is it the most practical compared to some scooters with masses of storage. However, there are keen lease deals on offer and 189mpg combined fuel economy, plus a 200-mile-plus tank range - meaning the Monkey is a very tempting machine for swinging through the urban jungle.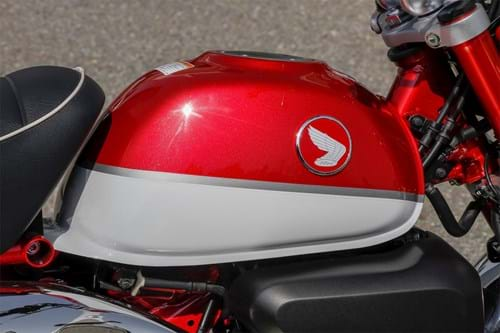 What's it like?
The Monkey may be all about fun and games, but let's not lose sight of the fact that it's a Honda. So, that means you know it will start first time, every time. It will also be relentlessly reliable, easy to live with, cheap to service and carry on working when most other 125cc machines will have expired in a puff of smoke. In other words, you get what you pay for with the Monkey and that is a very high-quality bit of kit made from strong components. Mind you, it will need a bit more TLC to keep its lustre as all of the chrome and shiny bits will look a bit dull if you don't.
Even then, that wouldn't take away from the gleaming smile you feel tweaking up the edges of your mouth every time you head out to ride the Monkey. It's one of those rare bikes that just makes you want to get on it and go. Doesn't matter if you don't need to be anywhere or the weather is a bit snarky, this Honda is a bike to ride for the hell of it. It makes you feel 17 all over again, which is pretty much the whole ethos of this bike.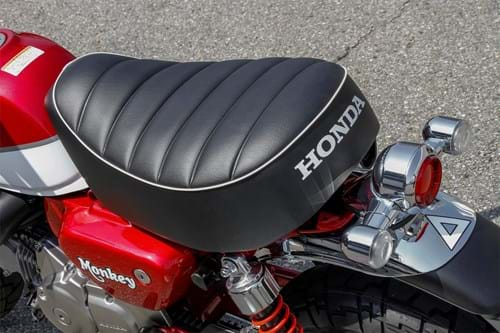 Swing a leg over the low-slung single-piece saddle and you find that even the shortest rider will be able to get both feet on the ground. That's helped by the squishy saddle your posterior sinks into, which is also very comfortable for longer stints. There are no surprises as far as where the controls are placed or how they feel and work: this is a Honda after all. It all adds up to a bike you just hop onto and start enjoying.
Firing up the air-cooled 125cc engine is easy thanks to an electric start. When you turn the ignition key, the digital dash display gives an eye-like blink to add to the Monkey's cheeky persona. The engine settles to a happy thrum and the four-speed gearbox engages first smoothly. Pulling away is just as hassle-free and the Monkey's transmission snicks from one gear to the next without any need for thought from the rider. Changing down does require a bit more consideration at first as the engine's flywheel feels quite heavy, so you need a decent turn on the throttle to rev match the engine to road speed.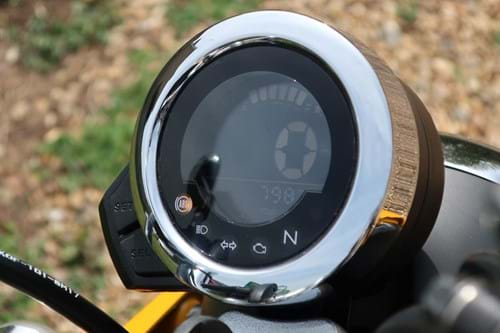 The upside of the heft of the flywheel reaction is the Monkey also feels like it has plenty of torque to pull through the gears. It can potter around town in fourth without fluffing, which also means that claimed average of 189mpg seems perfectly feasible and we saw more than 200 miles between fills from the 5.6-litre tank with some fuel still in reserve.
Complementing the engine's easy-going nature is the ride and handling of the Monkey. It may be retro in style, but there's nothing old-fashioned in the way it deals with urban potholes. The 12-inch wheels are shod with big balloon tyres that give another level of cushioning to the soft suspension, so you just squidge over ruts and ripples.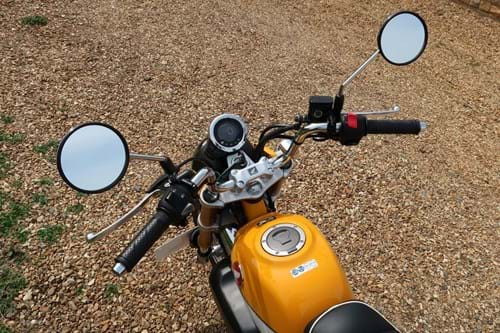 Come to a corner and that pillowy suspension could be forgiven for turning to wallow. Yet the Honda avoids this and feels very stable and faithful through city streets. As a result, and helped by its narrow width, the Monkey is king of the swingers when it comes to filtering through thick queues of traffic. As a commuter machine, it's hard to beat or fault, unless you regularly have to carry a pillion or need somewhere secure to store your helmet on the bike. Of course, you can add a top box for this, though it might cramp the bike's style a tad.
The rest of the ride is just as in balance with the handling, so the ABS-assisted brakes are strong and progressive, the clutch light and well-modulated in its action, and the single dial is clear to read in bright sunlight and at night. LED lights offer good illumination in the dark to see and be seen, so using the Monkey in all conditions is not a compromise. Our only caveat would be the lack of weather and wind protection at higher speeds and the top speed of this Honda is 60mph, though 50mph feels kinder to the engine and your senses.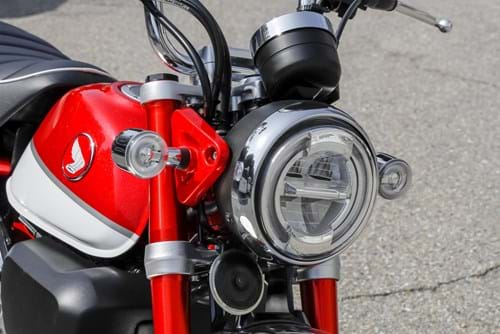 Should I buy one?
There are two types of people in this world: those who want a Monkey and those that don't get it. If you get it, you'll want one and the price is pretty much irrelevant. It's isn't cheap compared to many other 125cc commuters, but the Monkey is so much more appealing than most of its rivals. The looks, the style, the smiles all add up to a bike that reminds us of why we first wanted to start riding motorcycles. It's not perfect, but some will count that as character. Our view is the flaws are more than outweighed by a bike that makes you smile every day – that's priceless.