What is it?
Priced at £1800, or a measly £36 per month on finance, the Tempest is significantly cheaper than rivalling 125cc bikes - meaning they sell like hotcakes to learners looking for a cheap and cheerful first ride. The Chinese-built Cafe Racer offers 9.5PS, which is plenty of oomph to get around town. We've also written a bit about the stigma and reputation of Chinese motorbikes if you're interested.
As expected, the lack of a premium price tag also means a lack of premium materials. There isn't much kit on the bike and we can feel where money has been saved on the build - but, generally, the folks this little bike is aimed at aren't going to want for the things it's missing.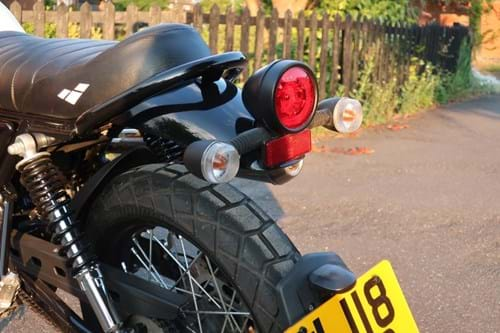 What's it like?
As far as styling goes, Lexmoto has done a good job of making the Tempest popular with the young learners who'll be buying it. Cafe Racers are all the rage right now and, as such, the Tempest is styled more than a little bit like classic bikes - such as the Triumph Bonneville T100. The knobbly tyres, wide handlebars, high-sided exhaust, round headlight and short mudguards - plus the bold red, white and blue colour-schemed tank - will definitely appeal to a certain breed of learners who want those classic looks.
You can also opt for the alternative black painted fuel tank, with silver and yellow stripe - plus a brown seat. It's powered by a single-cylinder motor, which it shares with the Lexmoto ZSX-F, ZSX-R and Michigan. The 9.5PS is more than enough power to get around town and, when you aren't in the urban jungle, this little street bike will work its way up to 60mph without too much trouble. But trying to go up into the mid-60s is less satisfying; we can feel the bike struggling a bit, especially when accelerating hard. Compared to something like the Suzuki GSX-R125, it feels a little slow.
The five-speed gearbox is decent, although can sometimes slip into false neutrals. Brakes are firm but, at this price, it's no surprise we don't get adjustable front forks. The twin rear shocks come with five-step pre-load adjustment only. There's no centre stand on the Tempest, instead, there's only a side stand - which can be down when you start the bike but it has to be tucked up in order to move through the gears.
On the plus side, handling is smooth and responsive, giving learners more than enough confidence in corners and when filtering. The 780mm seat height and plush seat make it plenty comfortable for us (5'7"), and taller riders shouldn't feel too cramped because of the rider position either. At 126kg, Lexmoto's chic cafe-racer is the same weight as the Honda CB125R - although, it doesn't feel quite as balanced on the move. Then again, there's £2189 between them...
To comply with Euro 4 emissions regulations, the Tempest 125 is fitted with fuel injection. When combined with the engine, it provides 7.2Kw @ 8500 revs. It does around 90mpg and features a 13-litre tank. Thanks to the ground clearance and bash plate, it can also handle a gravel track - but we wouldn't try to take it too off-road.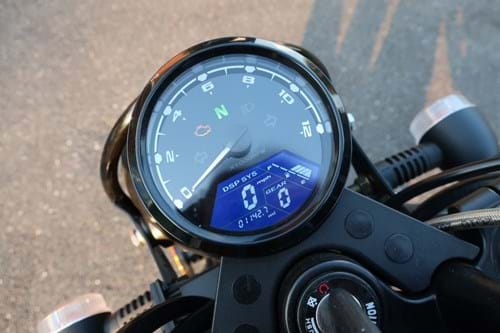 The Tempest 125 is significantly cheaper than rivals like the Sinnis Scrambler (£2379) and Herald Classic 125 (£2229) - but the finance is a little bit more convoluted than it would first appear. We won't get bogged down in too much detail in the review, but you can check out our update here if you're interested in buying on finance. Essentially, you can pay £36 per month over 60 months with a £100 deposit - however, you'll end up paying £462 extra this way (taking the total to £2262).
Many learners don't want to be tied into long contracts because they want to step up to a bigger bike before the CBT expires after two years. So, taking that into account, with a £400 deposit and spread over 24 months, you can pay £69 per month and only pay £149 over asking price. That's not so bad.
However, these deals are calculated with the lowest possible APR that Lexmoto offers (9.9%) and, to receive that, you must have an excellent credit score - which young riders won't have. A fair credit score will get you 19.9% APR.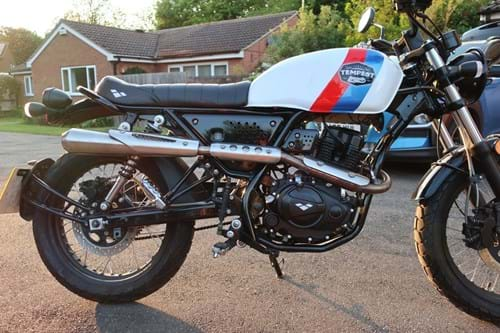 The Lexmoto is pretty scarce when it comes to equipment, too. You get the basics, including an analogue rev counter that features a small digital section with speedometer, fuel gauge, mileometer. It's easy enough to read on the go and there's a USB point by the headlight for recharging devices as well.
Build quality also doesn't match higher priced bikes. For example, the high exhaust pipe gets very hot while riding and has actually burned us through our trousers while leaning against it - for example, when waiting at a red light. It's not exactly fair to compare the Tempest to something like the Honda CB125F considering the CB starts at £2829, however, that £1000-odd extra will get you high-quality parts and better reliability. The Honda will also offer a strong dealer network and - like Lexmoto - a two-year warranty as standard.
Should I buy one?
Despite some gripes, the Tempest is a bike that we're always excited to get back on. It's not as powerful as some rivals - the Suzuki GSX-R125 and Kawasaki Z-125 offer 15PS, for example - but it still feels very pokey with a nice blat from the exhaust. Build quality isn't terrible, but we've already had some paint chipping around the fuel tank cap in the few weeks we've ran it (picture below) - so make of that what you will.
Bottom line: If you're wanting an entry-level motorbike that won't break the bank, the Lexmoto Tempest 125 is a great option. It's a bit basic, but it's styled wonderfully (in our opinion) and has no issues getting you around town or along back roads. However, there are lots of big brand name 125s about that you can get for £2k or less if you keep an eye out and don't mind buying secondhand.