What is it?
The GSX-R125 is Suzuki's newest 125cc race replica. There's the obvious GSX-R familiarity, which will make it automatically appealing to fans - especially considering it gets the same lovely MotoGP-inspired paint job as the GSX-R1000.
Like it's more docile twin - the GSX-S125 - the 15PS R125 also claims to have the best power-to-weight ratio and acceleration of any 125cc bike. Essentially, it's the perfect bike for the entry-level rider that doesn't want to look like a newbie.
What's it like?
Straight off the bat, the R125 makes a good impression with the unexpected addition of Suzuki's Easy Start System, which means you only need to tap the starter once rather than hold it down and you can start the bike with the key in your pocket. The keyless ignition system isn't a necessity in our opinion. If anything, it makes the bike even easier to steal. But it's impressive to see on a 125cc.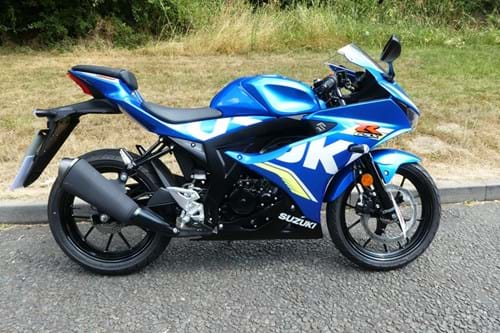 The R125 shares Suzuki's relatively new 124.4cc four-stroke liquid-cooled DOHC single cylinder, which gives it about 15PS. The bike is very light and steering is nice, sticking well into the corners. Manoeuvring is fairly easy too, which is good news for new riders who'll need to get to grips with moving the bike around.
Power delivery is smooth and abundant up until the 11,500 redline, reaching its peak at 10,000rpm. Peak torque is seen at 8000rpm and even in high revs, it keeps on giving. However, in first and second gear it can be just a touch slow to get up to speed - we had to rev it a lot in low gears to get it going. Tucked in behind the fairing, going flat out, we managed 77mph - which is more than enough to overtake when you need to.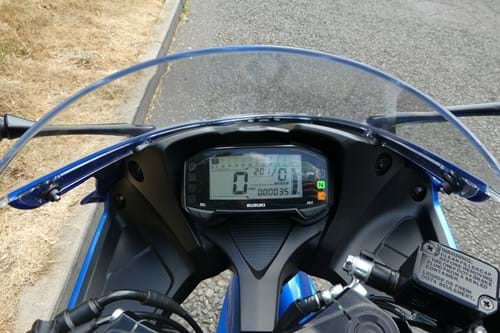 The riding position is sporty, as you'd expect, and the bike feels small and easy to flick around with our knees tucked in - which suits us well. However, we're 5'7", so you might find yourself feeling slightly cramped on the bike if you're tall. The seat is hard, which isn't a problem if you ride for short durations, but if you're sat on the R125 for more than an hour you'll start to feel it. 
It's very aerodynamic so there isn't much drag and you don't get a lot of buffeting and wind noise. Suzuki says it has the smallest projected frontal area in the 125cc class, which helps to improve fuel efficiency. Speaking of which, you'll get a claimed 122.82mpg from this thing. If you ride it conservatively, you'll see a bit over 100mpg. Riding it not so gently, we saw fuel economy around 93mpg.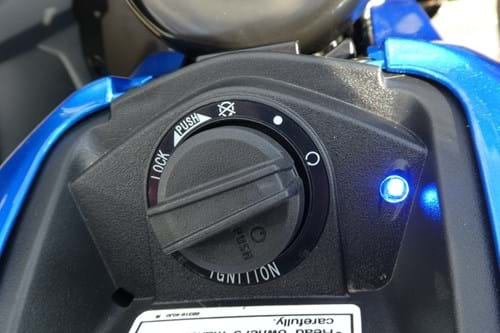 The GSX is Euro4 compliant with ABS as standard. At this price, suspension obviously isn't adjustable and it can feel slightly hard at times - but it works on this type of bike. We like most of the design features, although a tail tidy might be in order for some because the rear end of the bike isn't pretty. There's also very little storage space, so get yourself a top box.
A split sports seat means you can carry a pillion passenger too, but it isn't a comfortable seat by any means. On the plus side, the LCD dash is excellent; it's very easy to read, showing fuel gauge, gear indicator, rev counter etc.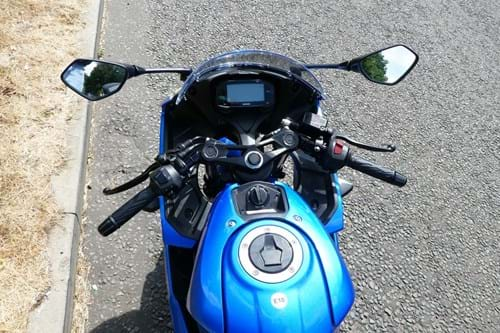 The GSX-R125, which retails at £4099 (£4199 if you want the MotoGP paint), has some competition price-wise though. Honda's CBR125R sits at £3989, with the Aprilia RS125 at £4699 and the KTM RC125 at £4399. We could also match it against some more budget competitors, like the £3499 Rieju RS3 Pro Racing - but you obviously get what you pay for.
Suzuki's race rep compares well with Honda's CBR125R, both being the tamer siblings of the sportbikes they're based on. While the R125 is a great bike and competes well with the CBR's handling and acceleration, it can't compete with the CBR's higher top speed. In our opinion, though, the Suzuki looks more modern and has more features (including ABS) - making it the better choice for the money.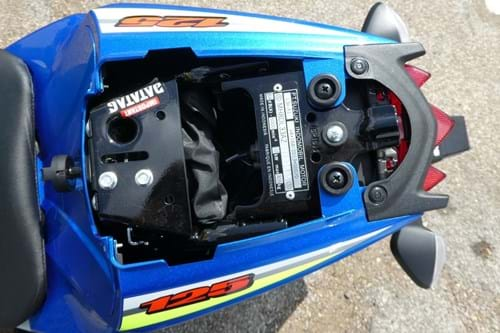 Should I buy one?
If you're worried that it's a bit of a sheep in wolf's clothing, worry no more. The Suzuki GSX-R125 is anything but lacklustre; it goes well, with great handling and feels like a proper sportbike. It looks the business, too, and would make a great little commuter machine for entry-level riders who want to nip through traffic. Being a Suzuki, there shouldn't be any reliability issues either.
It's pretty cheap to run (tax is £19 for the year, after all) and it doubles up as a fun little bike to throw around on the weekends. The size makes it an excellent choice for new riders who will want to be able to put their feet on the ground at red lights, but taller riders will almost certainly struggle feeling so tucked up on it.