What is it?
The FenSens is an aftermarket, wireless parking sensor. It allows drivers to modernise older cars. Although it's also ideal for those who didn't opt for parking sensors and change their mind when they realise how much easier parallel parking could be. The wireless aspect also means no drilling into your car or professional fitting is needed.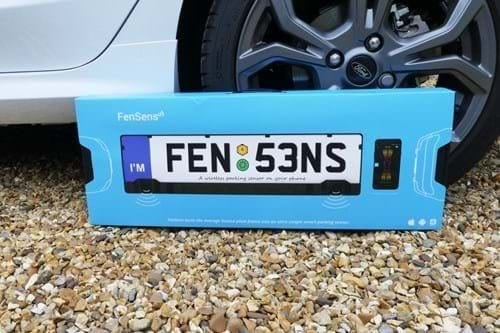 What's it like?
In the box, you get the FenSens Smart Wireless Parking Sensor, a QuickLaunch tap button (more on this later), a magnetic vent mount for your phone, four AA batteries, a user manual, three screwdrivers and two sets of security screws (one set with pointed ends, one flat ends). The AA batteries should last about five months, according to FenSens, but this obviously depends on how much you use the device.
The box optimistically claims the FensSens can be installed in five minutes. It took us longer than that to remove the number plates off our car without scratching it (a hairdryer and tooth floss helps), but once that's done it's fairly easy to install.
You simply attach it to where your car's number plate normally fits using the security screws provided (there are a range of sizes to cater for different vehicles) and then place the number plate in its new holder. We found that using the screws provided meant that the FensSens was a little loose once fitted.
That's not a problem most of the time, but it does rattle when closing the boot. The screws do at least have a non-standard head so that they can't be removed/stolen using a standard screwdriver or other standard tools.
Once you've installed the parking sensors, you then need to fit the 'tap button'. This is a case of clipping the device onto the steering wheel and connecting it to your smartphone. The latter should be simple, but we're two weeks into using the FenSens and we've only got it working correctly a handful of times. A read-through of some Amazon reviews suggests we're not alone in our Tap button struggle.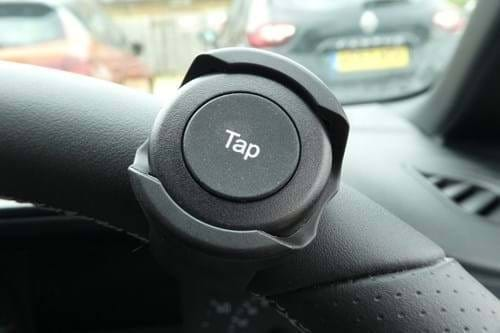 The FenSens app is very self-explanatory and basically walks you through the the setup. Once the FenSens and Tap devices are paired with your phone via Bluetooth, you're ready to get going (or parking to be more accurate). The button clips onto your steering wheel for ease of use, though we found this to be a bit irritating when it came to actually turning the wheel.
In theory, you hit the 'Tap' button and the app launches automatically on Android phones (if the screen isn't locked). If the screen is locked, or you have an iPhone, you need to click the notification you receive to launch the app.
However, if you click the Tap button before launching the app then it goes into advertising mode, meaning it won't be discoverable by your phone. You then need to wait one minute before you can try pairing the device again.
On iOS, the app works better if the app is left running in the background - according to the user manual, that is. Your location setting needs to be turned to 'Always On' and push notifications need to be on for the app to work correctly. The idea is that you hit the tap button fitted to the steering wheel and the FenSens app sensor screen opens.
That wasn't our experience though. We tried over and over (and over) to get the button working. But the button just wouldn't send the notification to our phone, which we needed to click on to open the app. Even updating the app and our iOS software didn't help.
FenSens is apparently coming up for a solution to this issue. But, for us to use the FenSens parking sensor,  we'd have to unlock our password-protected iPhone and open the app (while still behind the wheel of a car). That's too convoluted and dangerous. And it's a big barrier to giving this device a four-star rating - even though we liked every other aspect - because it's such an integral part of the process. Android users have an advantage here because the device seems more centred around Android software.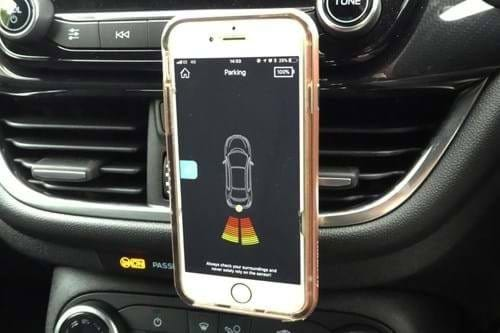 The home screen has options for Google Maps, Spotify Music, Pandora Radio, YourMechanic and AAA Mobile. However, Pandora Radio, YourMechanic and AAA Mobile are apps that are US specific, so they're pretty much useless to anyone in the UK.
The sensor screen shows distance by displaying arcing red, orange, yellow and green lines from the front or back of your car (dependent on where you put the FenSens). As with other parking sensors, the intermittent beeping gets more frequent as you get closer to the object behind your car that you want to avoid hitting.
There's also a mute button on the left side of the app's sensor screen. This mute option comes in very useful if, like us, you sit in your car for a couple of minutes after you've parked and don't want the FenSens constant, high pitch warning noise deafening you the entire time.
FenSens say the parking sensor is suitable for car washes and rain, but should not be submerged in water (though we can't imagine why anyone would do that anyway). According to the user manual, 'large raindrops' can cause false readings on the sensor. The device is also suitable for temperatures between -40°C and 55°C - so you should be fine in the UK.
One final point to note was how difficult it was to get the device off. We went outside, Allen key and adhesive tape to stick our reg plate back on in hand, but were faced with a much bigger task than expected. This may not be the case with everyone, as the fitting of the Fensens is different for different vehicles.
But it took us about an hour and a half, a range of tools and the removal of the plastic interior boot panel of our Ford Fiesta to remove the two final screws to actually reattach our reg plate. It was a faff we didn't expect at all, and one that soured our opinion a bit.
Should I buy one?
The FenSens is very likeable - it's easy to install (mostly), fills a gap in the market and is genuinely cheaper than manufacturer parking sensors. And yet, we couldn't give it four stars because, even though the tap button did work sometimes, most of the time it didn't. It seemed to just unpair itself and refuse to reconnect to our iPhone's bluetooth. Though, if you have an Android - you'll probably have a better experience. Small things like having to leave the app running in the background and having to leave battery-draining Bluetooth on all the time also were a bit of a detractor.
However, once refined for iPhones, the FenSens parking sensors would be ideal for those who want parking sensors without the faff of getting them professionally fitted or needing to drill and wire bits and pieces into your car to get them working.