How to buy a scooter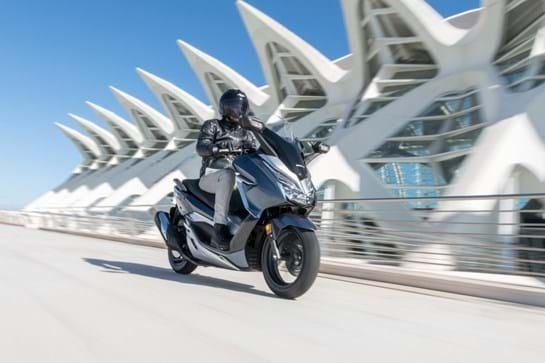 What licence do you have?
The type of licence you have determines which two-wheelers you can ride. Sixteen-year-olds can ride a moped of up to 50cc and with a top speed of no more than 50km/h (31mph) so long as they have a provisional licence, have completed a CBT (compulsory basic training) course and display L-plates. They must complete both parts of the practical test within two years of passing the theory test. If they don't, they must restart the whole process.
If you passed your driving test before 1 February 2001, you can ride a moped without any training or changes to your licence. To ride any other two-wheeler with an engine larger than 50cc, you must complete a CBT course.
Drivers who passed their test on or after 1 February 2001 can ride a moped as soon as they have passed a CBT course.
If you're not sure if you are already entitled to ride a moped, check your licence. If it shows category P, you are entitled. When you renew your licences, this will then include categories AM and Q as well as P that cover you for two- and three-wheelers with a top speed of 50km/h.
Any rider with a full motorcycle license is allowed to ride mopeds and scooters with no further training.
At 17, you can ride scooters and light motorcycles up to 125cc with a maximum power output of 11kW with an A1 licence.
From 19-years old, you can apply for an A2 licence to ride two-wheelers up to 35kW in power. If you take the progressive access route to gain a bike licence, you can ride any two-wheeler from 21-years of age when you pass the CBT theory and practical tests. For anyone not using the progressive access method, you have to wait until you're 24 to ride without any restrictions.
What type of scooter will suit my needs?
A scooter is a scooter, right? Well, sort of. While it's easy to recognise most scooters, some now blur the boundaries with motorcycles, such as Maxi scooters that come with larger engines and the ability to commute and tour over large distances. They are ideal for more experienced scooter riders and if you regularly carry a pillion passenger. Maxi scooters also offer better weather protection.
There are plenty of other considerations when choosing a new scooter. For starters, do your feet reach the ground comfortably when the scooter is stationary? You need to be able to get at least one foot squarely on the deck to be safe.
Weight is another key point to think about. On the move, it's not an issue, but when you have to move your scooter about to park it, it must be light enough for you to handle. Also, you might have to pick it up if it gets knocked over while parked. Sadly, this happens.
Are you going to carry a passenger often? If so, a scooter with a well-padded, longer seat will be better for the job. Make sure the pillion's feet have solid pegs or a footboard to rest on.
Another element to look at is the style of scooter you want. Retro machines look great, but will it provide sufficient weather protection and storage space?
Lastly, should you go for two or three wheels? Some of this is down to personal taste, but three-wheelers offer more stability and better braking, which can help a newly qualified rider gain confidence.
What size of engine do I need?
If you have a restricted licence, this question will be answered for you as you'll be limited to either 50- or 125cc. For other riders, the size of the engine is an important decision.
A 125cc scooter might seem the obvious choice and they can feel lively on a test ride. However, if you intend to ride beyond a 30mph limit at any time, these machines can quickly feel out of breath. As a result, a larger engine capacity makes sense and won't use much more fuel. The extra performance is always useful for getting up hills without straining the motor and it makes carrying a pillion a much more relaxed affair.
For anyone planning long commutes or motorway miles, a scooter with at least a 300cc engine will be needed, and possibly even one of the larger capacity Maxi scooters.
Should you choose to stick with the smaller capacity scooters, you also have to decide between two- or four-stroke engines. A two-stroke uses oil mixed with the petrol to lubricate the engine and they produce more power for the same size of motor. However, they require more maintenance. A four-stroke engine, on the other hand, is slower but easier to live with and look after.
Finally, you might also consider an electric scooter. They are just as easy to ride as any other scooter and deliver instant power off the line, so they are great around town. The downsides are they have limited battery range and you must have somewhere to plug in and charge up, though the charging network is expanding rapidly.
Which make should I go for?
This is a much more common question among scooter buyers than car customers. The reason is there are many makes of scooter out there that will be unfamiliar to all but the most die-hard fans.
Should you steer clear of these brands? Not necessarily as many offer a very cheap way into scooter ownership. Most are built in China and imported to the UK to be sold online. This cuts out the cost of dealers and marketing, though you may have to do some home assembly such as fitting the mirrors. You'll also have to register the scooter yourself when it's delivered by courier. This can take a few weeks and the cost is not included in the purchase price of the scooter.
So, best to stick with the big-name makers? Again, not necessarily. If you can test ride a scooter and find it suits your needs, and you're happy with the seller's warranty and aftersales service, you could bag a bargain. Just remember the bigger brands have more dealers and it will be easier to get it serviced or repaired at an approved workshop.ell as fuel and other running costs.
How much to spend on a scooter?
Budget is almost certainly the most important determining factor when buying a new scooter. The simple answer is only to spend what you can comfortably afford.
With that in mind, there are new scooters out there from much less than £1000 and all the way deep into five figures.
With your budget set, you must factor in the cost of insurance, which can make it too expensive for young or new riders. Get quotes before committing to buy a scooter so you know to include this in your outgoings.
Other costs to think about are good quality safety kit including helmet, gloves, jacket and boots. You'll also need waterproofs and possibly a leg cover and bar muffs to keep the cold and rain out.
Security is another expense and a good look will deter thieves, while a bike cover keeps your scooter from prying eyes while also keeping it dry.
Can I get a test ride?
It sounds obvious, but not all sellers will offer a test ride in the way you would expect when buying a new car. Phone or email the dealer in advance of going to a showroom to check you can have a test ride – you may be asked to provide proof of insurance or leave a refundable credit card deposit. You might also have to sign an insurance form for the duration of the test ride.
During a test ride, the points to look for are comfort, safety and suitability. Try to ride for at least 15 minutes to get a feel for the riding position and seat, so you know they fit you. Make sure you can get at least one foot on the ground when the bike comes to a stop so you can balance safely.
Check all of the controls work without having to stretch your hands or remove them from the bars. Test the brakes on a quiet piece of road so you know they pull the scooter up quickly and in a straight line. During the ride, also satisfy yourself the ride comfort is up to the job you need it for. Scooters with smaller wheels tend to jar more going over bumps and potholes, so one with larger wheels might be better for your needs.
Don't be afraid to test ride several scooters to find the one that works best for you. It's your money, so get it right before signing on the dotted line.
If you're planning on taking the plunge and taking to two wheels there are some important things to consider. Before you even pick your scooter or motorcycle, you'll need to make sure you have the right safety clothing and security equipment ahead of hitting the road.
What should I look for in a scooter?
When you know what style of scooter you want and the right engine capacity to fit your needs, there are still some practical considerations to ponder. The first of these is one that helps makes scooters so popular and that's storage.
Many scooters let you store your helmet in a bin under the seat, so you don't have to carry it with you. If the scooter you want to buy has this, just make sure it's big enough to hold your lid as some will not accommodate full-face safety helmets.
Are there other storage options on the scooter? Many have front boxes under the handle bars that are ideal for holding phones or even laptops. Check these cubbies are watertight, though, before leaving your precious electrical goods in there.
Next up, think about security. Some scooters will be sold with a lock, but should you get a better one? Is it easy to thread a lock through the wheels or a dedicated point on the scooter's frame? This can be easy to overlook in the excitement of buying a scooter, but if it's inconvenient you'll be less likely to use and risk your pride and joy being stolen.
One last thing you can check while in a showroom or on a dealer's forecourt is the turning circle of the scooter. Generally, the smaller the engine and size of the scooter, the tighter it can be wheeled around. This is important if you have to push the scooter into a tight parking spot at home or work. You should also check the scooter is light enough for you to move it easily.
What warranty comes with a scooter?
When you buy a new scooter, you're right to expect a warranty. Even budget scooters sold online come with cover, but it's worth checking with any model you buy how long the warranty lasts and what it includes.
Most warranties will clearly state their duration and which components they include. They will not cover consumables such as tyres and brakes or damage to bodywork. However, all of the major mechanical components should be included in the warranty, so check the small print.
To keep the warranty valid, you will not be able to modify the scooter in any way that alters its performance, such as fitting a sports exhaust.
Can I haggle over the price or use a trade-in?
Yes, of course. It always pays to haggle and a dealer may well be willing to negotiate a decent saving in the depths of winter when scooter sales are traditionally at their lowest. Remember, be polite, be firm and be realistic.
When it comes to trade-ins, scooter dealers will be unlikely to accept your old car as they are not usually in a position to assess its value or sell it on. However, if you have an old scooter or motorcycle, they may well look at a part-exchange deal.
Can I buy a scooter with HP, PCH or PCP?
Lots of scooter manufacturers and dealers now offer finance deals. Traditionally, these have been straightforward loans where you pay a small deposit up front followed by monthly payments over a predetermined period. At the end of the deal, you own the scooter.
However, the scooter market is following the new car sector with personal contract hire (PCH) and personal contract purchase (CP). In both cases, you pay an upfront deposit that's usually equivalent to three months' worth of payments followed by monthly payments at an agreed price. At the end of the agreed deal period, you hand the scooter back with the PCH and that's it, you can move on to the next deal. With the PCP, you can hand the scooter back or choose to hand over a final payment to own the bike outright.
With either form of finance, it's essential to know the APR percentage rate before committing to any agreement. You also need to know of any mileage restrictions included in the deal and penalties for exceeding that limit. It's also worth comparing these deals with high street lenders and third-party leasing companies that may be able to offer a keener price.u mone
What about internet-only scooter sellers?
You can order your shopping online, so why not a scooter? That's the thinking behind a number of scooter brands that sell exclusively online.
Most of these scooters are at the budget end of the market and aim to pass on savings to the customer by not paying for dealer showrooms. The downside is you might find it difficult to get a test ride or even sit on your preferred scooter until you've bought it.
Cutting out the middleman does also mean you have a bit more work to do before riding the scooter. After paying for it and the scooter being delivered, usually by courier, you may have to attach wing mirrors, connect the battery and fit any accessories you've added. For a competent home DIYer, this shouldn't be an issue.
However, you will also have to take care of the registration process and that means applying to the DVLA for a registration number and V5 document. When you have these, you can tax and insure the scooter so you're ready to ride it. This process can take anything up to six weeks and costs £55 on top of the purchase price of the scooter plus £17 for Vehicle Excise Duty.
Some, though not all, online sellers have appointed service garages around the country where you can have your scooter looked after. If there isn't one near you, a good local motorcycle mechanic will be able to service and repair the scooter.
What about an electric scooter?
There are a surprising number of electric scooters available. This power source is ideally suited to scooters due to their lightweight and most riders covering shorter journeys, so battery range is not such a vital concern.
For anyone living in and around a city, an EV scooter can make a lot of sense so long as you have somewhere secure to plug in the charger. If you have a garage or off-street parking, these scooters are ideal for commuting.
While range is not such a concern, recharging times can be an issue with EV scooters. Some can take as long as eight hours yet only offer a usable 30-mile range. Others, though, can be recharged in half that time and ride for up to 60 miles before needing to be plugged in again. Look for an EC scooter that uses lithium-ion batteries and not lead-acid ones that are heavier and slower to recharge.
There are plenty of different styles of electric scooter available and prices start from as little as £700, rising to more than £12,000 for BMW's C evolution.
With the BMW, performance is on a par with other maxi scooters with large capacity petrol engines. Many other EV scooters, however, can feel slow and are restricted to 30mph maximum speeds, so be sure they will fit your needs before buying.
Do I need to add any options?
Many scooter manufacturers offer lengthy lists of optional equipment either to make the bike more practical or stand out from the common herd. Choosing options is largely down to personal taste, but there are some extras you should consider as essentials.
First off is a top box that adds useful extra storage when you're riding and somewhere to keep gloves and even a spare helmet when you park up.
We'd also look at a larger screen if the scooter you want doesn't have this already. It helps deflect the wind for a more pleasant ride at higher speeds. Just as importantly, it stops the rain getting in your face and keeps you drier for longer.
Another worthwhile weather protector is a leg cover that offers much-needed warmth and dry on winter rides. Combine this with bar muffs to cover your hands from the cold and using a scooter all-year round is easily possible.
An essential extra for any scooter owner is some good security equipment. A heavy D-lock or chain will deter most casual thieves, while a disc lock will put off more professional criminals.
Lastly, a high-quality bike cover protects your scooter from rain, tree sap, bird droppings and prying criminals.
Can I use a scooter instead of a company car?
If you work for a limited company or run your own business, you could be entitled to write down as much as 100% of the value of a new scooter against tax. This does mean you can only use the scooter for business purposes, but you can also choose a small write-down allowance depending on how much private rising you use the scooter for.
You might also be able to reclaim the VAT on the purchase price of the scooter if the company is not operating on the Flat Rate scheme.
For some businesses in cities or large towns, a company scooter will make much more sense than a car, so it's an option that can save yo
Ask HJ
Could you suggest a small, lightweight scooter?
I'm looking for a scooter, at least 100cc, like the Suzuki Address 110 to go in the garage at the back of a motorhome. Are there any other options of a similar weight and height, preferably not quite as tall?
The Address isn't particularly tall but if you need to shave off a bit of height for storage then you can unscrew the mirrors without huge difficulty. Alternatives include the Honda Vision, which is very similar to the Suzuki. Again, best bet is to take the mirrors off if height is an issue. Between those two, there's little in it. Both are reliable and light, with similar performance.
More Questions
Ask HJ
What's the best time of year to buy a moped?
What's the best time of year to buy a moped?
The motorcycle 'season' is in summer. Come late autumn and winter, dealers often have special offers so they can keep up sales of motorcycles, including scooters, so it's a good time to negotiate a deal.
More Questions