Top 10: Best scooters 2018
The scooter market is going through a period of radical change at the moment as new emissions regulations come into force. This means a flurry of new models and updated favourites. There are also exciting developments with electric scooters and others that take the market in unexpected and intriguing new directions. Here's our Top 10 of the most exciting new scooters for 2018.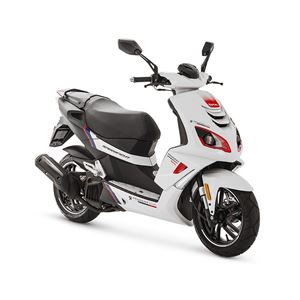 1
Peugeot Speedfight 125cc R-Cup
The Speedfight is a modern classic and been with us since Noah first slapped L-plates on, but now Peugeot has taken the radical step of replacing the previous two-stoke motor with a cleaner four-stroke unit.
Some may think that spells the end of the fizzy French scooter, but Peugeot has bucked the trend and given the updated Speedfight more power. This comes courtesy of the 125cc Smartmotion engine that brings it into line with EU4 emissions.
There's also the addition of the R-Cup model for 2018 that costs £2699 and comes finished in the same paint scheme as Peugeot's 308TCR World Touring Car Cup racer.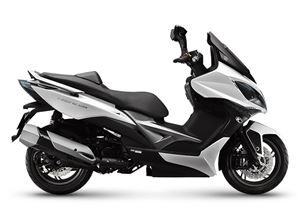 2
Kymco XCITING S 400
Building on the existing XCITING 400, the new S version of Kymco's maxi scooter will feature a couple of firsts. Prime among these is the option of Noodoe Navigation rider-centric sat-nav system. Owners will be able to download the app to their smartphone and it is designed to be safer while riding.
The other major feature of the S also concentrates on safety, as this is the first ever scooter to come with ECE-approved LED daytime running lights. Whether or not you have the LED headlight switched on, these supplementary front lights provide greater visibility to other road users.
The XCITING S 400 is due on sale in the middle of the year and prices will be slightly higher than the existing model's £5695.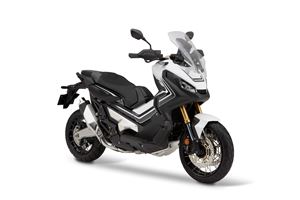 3
Honda X-ADV
The Honda X-ADV has proved an unlikely success by marrying scooter ease of riding with adventure bike looks. For 2018, the package is further improved with even more off-road ability thanks to the addition of a Selectable Torque Control system that effectively works like a car's sport button to allow a little more wheelspin when riding on loose surfaces. Another new feature for the X-ADV is the G Switch to vary how direct the gearshifts are.
Also new for this year is the 35kW version of the X-ADV that's suitable for A2 licence holders.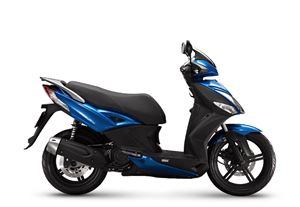 4
Kymco City+ 50
The City+ is aimed directly at urban riders due to its small capacity motor and superb economy. However, performance is not forgotten as the single-cylinder engine sticks with a two-stroke design to make it feel peppier up to 30mph.
A larger 14-inch rear wheel is aided by longer travel suspension than the previous model. It gives a more supple ride and the seat has also been reshaped for better rider comfort coupled with more storage space underneath.
Prices for the Kymco City+ 50 start at £1772 before you add any options.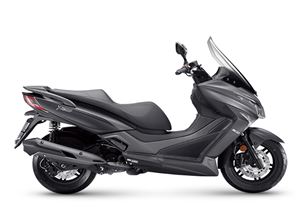 5
Kymco X-Town 300i ABS
Kymco ably demonstrates you don't need a big budget to enjoy a maxi scooter with its new X-Town 300i ABS. A reshaped chassis allows for a narrower width to help when filtering and it provides more storage space under the seat than many rivals so you can pack two full-face helmets in there.
There are single brake discs front and rear and this Kymco comes with ABS anti-lock stoppers as standard, which is great value for a scooter starting at £4695.
The 276cc single-cylinder engine delivers decent performance and a range of up to 192 miles while also being EU4 compliant. It's also A2 licence-friendly.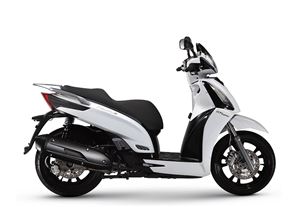 6
Kymco People GT 125i CBS
The People GT 125i is a very well-considered scooter for anyone looking for easy city riding. The 125cc fuel-injected four-stroke engine is easy on maintenance but has enough power to more than keep up with the flow of traffic.
On chopped-up city roads, the GT's 16-inch front and rear wheels give smooth comfort over bumps, while the Combined Brake System brings it all to a quick, controlled halt. You also get an adjustable rear shock that's handy for when carrying a pillion.
The Kymco People GT 125i CBS costs from £3599.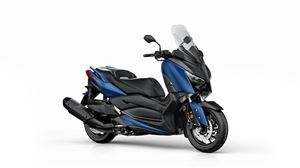 7
Yamaha X-Max 400
Yamaha was one of the first to offer a maxi scooter and the latest X-Max 400 builds on that accrued knowledge. It has the engine mounted on the swingarm rather than in the frame to allow for a larger storage space under the seat big enough for two full-face helmets.
This design also gives the 400 light steering, pointing to it being aimed more at urban riders than long-distance commuters. However, if you need to cover big miles, the 400 will sit easily at motorway speeds and comes with ABS brakes.
Traction control helps safe riding, while keyless ignition and a parking brake make your life simpler. It looks good value at £5999.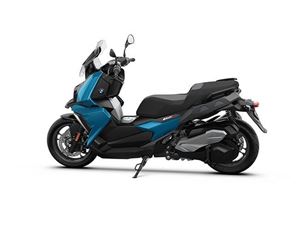 8
BMW C 400 X
BMW is expanding its maxi scooter range with the C 400 X that sits below the 650 models in power, performance and price. That doesn't mean compromising on equipment, quality or rider enjoyment, though.
The 350cc engine has 34PS that's plenty for getting about town and dealing with faster roads. You also get traction control and ABS brakes as standard. It's narrower than some maxis to make commuting easier in heavy traffic.
A large seat is well padded for rider and pillion and underneath is a generous locker divided into two sections so your bratwurst doesn't get covered in sauerkraut on the ride home.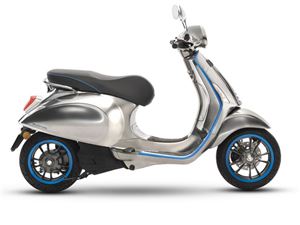 9
Vespa Elettrica
Vespa came up with the blueprint for the scooter, but 2018 marks the biggest change in the Italian's history. Don't panic, the looks stay the same with its swoopy lines, but now there will be an electric version called the Elettrica.
With a 2kW motor, the Elettrica has more poke than 50cc fossil-fuelled rivals and the instant delivery should make it a handy city commuter tool. With this in mind, the Vespa can travel up to 62 miles on a full battery and it can be completely recharged from a domestic socket in four hours.
Sales start in the spring and the first Elettricas are expected in the UK in the middle of the year.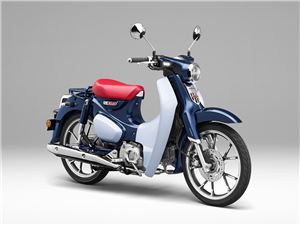 10
Honda Super Cub
Honda's Super Cub is not just the best-selling scooter or two-wheeler ever, it's the most prolific motorised vehicle in history. More than 100 million have rolled off the production line and for 2018 we have an updated model.
The new version comes in 50- and 110cc capacities, though it's unlikely either will be sold in Europe. However, a 125cc model is on the cards that could see Super Cubs back on our roads soon. Honda is also planning an electric one to fulfil its promise to continue developing and evolving this iconic scooter.
Related Articles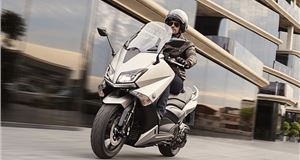 Scooters
All you need to know to ride away on the ideal new scooter. Read our complete guide to help you decide...