Top 10: Motorcycle Accessories
Whether it's making your life more comfortable in the saddle, improving the safety of your motorcycle or keeping it secure - there are plenty of brilliant accessories for your bike. Here's our selection of the best gadgets and add-ons, plus a recommendation of some of the best we've tried.
Top 10: Cafe Racers | Top 10: Motorcycle Jacket Under £100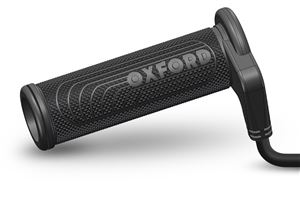 1
Heated grips
The first part of your body to feel the chill are hands and fingers. And once they're cold, it can be all but impossible to warm them up while riding. To ward this off, heated grips are one of the best inventions ever for the motorcycle. Riding in winter and the cooler ends of spring and autumn are transformed from a torture of enduring frozen digits to a delight of toasty extremities. As well as comfort, this has obvious upsides for safety as your hands work better when not turning to ice and warm mitts mean your mind is on the road ahead.
Most heated grip kits are simple to fit and keep your hands hot. One of our favourites is the Oxford Premium Sport Heated Grips that are quick and easy to wire into your bike. The grips have a soft rubber outer and five heat settings via the bar-mounted controller, as well as a battery-saving mode. At £53, this kit is a winter essential.
Buy it now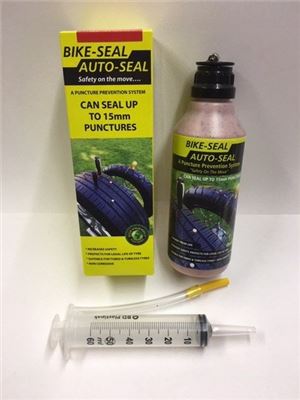 2
Tyre sealant
Punctures are the bane of any rider's life, but you can future-proof your motorcycle against this potentially dangerous problem with tyre sealant. There are different systems out there and some need regular topping up to maintain their effectiveness. You also need to consider how large a puncture the sealant can cope with depending on where you regularly ride.
Among the best tyre sealants we've tried is Bike-Seal, which works with both tubed and tubeless tyres. Unlike many others, Bike-Seal lasts the lifetime of the tyre, so you don't need to top it up. It's easy to pour into the tyre once the valve core has been removed and there's a telescopic cap to help here. A 550ml bottle will treat two tyres and costs £30.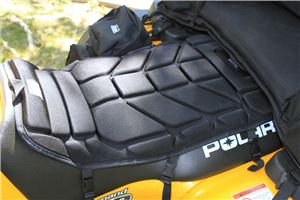 3
Seat pad
Any rider who spends more than just a short blast in the saddle will know that creeping ache that comes from a seat that's too hard, narrow or thinly padded. This is where a seat pad can save your comfort, riding pleasure and backside. Most pads use either foam or air cells and each has its advantages. We'd be more concerned about how well it attaches to your motorcycle and the amount of cushioning it provides.
Easily one of the comfiest seat pads we've used is the Coleman MadDog GearComfort Ride Seat Protector. It's a universal fit, so can be used with most bikes, and the straps are easy to attach and hold the pad firmly in place. There's plenty of bounce for day-long use and it's easy to swap between bikes. Great value at £20.
Buy it now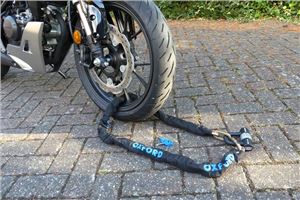 4
Bike lock
A bike lock or chain is one of the most effective ways to keep thieves at bay and it doubles as a highly visible deterrent. Whether you want a seriously heavy chain and padlock combination or a simpler disc lock, each has its merits for preventing your bike from being stolen. When choosing a lock, look for ones that resist attack for the longest possible length of time as crooks will soon move on to a softer target.
Abus is a highly regarded name in the world of motorcycle security and we're fans of the Granit 58 Lock Chain. It uses an unusual link and loop system where the lock prevents the link passing through the loop rather than tying both ends of the chain together. This means the 1.2-metre chain can be passed around larger bikes while still being compact to stow away. The lock itself can double as a disc lock, which helps justify the £150 price.
Buy it now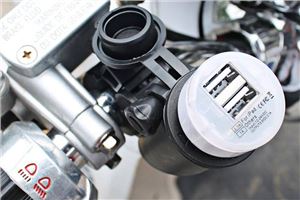 5
USB charger
Given our reliance on mobile devices in today's world, it's surprising how many motorcycles still don't include a USB charging port as standard. Adding on to your bike is not difficult, though, and it means you can charge your phone or power a sat-nav on the move. Points to look for when choosing a USB charger for your bike include how easy it will be to fit and wire, whether or not it's waterproof and whether or not you can use it while wearing gloves.
All of these questions are answered by the Show Chrome USB 13-208 Dual Port Charger that costs £56. It has a sturdy case and rubber cap to seal out the weather when not being used. Two charge ports offer versatility and two different charge settings. We also like the blue backlighting for the ports that make it quicker to locate at night. Oxford is also a reputable brand when it comes to all things motorcycling. 
Buy it now
Related Articles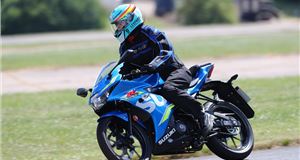 Motorcycles
Getting into riding a motorbike or scooter can be confusing when you don't quite know where to start....