Top 10: Scramblers 2023
Scramblers are one of the fastest-growing and most desirable styles of motorcycles going. With a whiff of cool about them, their looks are a big part of the appeal. They also bring plenty of practicality with them thanks to a relaxed riding position and suspension easily able to cope with rut-strewn roads. These are our pick of the scrambler crop covering all prices and with something to suit all licence holders.
Top 10: Maxi Scooters | Top 10: Cafe Racers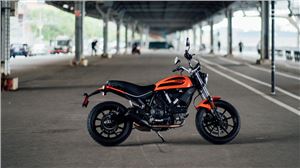 1
Ducati Scrambler Sixty2 - £6750
The words 'Ducati' and 'bargain' are not often mentioned in the same sentence, but in the case of the Scrambler Sixty2 they are very happy bedfellows. At this price, you'd struggle to find a rival in this style from any other premium manufacturer, or most others for that matter. So, the option of a Ducati with a feisty 399cc V-twin engine popping out 40PS is very hard to resist.
To further wear away any resistance, you only have to look at the Sixty2. It's gorgeous and has a lithe compactness to it that lets you know it's going to be a hoot to ride. Sure, it might be aimed at newer riders, but there's more than enough performance and handling ability to satisfy everyone.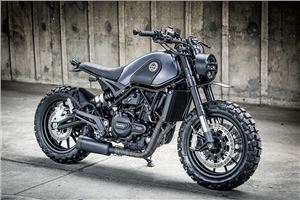 2
Benelli Leoncino - £5199
There are few things in motorcycling more tempting than an Italian machine with knuckle-biting good looks. That's exactly what we have here with Benelli's Leoncino. Okay, it may be built in China, but all the evidence proves this bike it made to a standard rather than down to its very competitive price. At this level, there are very few that can hold a candle to the Benelli.
The same is true when you swing a leg over the Leoncino and take it for a ride. The 500cc parallel twin motor is smooth and punches out 48PS to make it ideal for A2 licence holders. Plush suspension copes with bumps well, demonstrating the company's track record in racing and superbike, while upside down front forks are a welcome nod to modernity. It all makes the Benelli huge value for money and great to ride.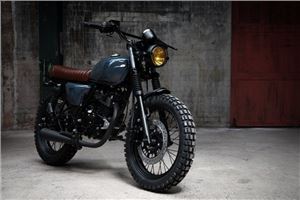 3
Mutt Hilts 125 - £3495
If you ride along with an image of Steve McQueen jumping barbed wire fences in your mind, then the Mutt Hilts 125 is the bike for you. Taking its name from McQueen's character in 'The Great Escape', this is one very cool customer and comes in a choice of grey or green for the same price. You also get a snazzy vintage-look seat, cut-down mudguards and de rigeur chunky tyres.
The engine in the Hilts is a 125cc single-cylinder unit with 12PS on tap, so it has decent oomph around town and just enough to keep pace with traffic on faster A-roads. The lack of any front fairing means you won't be bothered about straying beyond 60mph and the handling is adequate on the open-treaded tyres rather than sporting.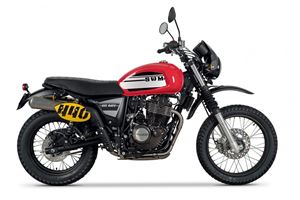 4
SWM Six Days 440 - £4999
The Six Days name carries a huge amount of weighty expectation when applied to a scrambler, so just as well the SWM looks nigh on perfect. It has all the style you could ever want in this breed of bike, from the raised exhaust silencer and number board to the cut-off saddle and long-travel suspension. Along with the dinky rear light, meaty tyres and finned cylinder head, this bike could easily come from the golden age of scrambling in the 1960s.
There's plenty of power from the 445cc single-cylinder engine that thumps away happily in the steel frame. Its 30PS is enough for zippy town riding and getting down the motorway, though the SWM is happier on back roads and is even up to some green laning. The finish could be stronger in places, but the price still makes this a very tempting motorcycle.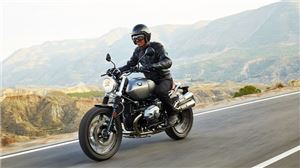 5
BMW R NineT Scrambler - £10,765
BMW has become extremely adept at finessing its core bikes into more focused machines and the R NineT Scrambler is a perfect example of this. Based on the R NineT, the Scrambler has the vital raised exhaust pipes for the necessary look, while a different saddle and deeply treaded tyres add to the appeal.
Just as appealing is the Scrambler is cheaper to buy than the R NineT, though that does mean you get standard forks rather the pricier bike's upside down items. No matter, the Scrambler is excellent in the corners and more than up for longer distance rides, though the firm saddle will dictate when you take a break before any other element of the bike.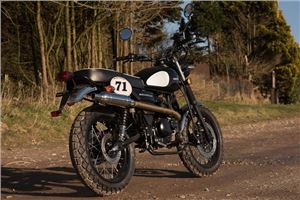 6
Sinnis Scrambler 125 - £2379
The Sinnis Scrambler now comes equipped with fuel injection to make sure it meets the latest emissions standards. Fortunately, this has done nothing to constrain the 124cc bike's peppy performance from its Suzuki-derived single-cylinder motor. The lightweight machine's handling has also been improved with larger wheels than before, which are shod in chunky tyres for that essential scrambler look.
Sinnis certainly hasn't stinted on the details for its Scrambler and you get the high-level exhaust, flat seat and raised bars that make this type of bike so easy to get on with. There are some vibrations from the motor at higher speeds, but around town it's an ideal commuter bike and very keenly priced.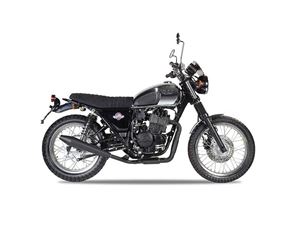 7
Mash Scrambler 400 Chrome - £4499
Mash is not the most obvious name when it comes to choosing a new motorcycle, but the Scrambler 400 Chrome has all the looks, ride and attitude you want in this class of bike. The chromed tank that gives this bike its name has real period charm, helped along by the flat seat, wire wheels and fork gaiters.
There's plenty of poke from the 28PS 397cc single-cylinder engine and the handling is good enough to for the Mash to be entertaining on country roads. In town, comfort is a strong point and the 790mm seat height is low enough for most riders to get their feet flat on the floor. The price is another tempting element in the Mash's armoury, though some of the finish isn't quite up to the class best.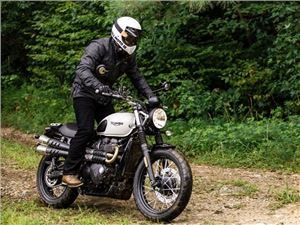 8
Triumph Street Scrambler - £9300
It's very hard to not be lured in by the Triumph name and its longstanding associations with the scrambler strain of motorcycle. The Street Scrambler does as its name points out and is much more of an on-road machine than one for kicking up dirt trails. That fits perfectly with modern riders demands and the Triumph is comfortable, refined and superbly well made.
Our only gripe with the Street Scrambler is it's not quite as distinct from others in the Triumph range as we might like. Sure, it has those outsized exhaust pipes and clean-cut looks, but for most riders we suspect the substantially cheaper Street Twin is a better bet.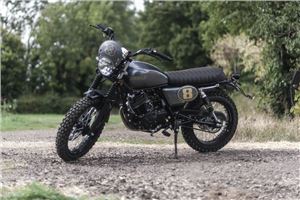 9
Herald Scrambler 125 - £2399
Herald is quickly gaining a reputation for building motorcycles that are much better made than their affordable prices suggests. The Scrambler 125 is no exception to this and is a very well screwed together bike that we wouldn't hesitate to use all year round. It might need more care and attention than some to retain its lustre, but that's true of most scrambler-style machines.
All of the details are just right on the Herald and it comes with twin rear shock absorbers, chrome exhaust, black-painted engine and even a number board on the side panel. A small fairing helps with wind blast at higher speeds, though the Scrambler is happier in town than on the open road. Nimble handling helps in the urban jungle and the chunky tyres set the right tone.
10
AJS Tempest Scrambler - £2249
The AJS name will reverberate with older riders who fondly remember the marque's esteemed past. For others, AJS is a great value brand nowadays and the Tempest Scrambler is one of the highlights of the range. Available in a number of colours, it also has twin-shock rear suspension, an extended rear swing arm and off-road tyres. There's also enough ground clearance to consider some light off-road work.
You will need to work the 10PS 124cc single-cylinder engine reasonably hard to get the best from it, but you should see 60mph flat out. Better to leave a little in reserve and use the decent handling to bowl along back roads and through towns, soaking up the admiring looks and safe in the knowledge this bike costs a lot less than the looks suggest.
Related Articles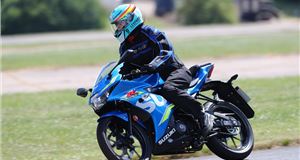 Motorcycles
Getting into riding a motorbike or scooter can be confusing when you don't quite know where to start....