Top 10: Cafe racers in 2023
Cafe Racers are all the rage right now, so we've compiled our top 10 options based on price, style and performance.
Top 10: 125cc Motorcycles 2019 | Top 10: Maxi Scooters 2019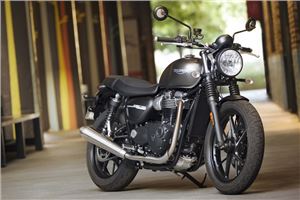 1
Triumph Street Twin
Price: £8100
Triumph has significantly upgraded the Street Twin for 2019 and made many of the modifications a keen café racer rider would likely make themselves. This means more power, up to 65PS from the old bike's 55PS, while stronger brakes make a big improvement to confidence and stopping power. The ride and handling are better, too, courtesy of new KYB front forks. Perhaps one of the most notable changes to the Street Twin is the addition of rider modes.
This gives you a choice of Road or Rain settings and there's quite a marked difference between them, with the Road setting giving a much sharper throttle response. Switch to Rain and the power delivery is softened off to keep things calm on slippery surfaces. Either way, the Street Twin is a pleasure to ride and captures that essential café racer spirit with its gutsy 900cc parallel twin motor.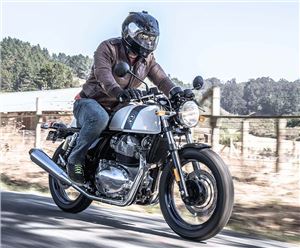 2
Royal Enfield Continental GT
Price: £4999
Café racers are all about fun and style, and the Royal Enfield Continental GT delivers both by the fistful. Just from the looks, you know this motorcycle is going to be a hoot to ride as it has the classic cut-off rear seat and canted forward riding position. That does mean it's more of a weekend toy than weekday commuter, but few will worry about that when riding the Continental.
A pokey 535cc single-cylinder motor thumps away to produce 30PS and works well through the five-speed gearbox. It revs surprisingly keenly for a big single and doesn't become too vibey when pushed hard. Ridden faster, you'll notice the suspension is softer than expected, which is good for comfort but not as great for corners but the strong brakes let you take speed off efficiently. At this sort of price and with that name on the tank, the Royal Enfield is a great deal.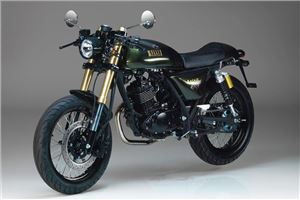 3
Bullit Spirit 125
Price: £2399
A quick glance and you could easily believe the Bullit Spirit 125 is a genuine bike from the 1960s that has had the café racer treatment. Then you start to notice the subtle modern twists like the upside down front forks and the remote oil reservoir for the rear damper. This gives the Spirit decent handling and ride comfort, which is ideal for a bike aimed at urban use, though we'd probably swap to better quality tyres than the standard fare to make the most of the Bullit's ability.
A simple single-cylinder 125cc engine gives 12PS, which is plenty for a bike of this style and it sounds reasonably convincing when worked hard. An aftermarket exhaust will no doubt be high on the list of add-ons for many owners. Otherwise, the Spirit is big on value, small on price and bang on for style.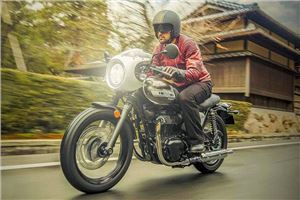 4
Kawasaki W800 Café
Price: £9099
Kawasaki is very keen to point out that 90% of the latest W800 is new compared to the previous generation. That's certainly the case where the hardware is concerned, but the W800 still looks every inch the real 1960s classic but without the headaches of daily maintenance. There are two versions of the W800 and the Café comes with a bikini fairing and truncated seat to impart that vital look.
The 773cc parallel twin engine is now Euro4 compliant yet it's still air-cooled to keep the classic looks with all of the fins there for a reason rather than just looks. It makes 48PS to be A2 licence friendly and the motor gives quite a gentle power delivery. However, the Café's clip-on handlebars add a racier feel to the riding position and this W800 can be pushed along at a reasonable lick. Most owners will prefer to bask in the details, though, such as the tank pad, different dial faces and the superb paint job that justify the price.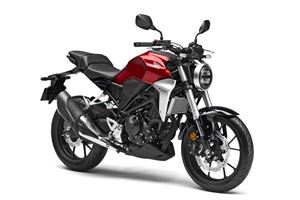 5
Honda CB300R
Price: £4579
Honda describes the CB300R as a 'Neo Sports Café Racer', which is another way of saying it's updated the classic theme for this commuter-cum-weekend fun bike. We've no gripes with what Honda calls it as the CB300R is a cracking good ride at a very fair price. The 286cc single-cylinder motor kicks out 32PS that's plenty to have a good time on around town and on the open road. Nipping through traffic is a CB300R forte and the riding position means daily commutes are easy and enjoyable.
The CB300R also has that Honda air of quality in all of its details, so you know it will last the distance. Taking on longer trips is no bother thanks to the soft-ish setting of the suspension that trades a little ultimate handling ability for a more rounded skill set. Just about the only thing we'd like to see Honda add is a gear indicator to the dash.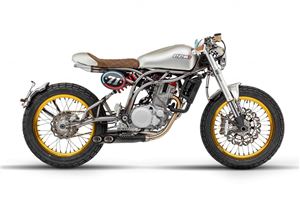 6
CCM Spitfire Café Racer
Price: £9274
The Spitfire Café from British firm CCM is a very particular take on the café racer theme, so it won't appeal to everyone. That's just fine by CCM as it's a company small enough to deal with owners on an individual basis but just big enough to deliver quality on a par with the best in the business. As a result, the fit, finish and detailing of the Spitfire are a pleasure to delve into and make the ownership experience very rewarding.
All of this craftsmanship comes at a reasonable price and you get a handbuilt bike that looks no other and comes with gold-spoked wheels. There are also Brembo brakes and a quilted seat pad, while the 600cc single-cylinder engine gives 56PS that's enough to give the CCM a good turn of speed while staying within legal limits. So, the Spitfire Café Racer is a bike you'll fall in love with and desire over any other.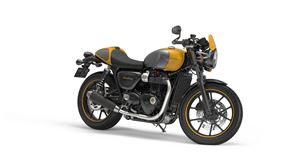 7
Triumph Street Cup
Price: £8800
A second showing for Triumph in this Top 10 and the Street Cup is a great introduction for anyone who wants a café racer without going to extremes. The rear suspension has been raised by 20mm over the standard Street Twin it's based on, plus there are clip-on bars to lower the rider more into the bike. Even so, it's still comfortable and very smooth thanks to the suspension blending with the surface very effectively. The handling isn't the last word in chasing lines, but few will worry about that given this bike's style.
The engine is a 900cc twin and uses a drive by wire throttle so, again, the response is super refined to make riding easy for newer riders and more experienced ones alike. It offers 55PS to be perky rather than outright fast, while the five-speed gearbox is slick. Along with all of the neat detailing that Triumph always gets so right, the Street Cup is a fine balance of café racer looks and real-world usability.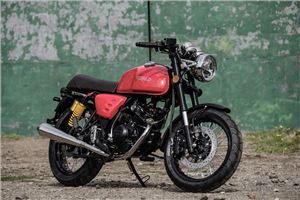 8
Herald Café 125
Price: £2499
Herald doesn't muck about when it comes to value and the Café 125 exemplifies that perfectly. It has all of the looks you could want from this style of bike with the clip-on handlebars, bobtailed seat unit and straight top tube line that could fool plenty into thinking it's the real deal from the 1960s. In fact, it's from China, which helps account for the very low price but doesn't undercut on quality.
Power comes from a single-cylinder 125cc engine shared with most of Herald's other models and is based on an old Suzuki design. Nothing wrong with that as it's durable, reliable and easy to work on. It also comes with a choice of kick-start or electric starter. On the road, the Café 125 is fun in a way that only 125s are as you can ring their necks and stay within legal speed limits while still feeling you've made the most of every ounce of the bike. The motor isn't the smoothest, but it adds to the period charm of this bike and it's still perfectly acceptable for daily commuting.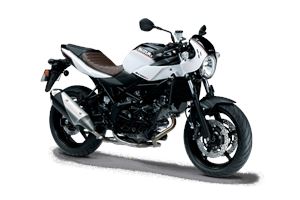 9
Suzuki SV650X
Price: £6399
You could argue Suzuki has merely added a few extras to its SV650 and claimed the X is a café racer. Or, it's an affordable way to enjoy a fine handling bike with a bit more flair to its aesthetics than before. For us, we'll go with the latter as we love the way the SV handles, brakes and performs. The 645cc V-twin engine has 76PS to be just the right side of punchy and delivers that with typical V-twin lugs of power that let you push hard out of corners. It will also lope away all day long for those who want to travel far and wide.
However, we'd aim for some country roads to make the most of the X's great handling. With the clip-on handlebars, the rider is pitched a little lower and further forward to imbue the bike with a sense of urgency and improved steering feel. It deals with corners in a way that few bikes of this price can get close to and, thanks to the V-twin engine, feels slim when nipping through traffic. In other words, just what a café racer should be.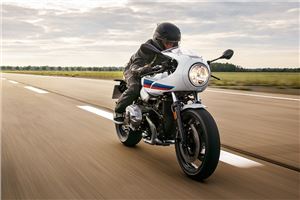 10
BMW R NineT Racer
Price: £11,050
It's hard to overlook the price of the BMW R NineT Racer as it's a big number and makes this one of the most expensive café racers you could choose. However, that number begins to make sense when you start to consider the bike's quality, kit and competence. For starters, the looks are nigh-on perfect and the dinky seat hump is a work of art. BMW has also put in a lot of work to the riding position, so there are lowered bars and the foot pegs are pushed further back, helping to hunker the rider down behind that sweeping fairing.
As for performance, the classic BMW Boxer twin engine not only looks the part but has 110PS on tap to make the NineT Racer a very swift machine. Its six-speed gearbox slots into gear smoothly and matches the overall feeling of quality. You'll also notice the Racer is quite heavy at low speeds, but this is common to all BMW Boxer bikes in our experience. On the move, though, the handling, steering and brakes are all precise and measured on their reactions.
Related Articles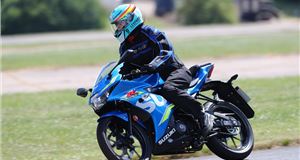 Motorcycles
Getting into riding a motorbike or scooter can be confusing when you don't quite know where to start....