Top 10: A2 motorbikes 2023
A2 bikes have to strike the balance between being friendly to ride while offering a lot in the way of performance, involvement and enjoyment. They'll also be expected to tackle longer journeys and commutes while returning solid value for money. Here's our pick of the best A2 licence-compliant machines. Bear in mind some will need a restrictor kit to stay legal for A2 licence holders, but that can be removed when riders gain their full licence.
Top 10: 125cc motorcycles | Top 10: Cafe Racers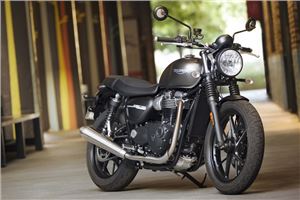 1
Triumph Street Twin
Price - £8100
Triumph is riding high in the sales charts and it's easy to see why when they make bikes like the Street Twin. Forget for a moment that it's an A2 licence-happy bike when fitted with a restrictor kit and just look at it. This is a gorgeous machine that any rider would be happy to fire up and ride away on, regardless of experience. That makes it all the more appealing for this A2 class and it now comes with more power.
To help riders graduating to a bigger bike, the Street Twin now boasts Road and Rain riding modes better brakes and improved suspension. There's also a tyre pressure monitoring system as an added extra, so you can make the most of the nimble handling and powerful motor without any worries.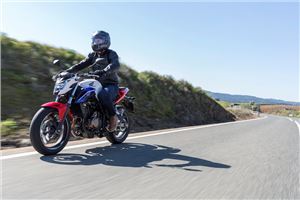 2
Honda CB500F
Price - £5559
In the world of do-it-all bikes, the Honda CB500F is a true legend and this latest version is the most polished yet. We've enjoyed many miles on the 500F and every single one has been a joy thanks to this Honda's extra power boost in 2019 and smooth delivery. The parallel twin engine is happy to rev, so the CB has a sporty side to complement its practical nature.
Honda has also improved the gearbox of the CB500F for the 2019 model, so newer riders will find it easy to slip through the gears and concentrate on what's ahead. A superb riding position, quality switchgear and strong brakes all contribute to this. Anyone riding longer journeys will find the optional screen and luggage box a boon, but those are about the only things we'd add to this bike.
3
Ducati Scrambler Sixty2
Price - £6750
If the Ducati Scrambler's retro styling has made you fall in love with bikes, but you're not quite ready to go for the full-fat, 803cc version – fear not. Ducati offers a 399cc version with a less intimidating 41HP, which is compliant with A2 licence rules, yet has all of the attitude and looks you could hope for.
It still has the same air-cooled, L-Twin character of the bigger bike though, just with a lower power output. The only problem with the Sixty2 is its price – at £6750 it's one of the more expensive models in our list and it's not all that much cheaper than the full-power Scrambler. Even so, this is a very stylish way to move up the motorcycling ladder and will hold its value or be reasonable to lease.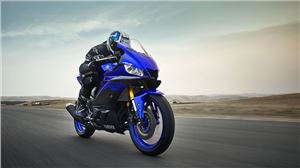 4
Yamaha YZF-R3
Price - £5299
Just as doe-eyed middle-aged bikers coo over classic Yamaha RD350s from their youth, the current crop of young riders will love the YZF-R3. Just as with its ancestor, it delivers masses of performance and all the thrills of a big sportsbike but in an affordable, manageable package. The 321cc engine is zesty and thrives on revs, while the pin-sharp handling is a revelation after most new A2 licence holders will be used to L-school 125s.
Yamaha has nailed the looks of this baby YZF and with a price tag that makes it very affordable, this is a great sportsbike first and foremost. That won't suit everyone, but plenty will love and cherish it.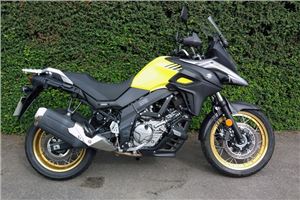 5
Suzuki V-Strom 650
Price - £7599
We could have plumped for the Suzuki V-Strom 250 that would save you the thick end of £3000 over its 650 big brother. However, we reckon spending the extra on the 650 is money well spent as the more powerful model delivers in every area. With a restrictor kit, it will see you through the A2 licence period with its smooth power delivery aided by traction control and able handling, helped by the engine now being positioned lower in the chassis.
The high-riding adventure style of the V-Strom is perfect for giving great confidence to riders as they progress up the licence ladder. It's also capable of some mild green-laning and off-road work, plus the pillion seat is comfortable for your chosen plus-one.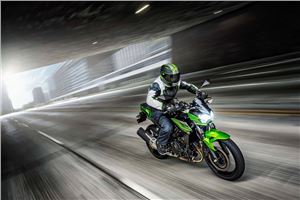 6
Kawasaki Z400
Price - £4999
The Kawasaki Z400 is one of our favourite bikes and made an immediate impression with its sharply styled looks. It got even better when set off for a ride and the 399cc engine that's borrowed from the Ninja 400, and replaced the old 300cc plodder, injects some much-needed verve into the experience. Now, the baby Zed is very much alive in the way it behaves.
Crisp handling allied to light weight make the Z400 perfect for those looking to hone their A2 licence skills on city streets or back roads. The naked style means a screen is needed for sustained motorway trips, but that's as much as we can find to nit-pick about with this good value machine.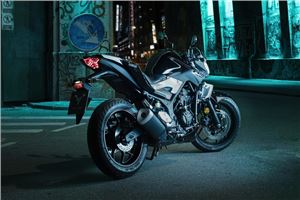 7
Yamaha MT-03
Price - £4999
Effectively a naked version of the R3, the MT-03 has a characterful engine and impressive handling, but it's also comfortable enough to be used for town riding, thanks to its upright riding position. This makes it a very different experience to the R3 and ideal for those who spend most of their time riding in and around town.
As a jumping off point into the MT range it's great – with far more sensible and manageable dynamics. The more powerful MT-07 is also available in A2 compliant form, but it requires a restrictor kit. For someone who plans to immediately move up to a more potent bike after their two years on an A2 licence it's probably a more sensible buy – but it is rather more unhinged than the MT-03.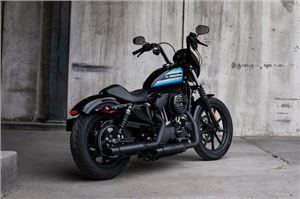 8
Harley-Davidson 883 Superlow
Price - £9045
Common sense would dictate choosing the cheaper Harley-Davidson Street 750 than the 883 Superlow. However, when did rational thinking ever come into the decision-making process when buying a Harley? On top of that, we reckon the extra cost is worth every cent when you get that magnificent, classic V-twin with its trademark thump in the Superlow.
If we have to be sensible when recommending the 883, we'd argue it comes with a low seat height and vice-free handling that make it a superb first custom bike. It's also got a larger fuel tank for 2019 to give a decent riding range. On top of this, the Superlow makes financial sense as it will hold its value tenaciously whenever you come to trade-in.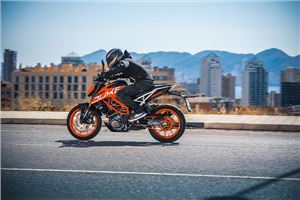 9
KTM 390 Duke
Price - £4699
Exceptionally light, the KTM 390 Duke is as nimble and as easy to manage as a 125cc bike, but with a whole lot more punch. That means it's a genuinely exciting machine with a really fizzy, fun personality. However, it has a relatively upright riding position which, paired to its agility, makes it great for zipping around town.
If you're more interested in fun than riding every day, there is an RC390 that uses the same engine. It's a real sportsbike though, with exciting handling and a less comfortable riding position. For most riders, we reckon the Duke is the better choice as it's such a barrel of laughs to ride in the city and out in the countryside.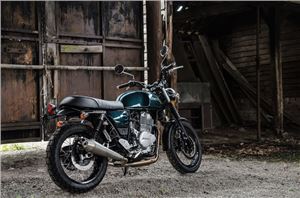 10
Herald Classic 400
Price - £4299
Looking every inch the 1960s British bike, the Herald Motor Company's Classic 400 lives up to its name. It gives this bike plenty of credibility when riding through town and you can bask in the admiring glances. However, there's more to the Herald than mere styling.
The 28PS 400cc single-cylinder engine may not be the most potent in the A2 licence category but it makes up for this with plenty of low-down urge. You ride it on that oomph rather than revving it mercilessly, which lends the bike an easy-going flavour. Throw in decent equipment levels and build quality and the £4299 Classic 400 is excellent value.
Related Articles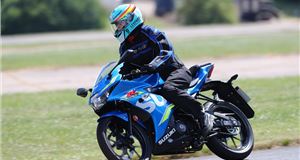 Motorcycles
Getting into riding a motorbike or scooter can be confusing when you don't quite know where to start....