For many, a motorcycle is a toy. A machine designed to raise smiles on a weekend before being tucked away in a garage until the next sunny day. The Suzuki V-Strom 650 is much more than that. And - if you're not a complete speed freak - it's probably all the bike you're ever going to need.
It provides excellent comfort and weather protection, so it's as happy pootling along in town as it is hauling its way down a French autoroute on a grand European tour. Yet, despite its relatively modest 650cc engine, it copes with pillion duties and panniers without breaking a sweat. And not only that, it's also affordable with prices starting at a little over £7000.
The V-Twin engine isn't powerful enough to set the road ablaze, with a respectable 71PS at 8800rpm. But peak torque of 62Nm comes in at 6500rpm and there's still plenty of punch available at even lower engine speeds. From around 4000-8000rpm the engine is extremely flexible, so for passing slow traffic or getting away from a standing start at a set of traffic lights, it's excellent.
And if you're planning a long day of riding, the light clutch and incredibly slick gearchange make life easy, as does the excellent visibility afforded by the high riding position. The V-Strom looks bulky and high-up, but at 213kg it's surprisingly light and manageable when being wheeled out of a garage or ridden at low speeds. Although you might struggle to get feet flat on the ground if you're short in the leg.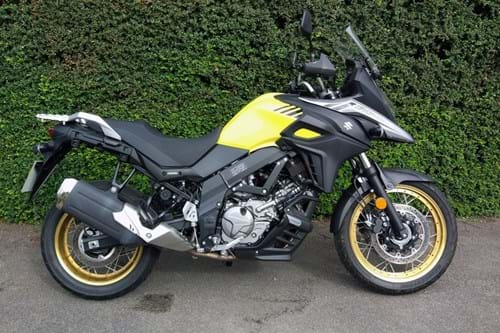 Also handy at lower speeds is low-RPM assist, which helps reduce the chance of stalling when letting out the clutch lever. But at higher speeds is where the V-Strom 650 really shines – it has extremely balanced, precise handling and is so easy to control, steer and use on the road – even if the surface is bumpy and badly surfaced.
The wide bars mean pitching into a bend is as easy as breathing, while the predictable power delivery keeps you from getting caught out in the wrong gear. And, if things do go awry, there is three-mode traction control and ABS – both of which didn't seem to engage at all during our time with the bike - a good sign that the bike is well set up for road use.
If you're planning to travel long distance, such as on a continental tour or a cross-country camping trip, then the V-Strom is very good too – albeit with a few small caveats. The screen, for example, is adjustable to three different heights. Great. But, in order to raise or lower it, you need to stop, get off the bike and use an Allen key on four screws. Not so great.
On more budget-priced bikes like this there are often obvious areas of cost cutting. That's the case with the forks and brakes on the V-Strom but you'd never tell - unless you found yourself in some hellish alternative reality where you had to take an adventure bike on a track day. But the fit and finish feels very high quality as does the switch gear.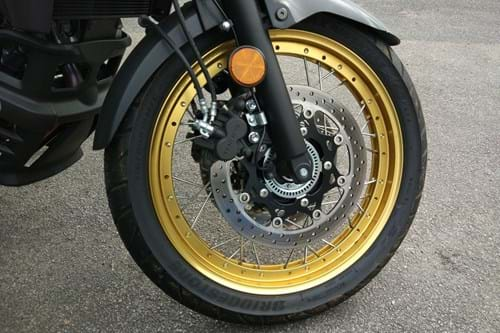 Another plus side is a 12V socket, positioned right next to the digital instruments. It's perfectly placed for hooking up a nav, while at the rear there is a luggage rack and a pair of chunky pillion grab handles. If you're carrying heavy stuff or a passenger then the rear suspension preload can be wound up or down with a simple dial – no tools or centre stand required.
Adventure bikes are often pictured being ridden by tanned, tough-looking men on rough tracks, but we wouldn't recommend that sort of riding. The exhaust and oil filter are positioned low and are vulnerable to rocks. And... well it's not really an off-roader. It just sort of looks a bit like one for the sake of style and comfort - though a gravel track isn't beyond the realms of possibility. 
If you want your V-Strom to look even more like a massive off-roader then you can spend a little more and get the XT version, pictured. This gains wire wheels (gold ones if you pick the yellow paintwork), knuckle covers and an undertray for an extra £500 over the standard bike. There's also a host of optonal extras including accessory bars, panniers and top cases.
Rivals include the Yamaha Tracer 700 and the Kawasaki Versys 650 – and both are fine bikes. But neither does anything significantly better than the Suzuki. In fact, if you want a bike that does it all, from short weekend ride outs to year-round commuting – or if a bike is your only mode of transport – then the Suzuki V-Strom 650 is difficult to beat.