What is it?
This is TomTom's latest motorcycle-specific sat nav, and it's aimed squarely at those who want to tour or take the long way home. It offers all of the usual sat-nav ability to get you to your destination in the shortest possible time or most direct route, but it also comes with features that allow you select more scenic or challenging roads. 
As you'd expect with a TomTom, there's all the usual traffic and route information available to help you avoid jams. It tells you where safety cameras are positioned and, in most cases, if you're in an average speed zone and what your calculated average speed is. All useful stuff when you're on unfamiliar roads.
Built-in WiFi means you don't need to faff around with wires when you want to update the Rider 550's maps and software updates either – just hook it up to nearest WiFi source and you're sorted.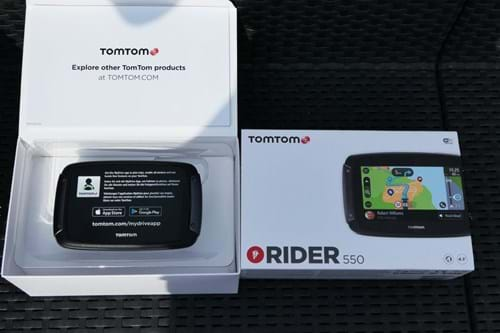 On top of that, the Rider 550 lets you make hands-free calls and have text messages read aloud to you via your smartphone and a headset. Though this can be deactivated to let you concentrate on the road ahead. With a 4.3-inch screen, this TomTom fits to most motorcycle handlebars easily (using the RAM mounting kit) without getting in the way of the bike's instruments.
What's it like?
The TomTom Rider 550 is neatly packaged and presented inside the box. Spending just shy of £400 on a sat nav when there are plenty of free smartphone apps available might seem absurd, but as soon as you pick up the Rider 550 you can feel it's solidly made.
The fitting kit supplied by TomTom is equally strong and well made. A U-shaped bolt goes round the handlebars to slot into a clamp that's then bolted on for a permanent fixing. This was simple to fit in a couple of minutes, though we did have to be careful the bolts didn't chafe on the clutch cable in our chosen position.
A knuckle joiner goes over the ball on this clamp and this, in turn, attaches to another knuckle on the sat nav holder. It took minor adjustments to get clamp and holder in the right position before we tightened everything up, but it's simple DIY stuff and there's also quick adjustment thanks to the quick release on the clamp.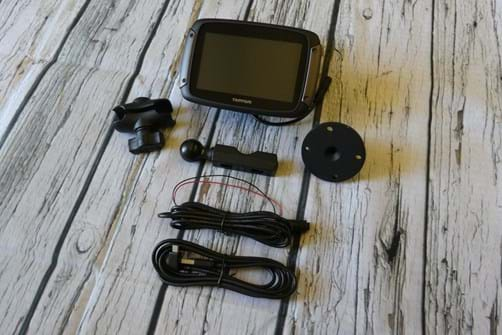 It took a little longer to do the wiring, i.e. feed the power supply wire neatly along the handlebars, down past the headstock and tuck it under the petrol tank. Some small cable ties were needed to make a tidy job, which are not supplied in the kit, but we achieved a near-invisible result. We wired in the connection to a handy power supply and fuse, though anyone not keen on electrical jobs could ask their dealer to sort this.
Connecting the 550's screen to the holder is really easy as it just slots into place and clicks to let you know it's fully home. Releasing it is just as easy by pressing the clip behind the Nav to let it slide out. The sat nav is also weather-proof and drop-proof. So even when it's wet, the touchscreen sensitivity is accurate.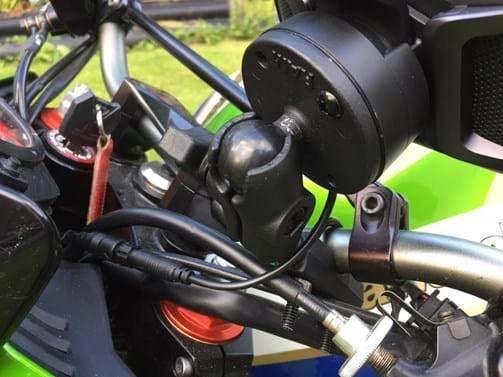 Once fitted, the screen comes on as soon as it has power and you can rotate it through 90-degrees to choose between portrait or landscape views. The screen resolution is among the best we've ever used and the graphics are all typically TomTom clear. That's important on a motorcycle where you need to see everything at a glance.
You can also adjust the screen to work with summer or winter gloves, though we found the sensitivity even with lightweight gloves a bit lacking. Sometimes it needed a firm prod to access the desired function. Also, a couple of buttons on the plastic surround would make it easier to toggle between menus when wearing gloves.
However, there's no faulting the clarity of the screen and its direction when on the move. Even in bright sunlight, we had no trouble seeing where we were supposed to go. The Rider 550 is quick to react to changes in direction and also re-routes rapidly if you take a wrong turn.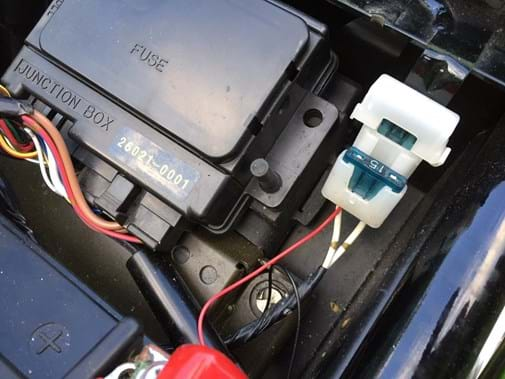 There's a whole variety of route options to choose from, like the 'Plan a Thrill' setting that threw up a couple of local roads we wouldn't have otherwise considered. The MyDrive feature let us plan and edit our routes by selecting waypoints and choosing the level of hilliness and windiness (low, mid and high).
We also like the display bar on the right-hand side of the screen that shows vital information on fuel stations, speed cameras and about the route. An anti-theft device comes standard with the Premium Pack, but it'll cost you £50 as a separate purchase.
In case you get a bit stuck, TomTom also have a series of videos to walk you through things like making hands-free calls, recording a track and importing tracks using Bluetooth.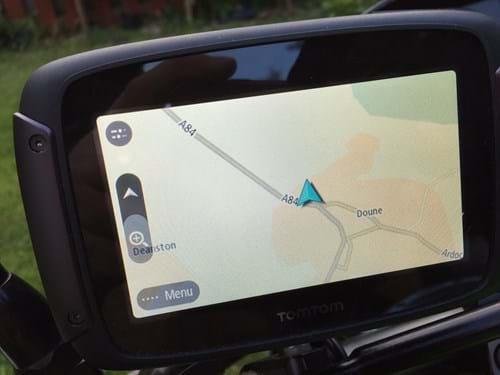 Should I buy one?
If you want the best motorcycle sat nav on the market right now, you've found in the TomTom Rider 550. It does come at quite a price, especially compared to free or cheaper smartphone apps. However, the Rider 550 is extremely robust, completely waterproof and has a superb display. It's easy to use and has a lot of extra functions that elevates it above its rivals.