What is it?
TomTom's Go Basic is, as the name suggests, the base-spec model in its sat nav range - offering lifetime traffic services and lifetime European map updates, smartphone connectivity and a three-month speed camera subscription (before you need to start paying for this feature). We're reviewing the 5-inch screen model, although there's is also a 6-inch screen variant.
While there's £30 between the retail prices of the Go Basic (£150) and the higher-spec Go Essential sat nav (£180), we regularly see the Basic at about £120 and the Essential at £160 on Amazon. The Go Basic doesn't get the six months of speed camera updates (it gets three instead), hands-free calling and compatibility with Siri and Google Now - but do we still think it's a good buy, especially when smartphone apps like Waze offer free real-time navigation?
What's it like?
In the box, there's a reversible adhesive mount, a 12v in-car charger, USB cable and user guide. We like that the sat nav comes with the option for charging via a USB port or the 12v socket as we often have a mobile phone and/or dash cam plugged in as well. It also means we can play around with the settings and get to grips with the nav inside rather than sitting in our car to use the 12v socket. Once fully charged, it lasts a claimed one hour without being plugged in. In reality, it's a bit less than the advertised hour.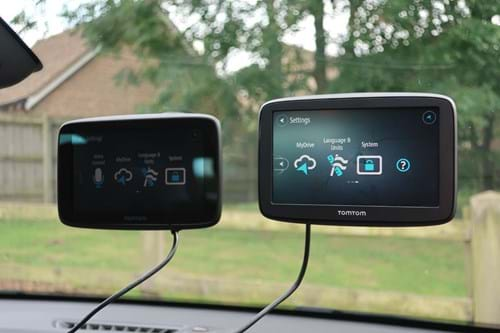 The Go Essential (left) has a capacitive screen while the Go Basic ( right) features a resistive screen
It's very easy to affix to the windscreen, it's just a matter of pushing the mount against the glass and rotating the locking ring. Removing the nav is slightly more tricky, depending on the angle of your windscreen, because you have to reach behind the device to undo the locking ring.
The unit starts up automatically and the resistive screen is responsive - although it requires a little bit more pressure than a capacitive screen would, so every now and then we push a button on the screen and nothing happens. In this sense, the Go Essential is ever so slightly more user-friendly because the screen acts the same as you'll be used to with a smartphone - but not enough that it'd sway our choice in itself. More than anything, we think resistive screens just cheapen the look of a product - hence the 'Basic' part of this sat nav.
Once switched on, you'll be walked through connecting to your wireless network and your smartphone via Bluetooth - both of which are quick and easy processes. If you don't already have a TomTom account, you'll be prompted to set one up. You'll also likely be alerted to let the nav perform some updates - both for the software and maps. We don't have the fastest WiFi in the Honest John office (village life and that), but the three updates on our TomTom Go Basic took a few hours, so leave plenty of time if you plan to do the updates.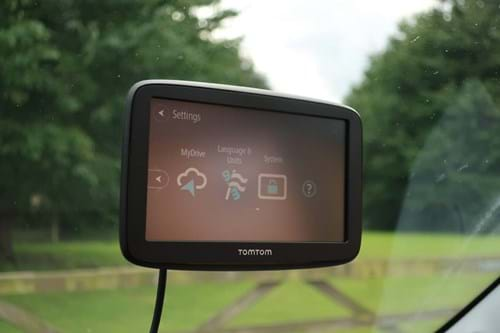 While the directions are easy to follow, the Go Basic doesn't manage to find all addresses. Our doctor's surgery, for example, didn't come up in the search. We were in a rush to get our prescription before the pharmacy closed, but ended up having to Google the address to get the postcode so that we could search for that instead. The sat nav gave us accurate directions to said postcode, but it seems like an unnecessary faff, especially considering Waze and Apple Maps can both find our doctor's surgery just by typing in the name.
Following the TomTom's guidance is easy, while the display is relatively easy to see thanks to the bold colours - even in sunlight. The spoken instructions are also timed well with the prompts chiming in a reasonable amount of time before the action is needed, although the sat nav does sometimes get confused if - say - we miss a slip road we're routed to take, with the Go Basic taking a bit of time to recalculate once it's realised we've gone off course. On the right side of the screen, there's a bar which shows the details of the journey: time, distance left, petrol stations etc. Live traffic is also shown via a connected smartphone's data connection.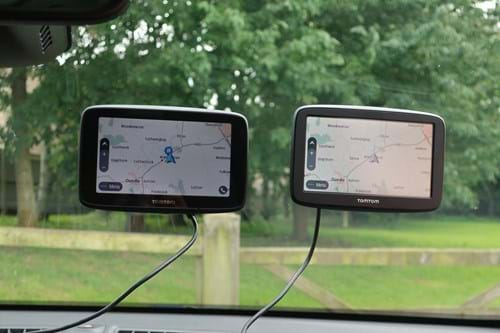 This unit comes with three months of speed camera location detection, if you wish to continue this it will cost you £19.99 for 12 months or £29.99 for 18 months. The speed camera is shown on screen and a voice warning also alerts us. The TomTom GO Essential tracks your speed in average speed camera zones, too, alerting you if you go over the limit.
The Go Basic can display texts but doesn't allow for hands-free calling or voice commands. TomTom's MyDrive and Road Trip functions are also available on the Basic if you download the companion apps onto your paired smartphone. TomTom MyDrive gives you the ability to take some of the pre-planned Road Trips in the app, but the majority of these are outside of the UK. As was the case when we tested the Go Essential, you also can't select a particular country - meaning you have to scroll down the list to find the Road Trips that say GBR next to them if you don't want a European adventure.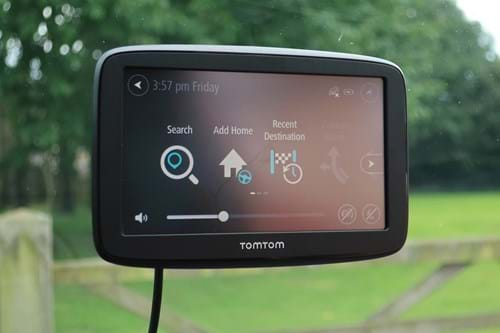 However, we can't help but compare the sat nav to our favourite free smartphone navigation app: Waze. Waze offers helpful directions, including alerts for live traffic updates, police, accidents, road hazards and traffic jams. It gives us real-time updates for a wide range of things, as well as showing if we're going above the speed limit. Waze warns us of more hazards (like potholes) and is also slightly more helpful in the way that it directs us. For example, where the TomTom told us to "turn at the end of the road", Waze gave us distance-based instructions: "turn in 1000 feet".
You can also connect the Waze app to your Facebook account and your digital calendar, so it can give you directions to an event you've been invited to without you needing to input a single letter into the search box. Plus, as we've said, it's completely free. We just plug our smartphone into our car via the USB port and Apple CarPlay lets us see Waze on our infotainment screen. If you don't have Apple CarPlay then you can use a magnetic phone mount or holder attached to the dashboard, windscreen or air vent (we opt for the air vent so it doesn't obstruct our view of the road).
If you don't have a smartphone, a sat nav makes more sense. Yet, if you don't have a data-enabled smartphone then the TomTom Go Basic only offers rudimentary traffic information via a TMC antenna (sold separately) anyway. This method won't give the same level of up-to-date traffic information and automatic re-routing as TomTom's live traffic system either.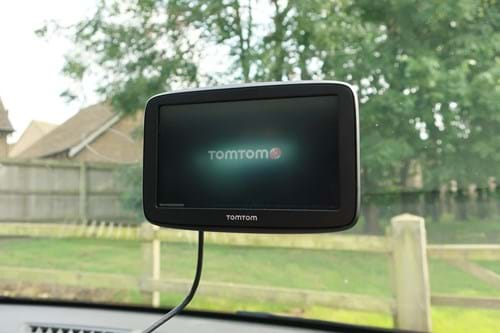 Should I buy one?
The TomTom GO Basic is worth considering if you're looking for a high quality sat nav from a reputable brand and you're on a budget. It doesn't quite offer the extensive features that higher-priced sat navs do, but it does have live traffic and free map updates - which are things we'd consider a necessity.
Yet, if you don't have a smartphone, you'll need to invest in a more expensive satnav with built-in traffic updates – like the TomTom Go 5200. If you do have a smartphone then we'd suggest free apps like Waze or Google Maps instead. Despite the Go Basic being a good sat nav, we can't truly find a compelling enough reason to drop £115 (price at time of writing) when a free app could do the same thing.