What are they?
The Furygan RG20 is a modestly-priced summer riding glove manufactured from goat leather, with hard wrist and knuckle protection, tear-resistant lining and silicone palm inlays for good grip on the handlebars. A pair costs around £90 – so they're not cheap. But equally, they're relatively affordable for a high-performance road glove.
What are they like?
We tested a pair of RG20s over three months and they've proved to be very comfortable. Initially – as is the case with any kind of leather – they were a little stiff and tight, but they have since stretched and now feel like a second skin.
The fit is very good even for our testers' tiny hands and there's enough flexibility to operate levers and indicators without any tight spots or discomfort. They feel secure too, with a pair of Velcro straps to strap up on the wrist and cuff, keeping the gloves in place without them getting too tight.
They are quite notably thin, so are clearly aimed at summer riding rather than cold, wet weather. But in warm conditions, they're excellent with enough ventilation to keep your hands cool and enough insulation to keep them from freezing when the sun goes back behind a cloud.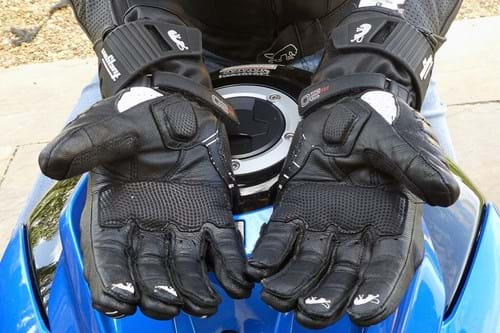 The palms have silicone pads to provide a strong grip
In terms of protection, the most notable areas are on the outer wrist, where there are three hard plastic areas lined, along with the knuckles, which have carbon fibre inserts. On the palm and thumb, there are soft protection pads, plus there are a couple of rubber pads on the knuckles of the two middle fingers.
Despite all the areas of protection the gloves fit very naturally and it's still easy to feel the grips, levers and switches through them. On the downside, they don't really do much to protect your fingers from the wet if you get caught in a shower – so these are really only meant for those warm, dry summer days. That said, for £90 they have good protection and good fit.
Should I buy them?
If you're not planning to use them year round, whatever the weather they're very easy to recommend. That said, for similar money, there are lots of good quality touring gloves from manufacturers like Held – so make sure you really want a summer-specific glove before splashing the cash.