Top 10: Best scooters under £2000
A brand new scooter for £2,000 or less does not involve compromising on riding fun, practicality or quality. Our pick of the Top 10 budget beaters shows you can have a showroom fresh machine complete with warranty for much less than you think. You'll also find some big names on this list, along with some of the best-selling scooters on the market.
1
Longjia LJ 50 QT-3L - £725
Not only is the snappily named Longjia LJ 50 QT-3L the cheapest scooter in our Top 10 by some margin, it's also the top seller in the UK in the entire sector. Of course, much of that comes down to the £725 price and, even when you factor in an £85 delivery charge, that is sensational value.
What you get for that cash is a simple four-stroke 50cc machine that's as easy to hop on to for a 16-year-old learner as it is for more experienced riders. It weighs only 78kg and has a 30mph top speed, so zipping around town is its forte.
On a practical note, there are side and centre stands, secure underseat storage and a rear rack as standard. You also get a year's warranty.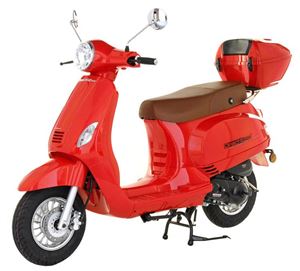 2
Direct Bikes Milan 125 - £949
Fancy a bit of Italian chic for less than £1,000? Well, you'll have to look a bit further east, but you will end up with a Milan from Direct Bikes. Its styling is clearly based on the classic Vespa look. You can see where some costs have been saved, such as the finish on the swing arm, but build quality is good considering the price.
While you don't get some of the panache and riding experience of the real deal, the Milan's 125cc four-stroke engine is smooth, economical and makes light work of town riding.
The style is close enough to fool most passers-by and there's a 12-month warranty that can be extended to 24 months for £69.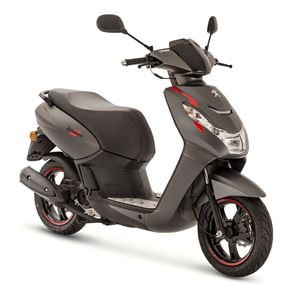 3
Peugeot Kisbee 50 - £1,499
Peugeot has been building two-wheelers for 120 years, so it should know how to knock out a decent scooter. This is precisely the case with the Kisbee that's a strong and steady seller for the French brand, though it now shares ownership of its scooter division with Mahindra.
Everything about this perky performer is simple, from the clean styling to the two-dial dash. It's about as basic as water, but that's where the Peugeot's appeal lies as you just hop on and go.
Some might find the lack of a side stand or storage frustrating, but the agile handling and low running costs more than outweigh these concerns in our mind.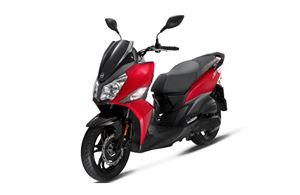 4
SYM Fiddle III 50 - £1,699
You could spend an extra £300 and have the 125cc version of the Fiddle III, but we've gone for the cheaper model as it delivers all of the style with only a small deficit in performance. The four-stroke motor is EU4 emissions compliant and now has a larger 6.5-litre tank for great range.
The classy dash looks the part and complements the retro shape ideally. A well-padded seat covers a storage bin big enough for a helmet and there's a glovebox underneath the bars for added practicality.
A three-year, 18,500-mile warranty gives peace of mind, making the Fiddle III an excellent urban runabout.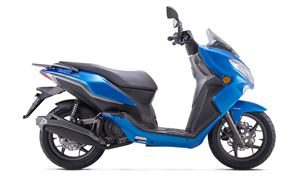 5
Keeway Cityblade 125 - £1,799
Offering all of the looks and features you expect of a big-name commuter scooter, the Keeway Cityblade only differs in the price you pay. At £1,799, it's as much as half what you'll shell out for some others in this corner of the market.
Is the Cityblade only half as good? Not at all. The 125cc four-stroke engine accelerates up to and beyond 30mph with gusto, though it takes its time to head beyond 50mph. In town is where's it's aimed at and happiest.
Big headlights give the Keeway presence and good night vision, while the underseat bin is fine for full-face helmets. You also get a standard luggage rack, clear dash with digital display and large mirrors.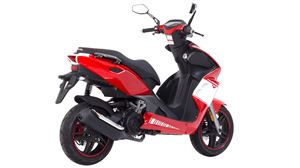 6
Lexmoto Diablo 125 EFI - £1,799
There's no doubt the Lexmoto Diablo 125 is targeted at the youth market or those wanting a scooter with some sporting flair. You only have to see it once to know the looks are bang up to date and shun the retro style of many others.
The 125cc four-stroke engine can strut just enough to live up to the appearance. The top speed of 55mph feels trained, but up to 50mph the Diablo is a wee devil. It also has nimble handling and strong anchors, which feature a combined braking system to give confidence on slippery streets.
At £1,799 including a two-year warranty, this Lexmoto model deserves consideration alongside other sporting scooters.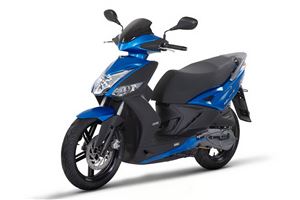 7
Kymco Agility City 125i CBS - £1,999
If you're after a no-nonsense commuter scooter at a keen price, the Kymco Agility City 125i CBS is the one for you. True, it's not the prettiest to look at and the forward slope of the seat isn't to all tastes, but it's easy to ride in traffic and has a peppy engine.
The 16-inch wheels front and rear bless the Agility City with a more composed ride than many others, even when you make the most of the 65mph top speed. That also means you can range further and wider on this scooter than many rivals.
Sneaking in at just under two grand, the Kymco is a very good deal and comes with a two-year, unlimited mileage warranty.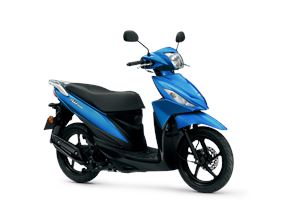 8
Suzuki Address - £1,999
While most of the other big-name brands are absent from this Top 10, Suzuki unashamedly makes its presence felt with the Address. It's a cracking commuter machine thanks to its 134mpg average economy and build quality is excellent.
The Suzuki is a little unusual in having a 113cc engine rather than the more obvious 125cc motor. It doesn't make a huge difference and the Address will manage just over 60mph, though it's in the comfort zone at 55mph.
The foam-lined underseat storage space is a neat touch and it will carry a full-face lid. There are also a couple of small open cubbies beneath the bars.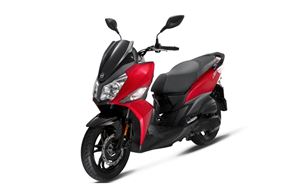 9
SYM Jet 14 - £1,999
With a name like Jet 14, you kind of expect a scooter with plenty of performance. This SYM model doesn't disappoint thanks to its 125cc four-stroke engine that will take you beyond 60mph. It's at its best around town, where lively acceleration keeps you ahead of the traffic light pack.
The handling is up to the job too and the brakes work well, though a drum rear stopper is an indication of why this scooter has such a reasonable price tag. Still, build quality is good and SYM provides a three-year warranty.
Other useful details include the generous underseat space to keep your helmet safe and a hook for shopping bags on the inner front fairing.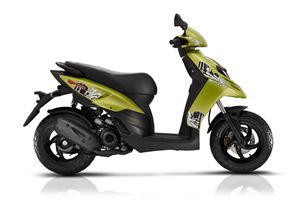 10
Piaggio Typhoon 50 - £2,000
Okay, this is only a 50cc scooter when £2,000 will bag you several good 125s, but the Piaggio Typhoon 50 is a bit of a cult machine and we like it. It has handling pizzazz and is very agile on city streets, while the engine is a willing accomplice up to 30mph and positively revels in being wrung out.
For a sportily-styled machine aimed at younger riders, the Typhoon has a very comfortable seat and riding position. You also get decent storage and a quality finish, which is just as well when spending this much on a smaller capacity scooter.
Related Articles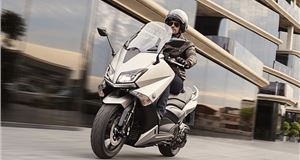 Scooters
All you need to know to ride away on the ideal new scooter. Read our complete guide to help you decide...