The AGV K-3 SV is the successor to the very popular K3, it just includes an integral sun visor (hence the SV). The shell is constructed from a High Resistant Thermoplastic Resin, which comes in two shell sizes, while the removable and washable interior lining pads are made from Dri-Lex microfibre.  
The K-3 SV has a four-star Sharp rating and comes loaded with handy features that make this a great value helmet. Our model is the K-3 SV Replica Mir 2017.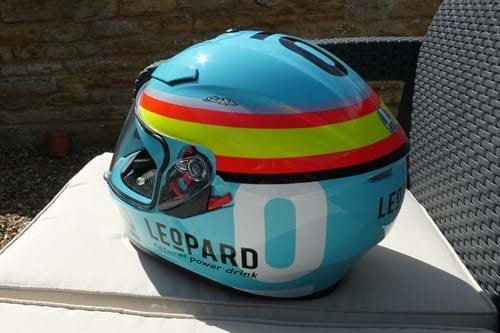 What's it like?
While it's an entry level helmet (priced at under £200), it definitely doesn't lack quality or practicality. The helmet is comfortable, with a soft lining that beds in with time and it's not terribly heavy. You get front air intakes along with rear exhausts, a non-scratch, anti-mist, polycarbonate visor (optical class 1) with Pinlock insert and - as already stated - an internal sun visor.
The sun visor opens using a lever behind the left-hand side visor pivot. However, the inner visor mechanism is much easier to drop than to raise, which can be a nuisance when the clouds come out and you want it out of your way. While the sun visor is anti-scratch, it's not anti-fog, so it can steam up (unlike the main visor).
It's got an aggressive-looking, aerodynamic chinguard and rear spoiler designed to cut through the air and reduce buffeting. The two chin vents are operated by the AGV's usual slider inside the chin bar. The pair of forehead vents open/close with sliders covering the vents and there's a special K-3 vent on the top of the head that's unique to this lid.
Once you get used to how the different vents open, they're reasonably simple to use. The top vent pulls in air and, because the K-3 SV has lots of channels throughout the polystyrene liner, it keeps your head cool and removes the warm air via the rear vents. The biggest issue was the noise though (especially noticeable above 50mph), largely down to the many vents on the helmet.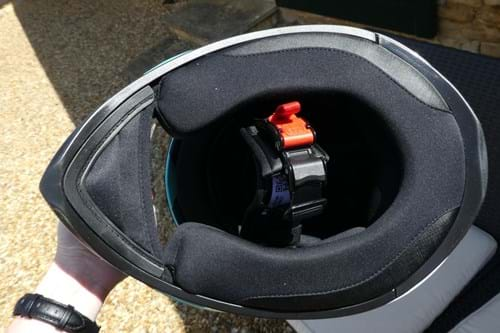 There's also a slider on the bottom of the visor that you can push upwards to open the visor a crack and keep it in position there. It's called City Mode and is designed to help with demisting when you're riding slowly. There are glasses grooves cut into the liner too. These allow glasses wearers to slot their specs into the helmet and prevent the stems of the glasses from digging in.
There's a micro-metric retention system, which is a strap that works like a big cable tie that you can undo. The toothed strap is not only easy to tighten and safer than a traditional 'Double D' strap, but it's also very easy to undo with your gloves still on. The K-3 SV is AGV Share Bluetooth system ready as well (with this option setting you back about £130).
The AGV K-3 SV comes in two shell sizes and XS – XXL fitment sizes, with four different EPS liners. AGV also offer a MS and ML fitment to offer a bit more assurance that you'll get a size that fits just right. Graphics include the usual whites and blacks, as well as Rossi, Guy Martin, Simoncelli etc replicas.
Should I buy one?
Yes. If you're looking for a stylish, practical, comfortable helmet that won't break the bank - the AGV K-3 SV is it. There are plenty of features on offer, as well as a range of styles and fits. Though, if you're looking for a quiet lid above all else, this won't be the best choice for you.