Top 10: Cheapest new scooters 2018
Your eyes are not deceiving you, the prices you see for these scooters bags you a brand new machine with the latest registration plate attached. Choosing one of the Top 10 cheapest box fresh scooters in the UK doesn't mean giving up any hope of riding something with a shot of style, fun and comfort either, so read on to be amazed at the value on offer here.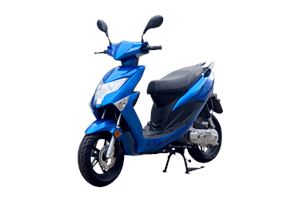 1
Longjia LJ QT-3L
It's hard to spot how Longjia has managed to make a brand new scooter for the price of an average mountain bike. For starters, it looks bang up to date and even when you look more closely the details don't show any of the rough edges that some low-cost scooters can.
You will spot the dash graphics are a bit Plain Jane and the 10-inch wheels mean you need to keep an eye out for potholes to steer around them. However, the Longjia is agile thanks to its light weight of 78kg, nippy up to 30mph and the 6.0-litre fuel tank gives a good range on this learner-legal bargain.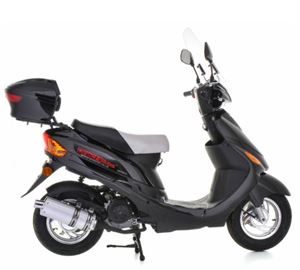 2
Direct Bikes 50cc Sports
Direct Bikes imports the 50cc Sport and a range of other identically priced models from China, which goes a long way to explaining the low price. There are some areas where you can see how the price is arrived at, such as the 10-inch wheels and rear drum brake. You also have to attach the wing mirrors and battery when it's delivered by courier and register it yourself.
On plus side, this simple scooter trots up to 30mph easily, has good fuel economy and the four-stroke engine is EU4 emissions compliant. As basic scooters go, it's worth a look.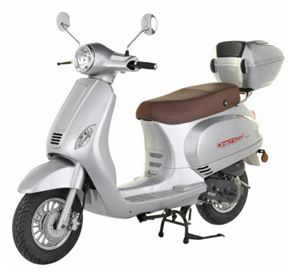 3
Direct Bikes Milan
Another offering from Direct Bikes at the giddy price of £899, the Milan is one of several scooters at the same price on offer from this company. You have to factor in delivery and registration costs, but it's still one of the least expensive ways onto two wheels.
When you've bought and screwed on the mirrors, you end up with a good looking scooter that will fool most people into thinking you're living la dolce vita, albeit on Margherita pizza money. Some of the finish isn't as polished as more pricey options, but the Milan is a great learner bike.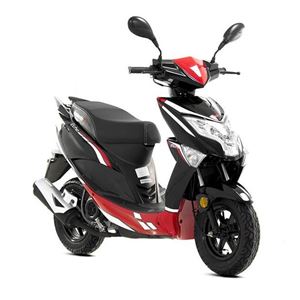 4
Lexmoto Echo 50
Clearly aimed at the younger end of the learner market, the 50cc Lexmoto Echo has race replica styling that's as up to date as the next social media phenomenon. Neat detailing, like the integrated front indicators, Y-shaped headlight and slick dash all add to the feeling this is great value scooter.
On the road, that sensation continues thanks to feisty performance up to 30mph and handling that lets you exploit every gap in traffic. You also have disc brakes front and rear for quick, safe stopping. Only limited underseat storage lets the side down.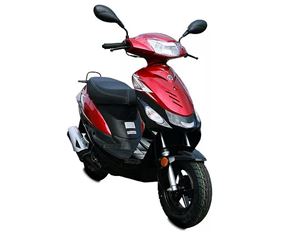 5
AJS Digita 50
AJS is one of the oldest names in motorcycling and has adapted to the modern world by importing the Digita 50 from China and applying its own branding. To protect its image, AJS has made sure this scooter is a good quality machine and this is evident in the fit and finish.
Easy to ride and handle, the Digita 50 comes with both centre and side stands, as well as pre-drilling for a luggage rack. The looks are never going to make you stand out in a crowded street, but this scooter is all about getting the job done in a hassle-free manner and does that very well.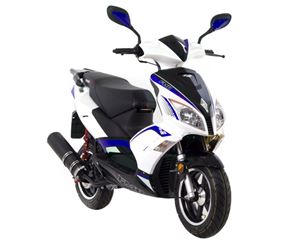 6
Lexmoto FMR 50
Another 50cc sports scooter from Lexmoto, the FMR is a touch more grown up in its appearance than the Echo. That means it sells to older riders looking for something to learn on or as a cost-busting commuter. It fulfils both roles very well.
The four-stroke engine works away happily up to 30mph just like the Echo, but the big difference is the FMR's 12-inch wheels that give it a much smoother ride. They also give it greater stability at the urban speed limit while retaining the quick reaction handling of its cheaper sister model.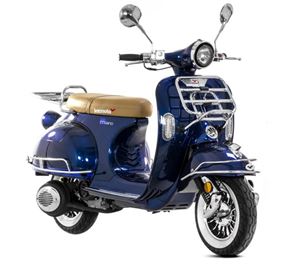 7
Lexmoto Milano 50
It could be Brighton in the 1960s all over again when you see the Lexmoto Milano 50, though you might not want to ride from too far away to get there. After all, with 50cc on tap and 30mph top end, this is strictly a town-bound scooter.
As such, the Milano concentrates on style rather than outright pace and handling, though it's simple to guide through traffic on its 10-inch wheels. Just watch out for potholes and pitfalls. There are five colour options and a tan seat, but only limited storage in the right-hand side panel.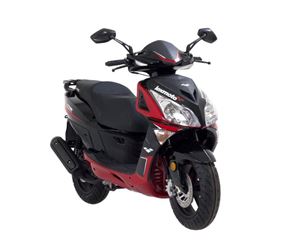 8
Lexmoto Titan 125
Finding a 125cc scooter at this price is a surprise, but Lexmoto manages it with the Titan. Its modern style and 700-millimetre seat height make it ideal for those graduating to a more potent machine or anyone looking for a handy city machine.
Performance from the four-stroke motor is strong up to around 40mph, but reaching the 50mph top speed needs dedication. Stick to urban roads and the 13-inch wheels soak up poor surfaces well and the 6.4-litre fuel tank guarantees you won't see petrol stations very often.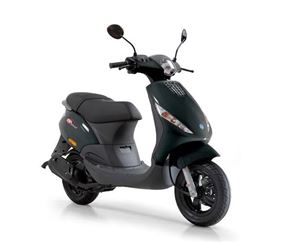 9
Piaggio Zip 50
The Piaggio name is a reassuring presence on any scooter, but finding it among the cheapest 10 in the UK comes as a pleasant surprise. It does mean choosing a 50cc machine in the Zip rather than a larger engine in some others at this price point. However, the quality of the Zip makes up for that and it holds its value keenly.
It rides well, has a large fuel tank and looks neat, though the 10-inch wheels mean caution is needed on fractured road surfaces.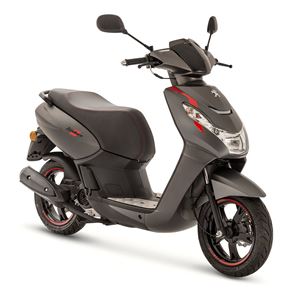 10
Peugeot Kisbee
There's a depth of quality to the Peugeot Kisbee that tells you why this scooter has been a consistently strong seller. In its current form, the Kisbee has lots of touches that set it apart from many similarly priced or more expensive machines. Check out the stitching on the seat, the finish on the wheels and forks, or the lustre of its paint and you see why it justifies the price.
It's also good to ride and an ideal way to get around town, though at 90kg it needs a little more muscle to heft into parking spaces than some of the opposition.
Related Articles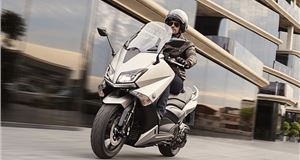 Scooters
All you need to know to ride away on the ideal new scooter. Read our complete guide to help you decide...