If you don't want the expense and hassle of taking your motorcycle test also don't want to be restricted to a 125cc bike with L plates, don't worry – there's a loophole just for you. If you passed your car driving test before 19 January 2013 then, provided you're over 21, you can ride a 'trike' like the Piaggio MP3 Yourban 300 LT.
It's not a trike in the traditional sense though, because it leans over in bends just like a scooter. It's as easy to ride as a scooter too, with a twist-and-go throttle and a comfortable, upright riding position. You can park it for free in most places, just like any other motorcycle – so it's a perfect urban commuter tool.  
And despite the fact you don't need to complete a CBT or display L plates to ride, it has a pokey 300cc engine with 23PS. That said, the extra weight over a traditional scooter does hamper performance somewhat. Top speed is around 70mph, but acceleration beyond 40mph is pretty lethargic - a bit more pace would be good for motorway riding. 
Steering the MP3 is intuitive – the Yourban leans over in the same way as any other scooter or, if you've never ridden one of those, a bicycle. It's much more stable than a two-wheel scooter though, which inspires confidence on poor surfaces or in windy, wet conditions. The wide front and big screen keep rider dry and warm, too – though heated grips would be handy in winter.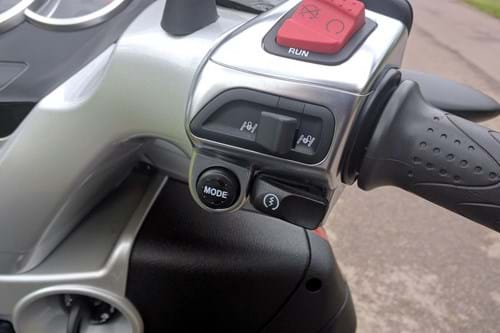 On the handlebar there is a switch to lock the bike upright. It only works at very low speeds or when standing still and it disengages automatically when pulling away. It means riders can stop at the lights, lock the bike upright, get both feet on the footboards and then pull away very quickly when the lights turn green, which is great for a head start in busy town traffic.
Despite its extra front wheel the Yourban doesn't feel much wider than a large 125cc scooter – the bars are the widest part, after all. That means filtering in queues is easy, helped even further by the Yourban's extra stability versus a traditional scooter. That said, on a tiny, lightweight two-wheeled scooter it's even easier to get through gaps.
For riders who travel into the congestion charging zone, the MP3 is exempt, although owners do need to apply for an exemption and pay £10 a year for it. Larger three-wheeled scooters like the Piaggio MP3 500 are not exempt because of their length, so if you're travelling into the capital every day the 300 is the one to go for.
There are a few extra controls on a Yourban compared to a traditional scooter - the steering lock mentioned earlier, a parking brake and a foot operated brake. The foot pedal works both front and rear brakes together – but if you're used to scooters the front and rear brakes can be operated separately via traditional levers on the bars.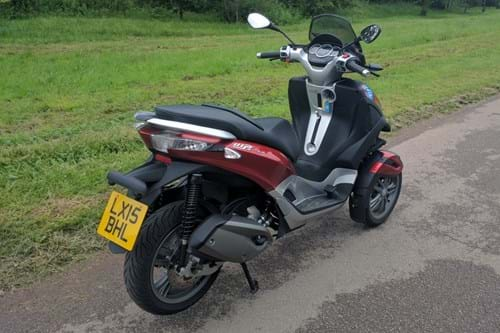 Pillion provision is decent in terms of space, with a nice big seat and large, sturdy grab handles - but performance will be blunted with the additional weight of a passenger on the back, despite the 300cc engine capacity. That's unlikely to prove problematic in town though, which is where a Yourban is likely to spend the majority of its time.
Under seat storage is sufficient for shopping trips and a chain or disc locks, but it's a bit on the shallow side so full-face helmets won't fit. It's a shame there isn't some storage in the leg shields too, though there is a bag hook. Fortunately, there are loads of top box options for some extra storage, most of which will take a full face helmet easily, as well as providing a passenger back rest.
If you passed your driving test after 19 January 2013 then you'll have to go down the normal motorcycle route to get on a Yourban. That's because of changes that move trikes under motorcycle testing rules, rather than car rules. That means a CBT and a full bike test – although even if you passed your car test before 2013 we'd recommend a CBT before taking to the roads on the Yourban.
At more than £6000 the Yourban is way pricier than a traditional scooter, so it's not for everyone. But its confidence-inspiring stability means it can be used to commute all year round and in all kinds of weather. That is most likely to appeal in the capital, since it can be ridden in conditions where owners of traditional scooters might hang up their helmets and take the tube.