What is it?
The AK550 is a step up in every respect for Kymco. Not only is it the largest capacity maxi-scooter they make, it's an impressive leap forward in quality, equipment, finish and technology. The bigger 550cc engine endows it with performance and cruising to take on the best in the class, such as the Suzuki Burgman or Yamaha T-Max. It also handles very well, so the Kymco inserts itself into the hotly contested premium end of the market.
On the technology front, Kymco includes its Noodoe app as standard with the AK550 and it blends with your smartphone to offer a host of accessories and options. Satellite navigation is standard and you can also use it to access messages and social media. It's possible to personalise the screen on the bike, too. All of this comes at a price, but it's keenly pitched against rivals in a manner we've become used to from Kymco.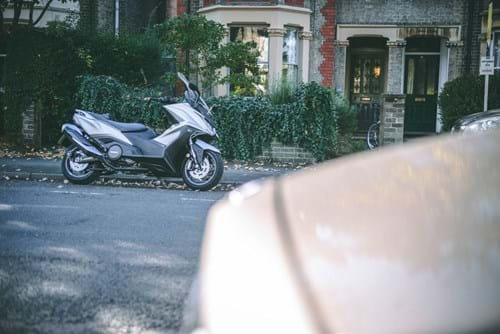 What's it like?
Maxi-scooters are intended to be the do-it-all two-wheeler for all seasons and the Kymco AK550 gives this a mighty fine shot. Let's start with the basics demanded of this type of bike. As a step-thru, it's easy to sit on the AK550 as you just have to a lift a leg a little and drop down on to the seat, which has a height of 785mm. That's not too high for most riders, though some with shorter legs might find the wide cushion of the Kymco means leaning a little to get a foot flat on the floor.
None of this is much of an effort, even when the Kymco goes across the weighbridge at a surprisingly hefty 226kg. That needs fuel added to the overall total, so the AK is no lightweight but then few maxi-scooters are. As we said, this doesn't really matter as the AK550 carries its heft very low in the chassis to make it easy to wheel around in the garage or when pushing it into a parking bay.
Next up is the plush suspension and Kymco certainly hasn't spared the specification here. Up front, there are upside down forks and at the back is a monoshock system with near horizontal damper and spring unit that looks great. It's an unusual layout and adds to the AK's visual and technical appeal. Alongside this lot, there are top spec radial Brembo brake calipers and an ABS anti-lock system, showing that Kymco really is determined to square up to the best in class on every front.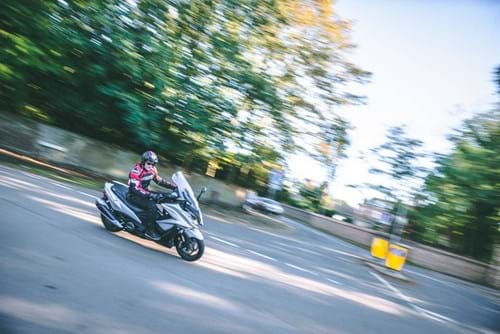 At the heart of the technical specification is the 550cc twin-cylinder motor. It's not the biggest capacity engine in this sector, but it sure sounds like it thanks to using a cross-plane crankshaft. Don't panic, we're not going to get all techy on you, so all that's needed to say is this gives the motor a distinctive baritone sound and it pulls strongly at any revs.
With 54PS on tap, the AK's engine means this scooter is only for full licence holders so expectations are high for its performance. Off the mark, there can be a slight delay from twisting the throttle to the bike responding, but we soon got used to this and the Kymco is far from the only scooter to have this momentary interruption in service. Once moving, acceleration is more than brisk enough to see off cars from the traffic lights and keep the AK up alongside most motorcycles. The throttle action on the move is smooth and motorways are easily dealt with. Top speed is 115mph, though the AK550 would rather you stuck to speeds lower than that as the last few ticks of the speedo's counter take a while to come.
Far more importantly than outright top speed is the AK's handling, which is one of this scooter's biggest assets. It really can hustle down country twisties with amazing verve and confidence, which inspires the rider to relax and use that grip and supple composure to enjoy the ride. It turns in without hesitation, holds a line and is happy even when you ask for full acceleration on damp roads.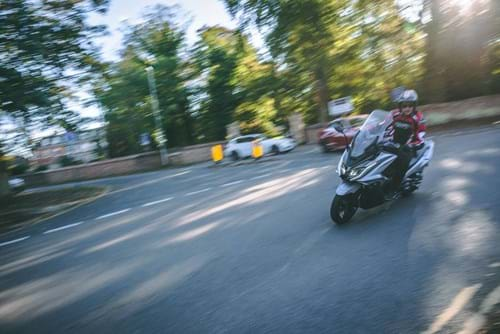 For those who want it, there's a Rain riding mode that softens off the throttle response and it's markedly different in feel to the standard mode that we preferred during our time on the Kymco. Working in harmony with either are the strong brakes that offer good feel at the lever and make short work of hauling the AK's 226kg down from any speed without fuss.
The seating position on the AK proved ideal for this test rider's 5ft 10in frame and the rider's backrest support is simple to adjust without having to break out the tool kit, which is a big bonus. There's loads of room for legs and the bars are a natural reach to rest your handed on the three level heated grips. As for the controls, they're all laid out as you'd expect and don't need another moment's thought. Our only gripe here is the adjustable screen requires spanners to alter its position, so an electrically adjusted option would be desirable.
From the rider's pew, you get to experience the huge variety of tech that's standard on the AK550. Don't worry if you're not the most savvy with this stuff as Kymco's Noodoe app is a doddle to use. Whether it's using the Bluetooth connection to access messages, sat-nav or personalise the display screen, it's all very straightforward. We also liked the feature that lets you keep an eye on where the bike was last parked for security's sake. The three-screen dash also comes with a handy tyre pressure monitoring system.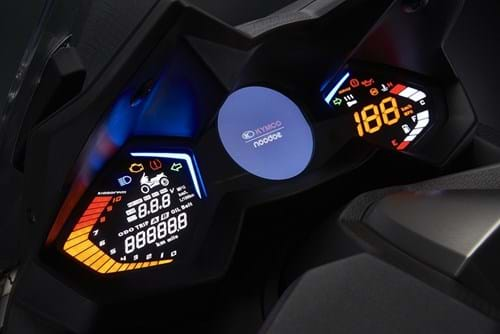 One bit of tech we didn't appreciate so much was the keyless ignition system. We've used a few now and are not fans, but we tried to get along with the Kymco's. However, more often than not it took too long for the starter button to work and the scooter continues to run if you forget to switch off and walk away with the key in your pocket. Give us a standard key and ignition barrel every time.
At a more basic functional level, there are a couple of gloveboxes in the front fairing and a reasonable underseat box. It's not quite big enough for two full-face helmets, but more than plenty for a trip to the shops and Kymco offers some handsome additional luggage.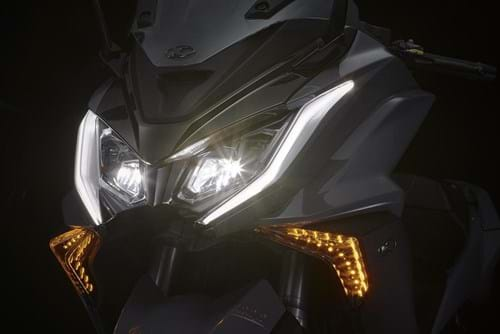 Should I buy one?
While we're not convinced the Kymco's keyless ignition is necessary, it wouldn't put us off choosing this maxi-scooter over most others. Crucially, it's significantly cheaper than its main rivals and gives nothing away in terms of performance, comfort or quality. The AK550 also comes heaped high with top drawer components for the brakes and suspension, as well as all of the technology that assists the riding experience rather than just being fitted for the sake of it.
Given Kymco's reputation for making high-quality machines and the AK550's superb riding ability, if you're shopping for a maxi-scooter, it has to be on your shortlist.