What is it?
The Vector Evo is one of the more premium, full face motorbike helmet options in the LS2 Touring range. The lightweight HPFC helmet (High-Performance Fiberglass Composite shell) offers riders multiple features including a Pinlock Max Vision Anti Fog System, hypoallergenic Magna-Tech lining, compatibility with LS2's LINKIN Ride Pal Bluetooth system, multiple vents and - as of summer 2019 - four new colour options.
The Vector (HPFC) Evo hasn't yet been SHARP rated, but its predecessor - the Vector - received a 3-star (out of 5 stars) SHARP safety rating and the helmets share a product code (FF397) so it's fair to assume they would get the same rating.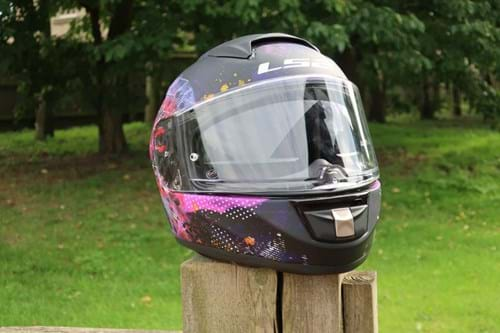 What's it like?
Our LS2 Vector Evo features the Cosmos design, which is a black and pink colourway in a matt finish. You can see all the colour options in the specs below, there are 11 designs in total with plain colours retailing at £160 and graphics sitting at £170. The helmet also comes in three external sizes (XXS - 3XL) to offer the most comfortable fit and is fairly lightweight at 1390g. A Vector C Evo is also available in the range, with the C standing for carbon fibre construction as opposed to Fiberglass Composite.
With the Vector Evo, LS2 has tried to design a helmet that's sleek and aerodynamic while also offering all the features that a modern rider would like to have on hand. There's a quick-release, Class A Optically Correct visor - which means the main clear visor should be distortion-free - that comes with a Pinlock Max Vision Anti Fog System. Behind that is a flip-down sun visor. It's not that easy to operate with a gloved hand but it gets easier after a few attempts. On the plus side, the visor works well to protect from low sun, although we'd like if it went down just a tad further to block more glare on wet roads.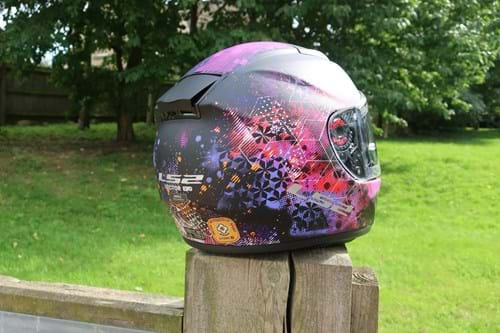 On a not-so-positive note, we have the 3-star SHARP rating. The SHARP safety rating is achieved through testing how the helmet performed in each of the five impact locations during the 8.5 m/s linear impact tests against the flat anvil. While the front and back protection were rated well, side protection was poor at high speeds. The lightness of the helmet could mean there's simply less padding to protect the sides of your head, but that's speculation. Personally, we don't like how thin the interior lining feels.
Speaking of which, inside the helmet is a fully removable and washable hypoallergenic Magna-Tech lining. Emergency Release System cheek pads come as standard and the Vector Evo is also designed to accept LS2's LINKIN Ride Pal Bluetooth system for full wireless connectivity on the move. Dynamic Flow-through Ventilation includes adjustable intake ports, internal channels and exhaust ports to keep you cool when warmer temperatures roll around. Vents are located on the top and chin of the helmet, with the chin being a two-step vent. All vents are easy enough to use while riding.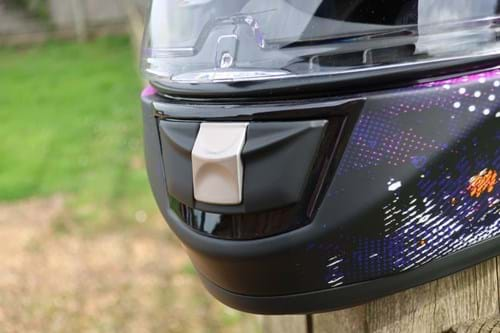 The helmet is designed for riders with an oval head shape, which is what we'd consider ourself to have (although we do have a small noggin) - yet the fit seems slightly off. It's not terrible, and we're pretty certain that some thicker padding would make it feel a lot more secure at motorway speeds. But, considering it's aimed at high-speed Touring riders, having to buy more padding in addition to a £160 outlay, we aren't convinced the Vector Evo is great value for money. A slightly wobbly helmet on windy days, on top of a 3-star SHARP safety rating, also doesn't fill us with confidence in regards to safety.
In terms of noise, we think it's a fairly quiet helmet but we'd still recommend earplugs - as we do with any helmet to protect your hearing long-term. As for security systems, there's a Quick Release Strap, Reinforced Chin Strap and Reflective Safety Patch.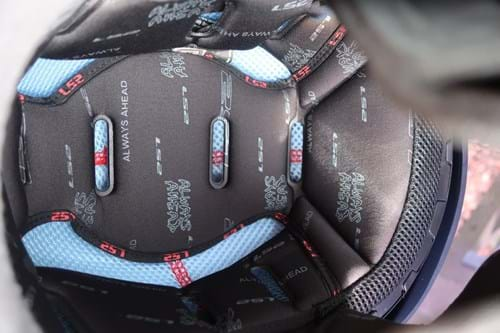 Should I buy one?
The Vector Evo HPFC (FF397) is a lightweight, feature-packed helmet with a wide range of sizes and designs on offer. Priced at £160/£170, depending on the design, it's fairly good value for what you get. However, the AGV K-3 SV can often be found on SportsBike Shop for £120-£150 (again, depending on the design you opt for) and we personally prefer the fit. Overall, the AGV feels more secure and we prefer the design. Plus, it has a higher, 4-star SHARP rating.