What is it?
With air pollution at the forefront of many consumers' minds, purifiers, dehumidifiers and air monitoring systems are more popular than ever.  The Pure hot+cool purifying fan heater, which was launched in November 2018, is the newest of Dyson's premium option in a crowded market, with this model being the top of the range air purifier it offers.
The device offers year-round air purification by detecting and absorbing indoor airborne particles and gases, which it then stores in the HEPA filter and - in turn - emits clean, hot or cold air depending on your settings. Dyson says the device will replace the need for using three separate machines to do the same job. But at £550, is it an unnecessary extravagance?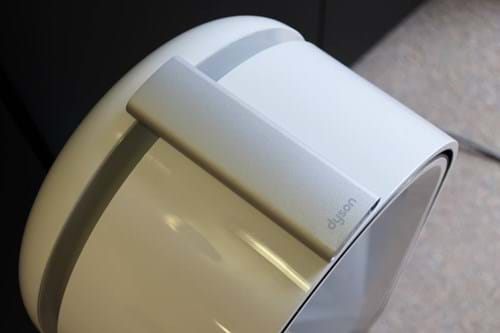 What's it like?
The Dyson purifying fan heater comes almost fully assembled in a large box, along with a user manual and remote control for you to adjust the settings. The remote also attaches magnetically to the top of the purifying fan. The distinctive bladeless design, which the Dyson Supersonic hair dryer shares, makes moving the machine much easier. The hollow head also makes it sleeker and much safer for small fingers than traditional fans.
Unlike many household air purifiers, fans and heaters - the Dyson Pure hot+cool actually looks nice in a room, which is good considering it's very noticeable. Standing 764mm tall with a 248 x 248mm base, the device is taller than Dyson's desktop models, meaning it's ideal for sitting on the floor in the corner of a room, taking up very little space. The device also tilts on its base so air is blown at various angles when it oscillates.
The purifying fan heater only requires us to fit a two-part HEPA filter before we boot it up, and it's very simple to do so; they just clip into place around the bottom of the device. The inner filter is for gasses, with Dyson claiming that it's introduced three times more activated carbon to absorb odours, domestic fumes and Volatile Organic Compounds (VOCs). The outer HEPA filter captures small particles, like allergens.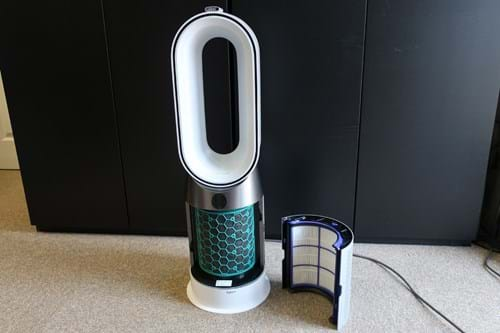 The microfiber filter captures 99.95% of particle pollution as small as 0.1microns - including allergens, bacteria, pollen and mould spores. Filters last roughly 12 months and replacements cost £65. By expanding the degree of oscillation to 350 degrees and using Air Multiplier Technology on this new model, the machine can project up to over 290 litres of purified air per second to every corner of the room.
A small, circular, LCD display on the body of the Pure hot+cool also give us very helpful insights into factors that affect our air quality in the office, including information about humidity, particulate matter (PM), Nitrogen Oxide (NO2) and Volatile Organic Compounds (VOCs) - which can lead to a whole host of health problems. You can use the remote control to cycle through the different displays.
VOCs are toxic chemicals that are found in cleaning sprays, nail polish remover, spray-on deodorant, air freshener, paint etc - while particulate matter like dust can trigger asthma and other respiratory illnesses. Smaller particulate matter, like those that come from vehicle emissions, can cause serious health issues like cancer. Therefore, the monitoring system of the Dyson can help you keep an eye on your indoor environment, while its filters absorb the things that can make you sick.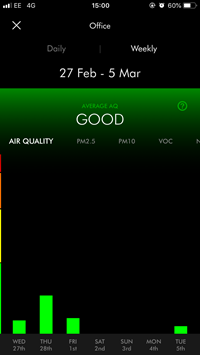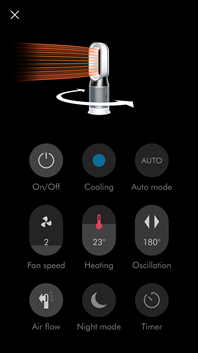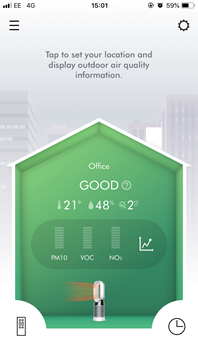 The manual advises we download the free Dyson Link app onto our smartphone, which we did. The app is very easy to use, once connected to our machine (which is a very easy setup), we can schedule the purifier to power on/off, adjust settings (temperature, fan speed, oscillation etc) and monitor the air quality of our indoor environment from the convenience of our iPhone. It also sends you a reminder when it's time to change the aforementioned filter.
We have the Dyson purifier set up in the Honest John office, so we often schedule it to turn on and heat up the room before anyone arrives for work. When the weather got a bit sunnier, we used it as a fan for cooling the office. The scheduling feature lets you choose the mode, temperature and fan speed from the app - which can be set differently for different days. Useful, right? 
Should I buy one?
Dyson's hot+cool purifying fan heater is a clever, feature-packed, powerful machine. It has the potential to replace a fan, heater and purifier, which - when you think of it in those terms - goes some way to justify the big price tag. If you were to buy all three of those devices, you might spend the same amount of money - and you'd need the space to store them.
There's no doubt that the Dyson Pure hot+cool purifying fan heater does an excellent job of purifying air, and it really does heat/cool a room down in very little time. There are very few machines that will give you such intricate detail about the quality of the air in your environment - but, for most people, we think the price is still too high. At the end of the day, you get what you pay for - and this is a very premium machine.
Although, you can opt to pay 12 monthly instalments of about £50 on finance instead.