What is it?
The See.Sense bicycle lights are designed for you to be seen on the road without creating glare for other road users. The clever, sensor-reactive lights use the data they collect in real-time to adjust the lighting based on your surroundings. For instance, if you're approaching a roundabout, the backlight could flash faster and brighter to ensure you are seen by anyone behind you. When cycling in less well-lit areas, the light will adjust its brightness to ensure you are always illuminated to the correct level.
They'll also work as a brake light and, working in conjunction with the app, they can even act as a bike theft monitor.
The ICON2 has 300 lumens in the rear and 400 in the front, with each light containing two different types of LEDs (for both a focused and dispersed beam). This makes you visible up to 3km (3000 metres) away and gives you 270-degrees of side visibility - according to the Northern Ireland-based company. There's also a 16-hour battery life in full power reactive flash mode.
What are they like?
The ICON2 are slim and really lightweight. We got the pair in for testing, but the lights can also be purchased individually. They come in a well packaged, sturdy, slimline box - which includes a standard seat mount, an aero post mount, five mounting straps and a charging cable for each light.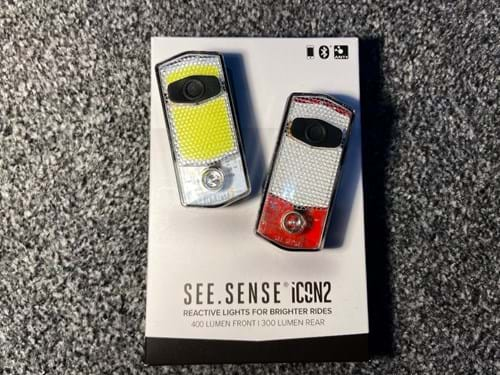 The lights came with a small amount of charge but it's recommended to complete a full charge before using them (first full charge of 10 hours). The lights use a standard micro USB charger, which is useful if you misplace it because most people have multiple kicking about around the house. A full charge takes around three hours, giving you 16 hours of run-time. There's a charge indicator at the top of the unit, too, with five lights each depicting 20 per cent charge.
The ICON2 lights have several flashing pattern options, as well as a steady 'on' setting.
With the lights weighing under 50 grams each, we expected them to seem flimsy - but they aren't. They're water sealed to IP67 standard, so great if you want to use them for on wet and muddy trails or roads. The mounting was really easy as well. No tools are required and each light was fitted in under two minutes. With the different options of mounting straps and mounting angles, the lights fitted securely both front and back and didn't show any signs that they would become dislodged when bouncing around off-road.
We tested these early in the morning, pre sun-rise, and the reach of the 400 lumens was perfect for giving great visibility without the beam being too high to dazzle other road users. The lights have in-built movement sensors, so will detect if you've been stationary for more than three minutes - in which case they'll turn off to conserve battery power. This happened so subtly, we didn't even notice, so we had to stop to activate them again. The button means you have to hold both sides of the light to turn them on and off, though, which means it can't be done on the move.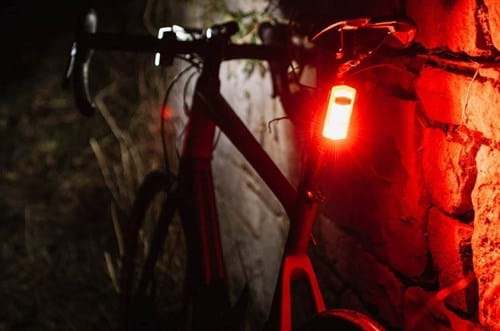 With in-built Bluetooth, we paired the lights with the See.Sense mobile app (available from Apple or Google Store) and activated additional features like texting someone if you have a collision or fall off, fuel and C0O2 saved on your rides (more aimed at commuters), calories burnt and some fun little challenges such as cycling Land's End to John o'Groats.
Should I buy them?
The See.Sense ICON2 bike lights are lightweight and packed with tech, making them great for commuters or hobbyists. With the easy to fit (and remove) mount, this light also works well if you regularly move between bikes.
On top of which, See.Sense actually listens to their customers because much of the funding for new products comes through KickStarters - so you know it's a device designed by cycling specialist with cyclists in mind.
At £150 for the pair, there are certainly cheaper lights if you just want to be seen on the road. However, if you want the longevity of battery life and all the smart tech the ICON2 have under the hood - it's hard to recommend anything else.