What is it?
Scooters aren't just for children and moody teenagers who haven't passed their driving test. You can also get models designed for grown ups, like this, the Micro Suspension. That's right, you too could be one of those 'cool' (i.e embarrassing) parents scooting with your kids to school in the morning and then bashing your shins as you attempt to get it in the front door.
This is Micro's top of the range adult scooter, hence the £220 price tag, but it does come with built-in suspension, 200mm wheels, soft handle grips and a kick stand. Plus it can be easily folded down.
It's designed to carry 'larger riders' says Micro, with a maximum rider weight of 98kg - which is about 15 and a half stone in old money. Just two colours are available, the black version we're testing and a bronze (which we think is a lot more attractive).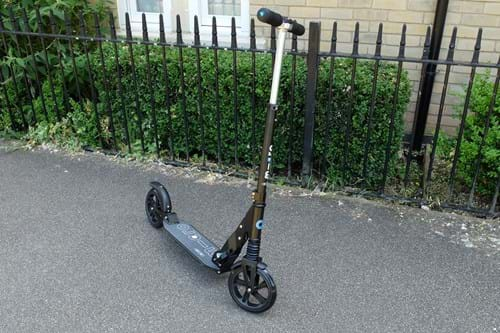 What's it like?
Despite plenty of pretenders to its crown, Micro remains the king of scooters so expectations are high for the Suspension. And it doesn't disappoint. The build is top quality and it feels like the 'luxury' scooter Micro talks about in its marketing. From the strong metal deck with its grippy covering to the thick handlebars and solid catches, the Suspension feels like it is built to last.
That goes some way to explaining the weight. At 6.4kg this is not a light thing to have propped up in the hallway - the standard Micro Speed weighs 2.5kg less - and if you drop it on your foot you'll know about it. But what this does mean is it's strong. Even if you're at the top end of its weight limit (we'd had a big lunch) it doesn't flex and it feels reassuringly robust under your feet.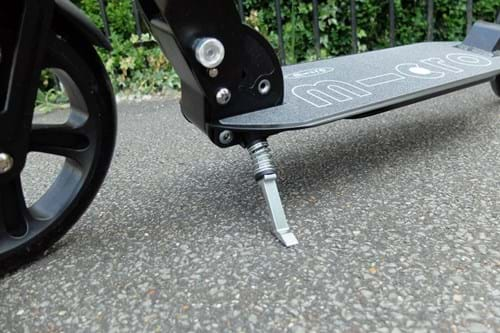 The kick stand is a nice feature, although we're not sure it's that useful everyday. We often find it hard to locate with it hidden away under the deck, cue lots of trying to flip it out with the end of your trainer. Instead we tend to just prop it up against a wall or fence.
Folding it down is a doddle though - it's one quick release lever and a button to make the handle bar drop down making it easier to keep out of the way or stick in the the boot of your car. Ours was a little stiff to start with but once we'd got the knack, it now folds down easy. The handlebar adjusts for height so even taller riders will find it high enough - we had six footers plus on it with no problems.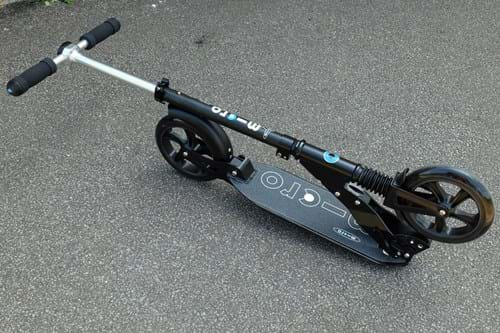 But where the Micro Suspension really earns its stripes is on the move. The larger 200mm wheels combined with the built-in rear suspension mean it's great over bumpy or rough surfaces. It really surprised us with how smooth it runs and there are no rattles on the move, instead just a lovely effortless ride.
The soft grip handlebars help filter out some of the vibration and on a good run, you can get a real turn of speed out of the Micro Suspension, the low rolling resistance wheels help.
It corners well too and while not a stunt scooter, it's still pretty agile given its weight and size. As with all Micro scooters, you can get replace parts for the Suspension, so if your wheels start to wear after a few years or the kick stand gets damaged, you can easily replace them for a few quid.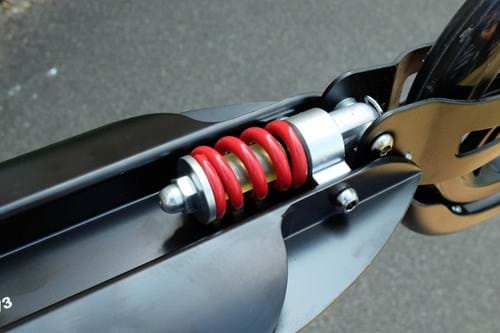 Should I buy one?
You may feel a little silly at first, but an adult scooter is a great way to get out and about. It's ideal if you've got kids with scooters too, whatever their age, and means you can keep up with them. No more having to run around corners to see where they've got to.
If you want the best adult scooter around, the Micro Suspension is it. It's incredibly smooth and quiet, yet still good fun with a real turn of speed. It's not cheap though and if you don't need the built-in suspension, the Micro Speed is a considerably cheaper but equally good option, albeit with smaller wheels. But the Suspension does feel that bit more quality and just about does enough to justify its price tag.
One thing to bear in mind though is that electric scooters are only legal to use on private land in the UK. Yes, you read that right. The law dictating this is very out-of-date but unfortunately doesn't look as if it'll be amended any time soon. So, it's worth doing some research before setting down any money.