Scooter of the Year shortlist
Scooters aren't just for children and moody teenagers who haven't passed their driving test. You too could be one of those 'cool' adults scooting to work or with your kids to school in the morning. As much as we joke, we actually do really rate them as a mode of transport, so without further ado - these are our fave five.
See all our Kit Awards Shortlists for 2019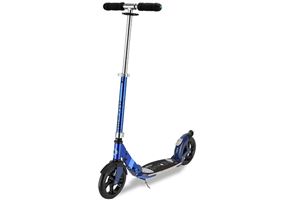 1
Micro Flex Deluxe
The Flex Deluxe has big chunk wheels and the highest adjustable handlebar heights (up to 103cm), meaning it's the premium option for those wanting a smooth, effortless ride. It's also easy to fold down, so you can sling it in the back of your car or over your shoulder in seconds.
It has a max weight of 100kg/15 and a half stone and the wheels are large and solid to handle bumps smoothly with a large metal, foot-operated brake and plastic mud-guards. The wood and fibreglass deck isn't reinforced by metal - like it is on the Micro Suspension scooter. Instead, the deck is 'ultra flexible', so it can absorb bumps and deliver a comfortable ride. Some adults might find the deck and bit small, but that's a matter of preference.
Buy it now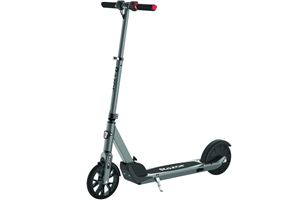 2
Razor E-Prime
While Razor has been in the scooter game for as long as kids have complained about hitting their ankles with scooters, the E-Prime is their newest electric model with a max weight of 176lbs. That's right, you barely have to push the E-Prime to get it going because once it hits 3mph (which is a light push), the motor kicks in - giving you 40 minutes of electric-powered fun before you need to leave it for 4 hours for a full recharge.
The 12lb scooter isn't the lightest in this list, but that can be expected when you factor in the battery. It has a top speed of 15 mph and breaking can be done via the electronic brake on the left handlebar or by stepping down on the back wheel over the fender brake like a traditional scooter. The wide deck makes it suitable for larger adults to ride and the handlebar is adjustable to a choice of two different heights. We can see where costs have been cut, i.e. the wires that connect to the handlebars rather than sitting within the metal body, but if that doesn't bother you - this Razor option is a great choice.
Buy it now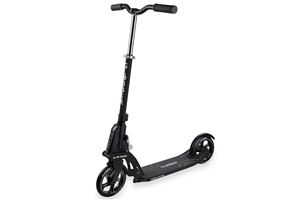 3
Globber One K Active
The Globber One K Active is a piston-assisted foldable adult scooter, meaning the deck automatically lifts to the T-bar so you don't have to bend down to loosen levers and lift the deck. The 3-height adjustable scooter (91-101cm) has curved handlebars and a strong aluminium frame to support a rider up to 100kg/220lbs.
The 180mm wheels make short work the of pebbles and potholes that could send you flying on a scooter with smaller wheels. The One K Active also features a front handbrake as a well as a rear brake, which differentiates it from the cheaper One K 180. There isn't a wide variety of colours, but if you aren't fussed about choosing between a black or white One K scooter than that shouldn't be an issue.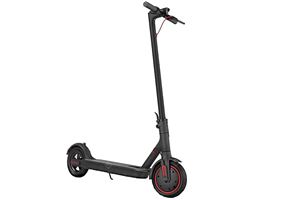 4
Xiaomi M365
The 12.5kg M365 is considerably more expensive than other scooters in our top five, but it's also an electric scooter with three modes (eco, standard and sport) - and a well-priced one at that. The Xiaomi can travel up to 15mph with a claimed range of 18 miles (although this is very dependent on weight so expect less), meaning an urban commute will be significantly shortened and - when you've reached your destination - it's a simple case of folding the M365 up and carrying it inside with you. It also features a headlight and brake light; very useful stuff. 
The max weight is 100kg, which makes it ideal for adults wanting to spend less time in the car. However, while thousands of e-scooters are sold in the UK every year, it's important that we note that they're only legal to use on private land in the UK. Although, if you aren't riding recklessly in a built-up area - we can't imagine the police stopping you.
Buy it now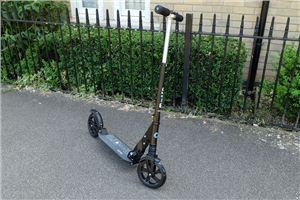 5
Micro Suspension
This is Micro's top of the range adult scooter, hence the price tag, but it does come with built-in suspension, 200mm wheels, soft handle grips and a kick stand. Plus it can be easily folded down. It's designed to carry 'larger riders' with a maximum rider weight of 98kg - which is about 15 and a half stone in old money.
If you want the best adult scooter around, the Micro Suspension is it. It's incredibly smooth and quiet, yet still good fun with a real turn of speed.