What is it?
The answer to keeping your trucker's belly at bay, the Garmin Instinct 2 Dezl Edition takes one of the best smartwatches on the market and adds a few neat features aimed at anyone who spends a lot of time on the road.
From short workouts you can complete in your cab to break planning capabilities and even the ability to link the watch to your Garmin Dezl sat-nav, this is more than just a standard smartwatch given a rugged makeover.
What's it like?
It's certainly one of the more chunkier Garmin smartwatches to look at – it's not going to be as svelte on your wrist as an Apple Watch, while we even had a few people ask if we were wearing a retro Casio G-Shock. Shock-resistant and water-rated to 100 metres, though, it can certainly take a bit of a beating in your day-to-day life. We haven't tried running it over with an 18-tonner, but it's been dropped a few times and it's not showing as much as a scuff.
While we're used to smartwatches, the sheer amount of features on the Garmin Instinct 2 Dezl Edition means it can be slightly overwhelming at first. A few days of getting used to it (including five minutes with the instruction booklet) and you'll soon get used to it, though, while the chunky buttons on the side are easy to operate even with cold hands.
The Instinct 2 Dezl Edition is capable of tracking a wide range of activities with the kind of impressive slickness you'd expect from a Garmin wearable. It clearly displays metrics like your pace and heart rate, while the VO2 max indicator judges your fitness levels by measuring the amount of oxygen you use while exercising.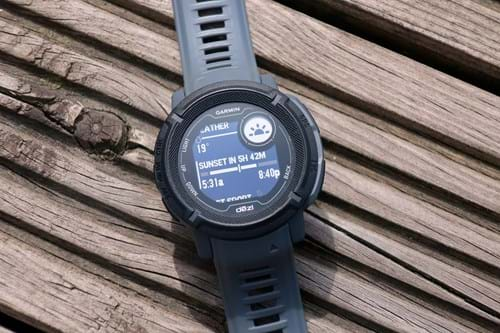 When traffic jams and reckless drivers are getting on your nerves, the Dezl Edition will spot a spike in your stress levels and prompt you to relax with a short breathing activity. It also uses Garmin's innovative body battery feature to gauge when you're up for a run or ready to take a break, using data such as your heart rate, stress levels and how well you slept last night.
Simpler (but handy) features include smart notifications (it can display emails or Whatsapp messages, for example) as well as handle contactless payments – no need to dig out your wallet when paying for a salad at the services.
One of the most impressive features of the Garmin Instinct 2 Dezl Edition is its battery life. It'll officially last up to 28 days in standard smartwatch mode. This correlates to our experience, with our test model clearly showing a battery life of 28 days when fully charged – considerably longer than we're used to from similar smartwatches. Of course, this'll drop with regular GPS activity, but we found it to comfortably last more than a week between top-ups. It's charged via Garmin's standard USB lead, which you can plug easily into the kind of USB socket you'll find in your car or truck cab.
Should I buy one?
We can't help but feel that some of the truck-driving features of the Dezl Edition are a little gimmicky, but there's a lot going for the regular Garmin Instinct 2. It might not be the sexiest smartwatch on the market but it'll stand up to abuse, while its 28-day battery life is pretty incredible.
With a list price of £349.99, the Dezl Edition isn't the cheapest smartwatch available, but we still think it represents good value for money. Is it a coincidence that it costs about the same as a 12-month gym contract? Probably not...