What is it?
The original KTM 125 Duke was a brilliant bike in many ways but, and this is a biggy, quality was not its strong point. When you're paying the thick end of four grand for a 125cc A1 learner machine, that's a bit cheeky even when it's KTM selling the bike with all of their style and street cred.
Of course, none of this was a barrier to the baby Duke being Europe's best seller in the sector, but it's encouraging that this latest 125 Duke has taken on those criticisms and become a machine worth every penny of its considerable cost.
What's it like?
For the substantial sum of £4199 you get KTM's revised model. KTM has improved the engine so it now meets EU4 emissions regulations, but your average 17-year old is going to be more interested in the new, good-looking side-mounted exhaust. This helps the motor to produce 15PS, which is much the same as its rivals.
Weight, then, is a key issue - and the Duke tips the scales at 137kg. Add in the extra heft of its now larger fuel tank with an extra 2.4-litre capacity over the old model and it's not the most svelte in its class. No matter, the Duke's gearing remains the same as before, so top speed is around 75mph depending on how much you ate while standing around with your mates before sloping off to double geography after lunch.
More importantly, the single cylinder unit is lively low down in the rev range and it picks up revs quickly and cleanly. There are no steps in the power delivery to catch out the unwary as there can be with two-stroke engines. You also have a six-speed gearbox that works its way through the shifts easily and with only light pressure needed on the lever.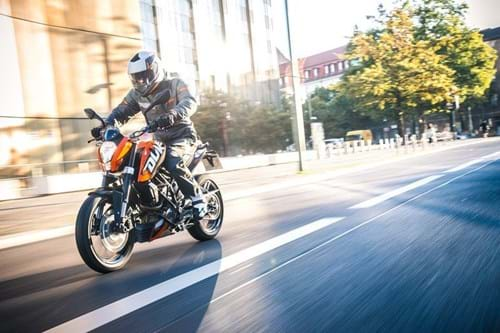 All of this is mounted in the trademark KTM trellis frame chassis, which has an ever-so slightly shorter wheelbase than the previous 125 Duke. That helps mask the added weight of the new bike and keeps the steering feeling super sharp.
It's not so quick to turn in that it will catch new riders unaware, but you certainly feel it's much more alert than most of the competition.
The front end is suspended on 43mm WP forks that look suitably chunky and are in keeping with the grown-up feel and look of the Duke. At the back, you get a WP monoshock set-up, so it's quality gear at both ends - which is reflected in the way this 125 deals with patchwork road surfaces. Even mid-corner, it keeps its composure to maintain the feel of a larger bike.
That sensation is also present when you sit on the Duke. It has quite a high saddle, so those with stubbier legs will need to shimmy to one side to get a foot flat on the floor. On the move, that becomes irrelevant and the 125 gives the impression of being a bigger machine while still slotting through traffic with balletic disdain for even the narrowest gaps. Strong brakes, which are unchanged from before, offer good control.
Our only moan here is the seat is too thinly padded for rider and pillion, so discomfort sets in after about 40 minutes of riding. If that's enough for your commute, fine, but for those riding longer distances we'd suggest an aftermarket gel insert to ease the pain.
While still in the saddle, we have to mention the new TFT dash display. It's a surprise to find this tech on a 125, even one costing the pretty penny that KTM charges. It certainly helps explain the price and lends the Duke an air of sophistication and quality missing in most others from this sector. It's also easy to read and use, so it's not just for appearances sake.
Should I buy one?
The KTM 125 Duke is a bike that combines huge charm with a surprising amount of practicality for a small capacity machine. The much improved build quality is very welcome, while the performance and handling are as good as anything you'll find from the 125 class. If you can afford it, then the answer is yes.