What is it?
The MT-09 has done more to reinvigorate Yamaha's road bike reputation than any of its other machines in recent times. Pared back, simple streetfighter looks combined with a punchy three-cylinder engine and crisp power delivery have made it a firm favourite with riders who need something more broadly talented than a supersport bike, but still want their thrills.
A recently added SP model addresses the one weak link in the MT-09's armour: suspension. The SP upgrades the springs and dampers at both ends to create a better handling bike and one that doesn't come with a huge price premium for the privilege.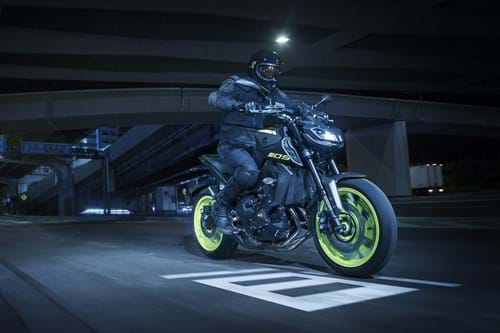 What's it like?
At the core of the MT-09 is its 847cc three-cylinder 'triple'. It's a motor so well suited to this style of motorcycle and Yamaha cannot be criticised for following the lead of Triumph in this area. For a streetfighter bike, the sock-it-to-'em power delivery of a triple with its low-down shove is ideal for getting off the line and out of corners with authority.
Yamaha has long since sorted the stuttering throttle feel of early MT-09s and this latest generation provides a smooth roll-on of power. It can still stumble a little when you go from fully shut to wide open, especially if you're caught in a higher gear than intended, but it's no worse than many of its rivals in this respect.
Working the bike through its gearbox is made all the easier by its Quick Shift System, donated by the YSF-R1, so you can keep the engine working at its best. If only it made a bit more growl when worked hard, the engine would be nigh-on perfect.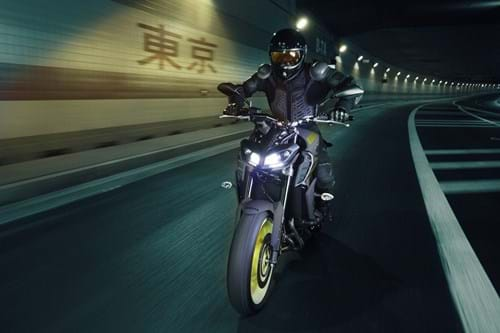 Get the MT-09 in the correct gear and it fires you like a human cannonball from a gun barrel. As a result, the Yamaha has gained something of a following among those who like to pull wheelies as the front end is more than happy to oblige this sort of behaviour. Fortunately, it's all very easily controlled and there's a choice of three choices for the D-Mode riding settings that affect how the traction control intervenes.
For normal riding, we were happy to leave it in the default set-up as it allows plenty of fun away from lights and through corners with the safety net of preventing the rear wheel from spinning up if the road surface deteriorates suddenly.
There are also ABS anti-lock brakes as standard on all the latest MT-09 models. They inspire just as much confidence as the handling and steering, helped by the wide-set bars that are de rigueur for a streetfighter in looks and attitude.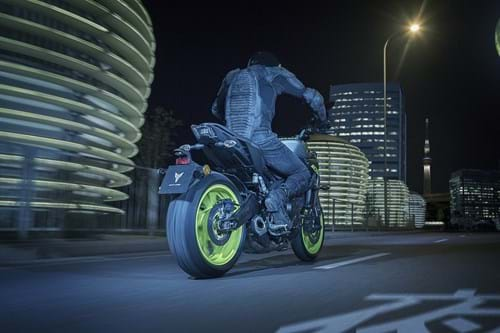 This doesn't mean you have to sacrifice comfort on the MT-09 for the sake of style. Yes, it has the looks, although we reckon the rear swingarm-mounted number plate holder looks clumsy and is something aftermarket parts suppliers will no doubt cure. But you don't need a power lifters shoulders to hang on at higher speeds.
There's no fairing, but the sharply styled front end move just enough air up and over the bars to let you ride at motorway speeds without being battered into submission. On back roads and around town, which are the MT's natural hunting grounds, it's never an issue.
The seat is lower than most supersport bikes, so you feel in control of the MT-09 when commuting — while the seat itself offers enough padding for all but the serious long-distance tourer.
As for the suspension, you can adjust the compression and rebound damping in the front forks of the standard MT-09, but there's not quite enough feel as we'd like when flicking between one bend and the next. There's plenty of grip from the standard Bridgestone S20 tyres, but it makes a strong case for spending the additional £800 on the SP for its more sophisticated suspension set-up.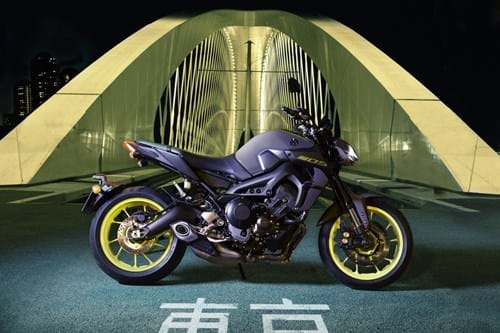 For the SP, Yamaha has added a fully adjustable Ohlins shock absorber and uprated the KYB front forks with full adjustment. It makes a big difference in the way the SP rides compared to the standard MT-09, almost as if this is the bike Yamaha always intended to build.
As a way of covering ground in the real work, the SP is about as good as it gets and worth every penny of its higher price. Also included in that is a white-on-black LCD dash display in place of the standard black-on-white screen, black-painted handlebars and levers, and an SP-specific paint scheme.
Should I buy one?
Whether you're in the market for a larger capacity commuter, attitude-packed streetfighter or just a motorcycle with loads of character — the MT-09 has to be on your list. It's handsome, capable and comfortable, and it has one of the most enjoyable all-around riding packages you'll find.
Should you pay the extra for the SP with its uprated suspension? We reckon you'd be daft not to unless you're on the strictest budget. Given the minimal differences in monthly payments between the two for a personal contract plan, the SP gets our vote every time as it makes a great bike into a brilliant one.