Top 10: Best charcoal BBQs 2020
If you want to keep your BBQ traditional then a charcoal-fired version is the only way to go. Here are ten of the best at a variety of price points.
Top 10: BBQs under £250 | Top 10: Gas BBQs 2019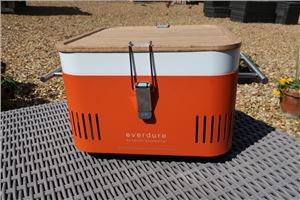 1
Everdure CUBE by Heston Blumenthal
Stylish and clever - a bit like Mr Blumenthal in fact - the Everdure CUBE isn't cheap but you get a lot of features that stow neatly into the compact exterior. There's a storage tray and preparation board that double up as the lid, while the interior sections make it easy to start the heat and clean up afterwards.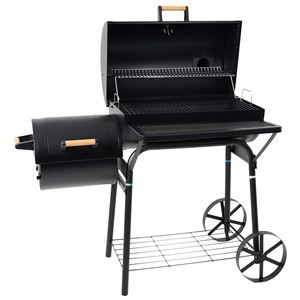 2
Azuma Smoker BBQ
This Azuma model packs a lot of features into a compact barrel shape and doesn't cost the earth either. With two cooking areas, you can smoke and grill at the same time, controlling the temperature in each with adjustable ventilation and there's a temperature gauge on the larger barrel too.
Buy it now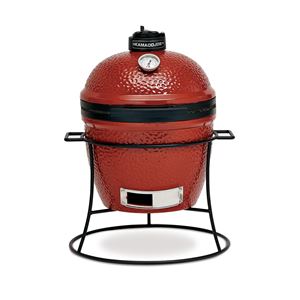 3
Kamado Joe KJ13RH
There are few BBQs out there that look as smart as the Kamodo Joe, nor that work as well. The secret is the ceramic interior which makes it very efficient, allowing you cook at very high or very low temperatures and use less fuel in the process.
Buy it now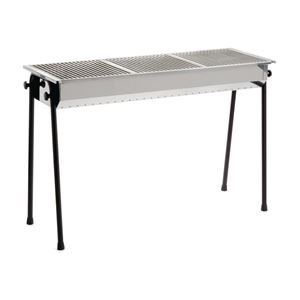 4
Buffalo Resto Charcoal BBQ
One of the biggest charcoal BBQs you'll find outside of the catering industry, this is a great choice if you want a fuss-free cooking area as large as possible - 3.6sqm in fact. It isn't loaded with features but it does offer maximum grill for your money.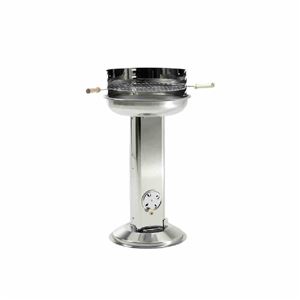 5
Landmann Stainless Steel Pedestal Charcoal Barbecue
Not only does this Landmann BBQ take up very little space in your garden, but the pedestal design is also attractive and puts the grill at a comfortable height for cooking. The chromed steel finish should ensure long life and it includes an ash catcher and ventilation control at the base of the pedestal so you can keep the temperature just where you want it.
Buy it now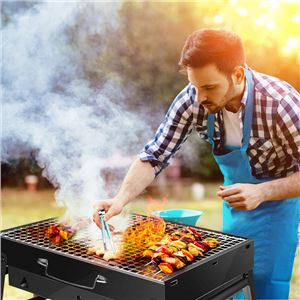 6
FishOaky Portable BBQ
If you're out and about then a charcoal portable BBQ can be less hassle than gas, which makes this cooker from FishOaky a sound choice. It weighs only 1.35kg but folds out to give a cooking area of close to 35cm x 27cm in a matter of seconds. This kit also includes disposable gloves, tongs and an oil sprayer to get you started straight away.
Buy it now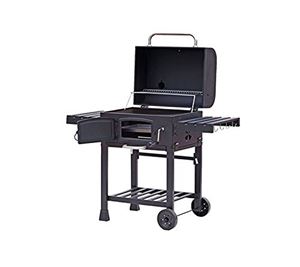 7
CosmoGrill Outdoor Smoker BBQ
Another solid offering from CosmoGrill, combining plenty of desirable features with charming old-fashioned looks. The external handle allows you to move the height of the charcoal tray, so you can quickly adjust the cooking temperature, and there's a warming rack, temperature gauge and even a bottle opener. The two shelves fold down for more compact storage too.
Buy it now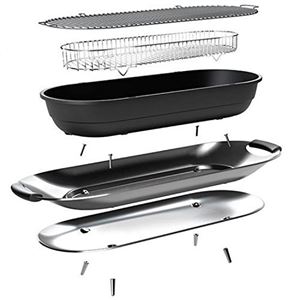 8
Lakeland Tabletop Charcoal BBQ
If you have a big table and want your guests to do some of the work rather than letting you slave away, this tabletop BBQ from Lakeland could be just the thing. The blurb calls it a 'social' BBQ, so you can set it up in the middle of the table and let everyone do their own thing. It's almost a metre in length and is well-insulated so it is safe to sit on a conventional table - although plastic garden furniture won't take the heat.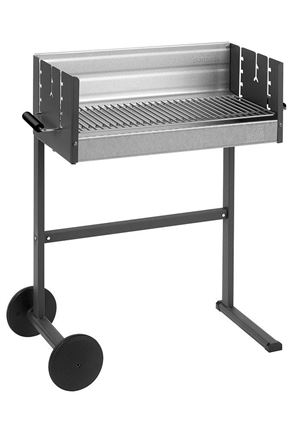 9
Dancook 7400
No frills, no fuss - this Dancook 7400 model looks like it would last for 100 years, and the stainless steel parts are guaranteed for a decade. The design couldn't be more straightforward, with the simple box design providing four heat levels for the cooking surface, which is a generous 62cm x 25cm, and when you're done you can simply wheel it out of the way. It's even currently showing a discount on Amazon too.
Buy it now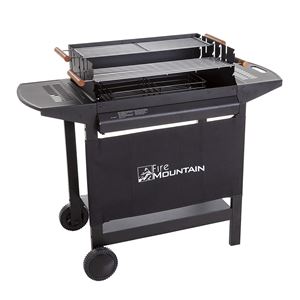 10
Fire Mountain Deluxe Charcoal BBQ
Sticking with the simple and classic design, this charcoal BBQ from Fire Mountain has a powder-coated finish to the steel exterior which will make it hard-wearing. It also has a split-level grill arrangement so you can have one for warming and one for cooking, or adjust to suit your needs. There's plenty of storage on the lower shelf and two side shelves, and currents checks in at under £100 too.