Top 10: Best Trolley jacks 2019
Getting a car off the ground in a safe and controllable fashion can be difficult. Fortunately, a high-quality jack can make the process far more straightforward — reducing the chance of damage. Here are ten of the best to help you quickly narrow down your options.

Top 10: Jump starts | Top 10: Tyre inflators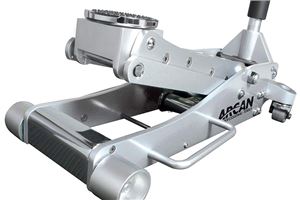 1
Arcan ALJ3T 2.7 Tonne Aluminium Quick Lift
If you're regularly lifting heavy cars then you'll want a strong jack that's easy to handle. This big Arcan ALJ3T fits the bill neatly as it's rated to lift 2.7 tonnes, has twin pistons for rapid lifting and is made from lightweight aluminium.
It's also well designed, with other highlights including a low-profile chassis that can easily get under a car. It's not cheap, and you'll need to check with your preferred retailer for warranty details, but it's a superb jack.
Buy it now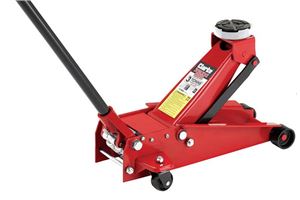 2
Clarke CTJ3000GQLB 3 Tonne Quick Lift
Clarke has a reputation for making affordable, durable tools – and this trolley jack is no exception. It's not as expensive as the Arcan, for example, but it can lift a heavier weight to a similar maximum height of 465mm.

The drawback is that it doesn't have the reach of the Arcan jack, as its chassis is shorter, which means it could be harder to get to a jacking point under a larger car. It's also heavier but, on the plus side, it has a 12-month warranty.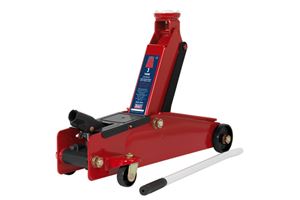 3
Sealey 1153CX 3 Tonne
You probably don't want to spend hundreds of pounds if you're looking for a jack that's only going to be used occasionally. Fortunately, there are some more affordable options that are ideal for the odd heavy lift – such as this Sealey 1153CX.
It's not as substantial as the Clarke offering but it can lift three tonnes to 432mm, which should prove enough for most. It's also easy to handle, as it weighs just 19.6kg. A one-year warranty is standard.
Buy it now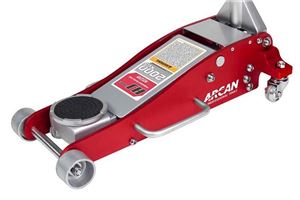 4
Arcan HJ2000EU 2 Tonne Quick Lift
Like the look of the big Arcan jack but don't need something that capable? This less costly heavy-duty HJ2000EU could be a better option. It uses both steel and aluminium in its construction, which helps cut the price, and it can only lift two tonnes.
It still has a high maximum lift of 470mm, though, and its rubberised saddle will protect against damage. Do check with your retailer what the warranty situation is, though, as these are imported from the US.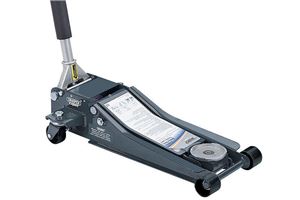 5
Draper 31481 2 Tonne Low Profile Quick Lift
This mid-range Draper jack is a good choice for those who have a car that sits close to the ground, thanks to its low-profile construction. Like others, it also has a 'quick-lift' system that means it takes fewer pumps to extend its saddle to the desired height.
It can lift a substantial weight to a maximum height of 500mm as well, making it ideal for those needing extra clearance. A rubber pad for the saddle is also included and a one-year warranty is standard.
Buy it now