Top 10: Cheapest Pressure Washers 2020
Far from being the preserve of people with too much cash and a desire to show off to the neighbours, modern pressure washers can be inexpensive as well as endlessly useful. Here are ten of the cheapest pressure washers around.
Top 10: Best pressure washers | Top 10: Pressure washers for under £200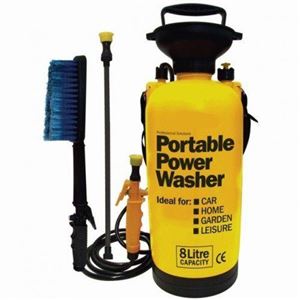 1
eBuzz Portable Pressure Washer
You will struggle to find a pressure washer cheaper than this unless you threaten harm to your children's cuddly toys in exchange for a clean car. The key downside with the eBuzz washer is that it's hand-powered, so you have to pump the handle to build the pressure. However, you could see that as a positive; with no need to plug it in you can carry it in your car and have up to 8-litres at 40psi of pressure wherever you go. It even includes a brush attachment.
Buy it now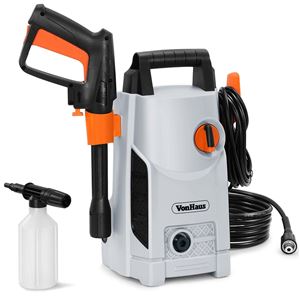 2
VonHaus 1600W Pressure Washer
This pressure washer from VanHaus has all the basic elements for home and garden use. This is the cheapest of three versions with a 1600W motor delivering 90 bar (1300psi) through the spray gun attachment attached to a 5m hose. The kit includes an attachable bottle to add cleaning products and the 330-litre tank should keep you busy for a while.
Buy it now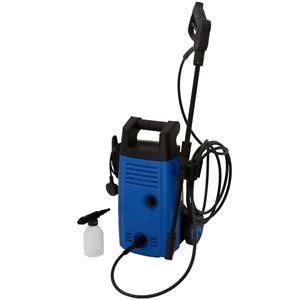 3
Oypla 1400W 105 bar Jet Washer
This 1400W pressure washer from Oypla is compact but powerful, offering a maximum pressure of 105 bar (1500psi) and a lance with an adjustable nozzle to vary the spray depending on your requirements. There's 5m of hose and 5m of power cable to give good range, plus a detergent bottle that clips on easily.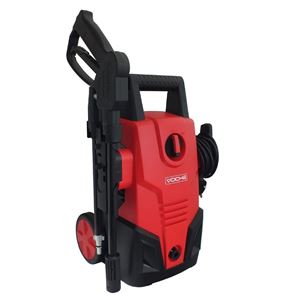 4
Voche 1400W 105 bar Pressure Washer
This model from Voche offers similar specs with a 1400W motor and 105 bar maximum pressure, the essential equipment like a two-piece lance and detergent bottle and 5m of hose and power cable. One significant advantage the Voche offers however is an auto-stop mode, which shuts down the motor when the trigger is released, reducing wear and saving electricity.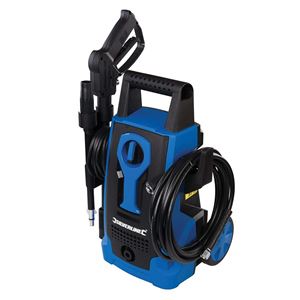 5
Silverline 834832 105 bar High Pressure Washer
With a strong reputation for high quality tools, this Silverline pressure washer is built for reliable, long-life performance. The 1400W motor delivers a maximum of 105 bar (a more powerful 2100W version is also available) and a lance and spray gun are included with adjustable spray patterns to suit various tasks. The Silverline's air-cooled motor is designed for longevity, and the self-priming pump means it can work with low-pressure sources like water butts.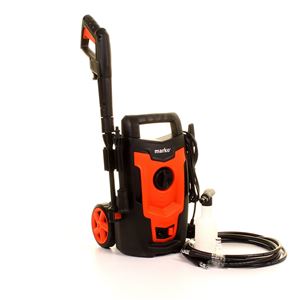 6
Marko Pressure Washer - £60
Respected brand Marko offer their own take on an inexpensive pressure washer with this 1400W model. Like many rivals at this price level it offers a powerful lance with adjustable nozzle, detergent bottle attachment and 5m of both hose and power cable. In addition, this Marko model has quick-release attachments and the water inlet hose.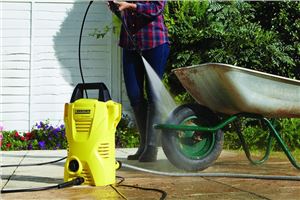 7
Kärcher K2 Compact Pressure Washer
The strong reputation of the Kärcher brand means this model is a little light on equipment, but several add-on packs are also available for a modest sum. What you get instead is a two-year warranty, the reassurance of every model being tested before leaving the factory and a water inlet filter to prevent damage to the motor.
Buy it now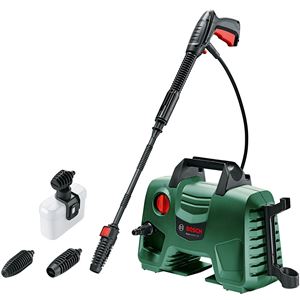 8
Bosch EasyAquatak 110 High Pressure Washer
The 1300W motor provides a maximum pressure of 110 bar (1600psi) via the lance, which offers variable power and nozzles to direct the water as required. Another smart feature of the Bosch EasyAquatak is the design, with a shorter and broader body to give better stability while still providing the space to store all the accessories.
Buy it now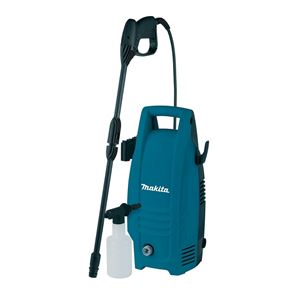 9
Makita HW101 Compact Pressure Washer
This 1300W pressure washer from reputed tool manufacturer Makita is straightforward and built to last. Maximum available pressure is 100 bar delivered through the lance with an adjustable nozzle, with a supplied detergent bottle for cleaning chemicals, all of which clip neatly to the body to allow simple storage.
Buy it now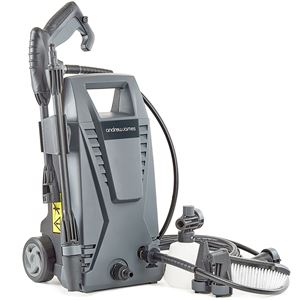 10
Andrew James Immacuclean High Pressure Washer Jet
Sneaking under the £100 mark thanks to a Prime discount, this pressure washer from Andrew James is well-equipped and full of useful features. A powerful 1500W motor provides up to 105 bar of pressure and can deliver 330 litres of water per hour, and the 6m hose and 5m power cable gives useful extra reach. The accessory set is comprehensive too, with an angled nozzle, adjustable nozzle, brush, turbo nozzle and detergent bottle to come with every task.