Top 10: Best axle stands 2020
Working underneath a car is never a particularly pleasant experience, even at the best of times. In order to help you quickly narrow down your options, here are ten of the best axle stands on the market.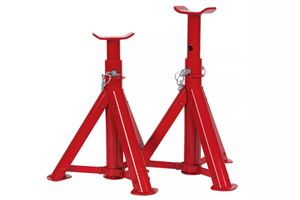 6
Sealey AS2000F 2 Tonne Axle Stands
If you travel with your tools occasionally, or don't have much space in your garage, bulky axle stands can be a problem. Fortunately, stands such as these Sealey ones fold up so they can be easily stored.
They're also rated to two tonnes, and have a shaped saddle, but they do rely on a more fiddly pin-based securing system for the central column – which is one of the reasons that they're so affordable. A 12-month warranty is standard.
Buy it now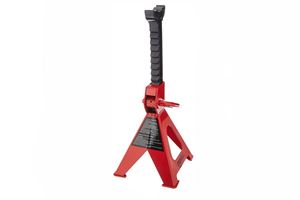 7
Amazon Basics 1.8 Tonne Axle Stands
Amazon offers many household items and tools that are sold under its own 'AmazonBasics' brand and, in many a case, they're perfectly serviceable and stout. These axle stands are a prime example of what's on offer; they're rated to 1.8 tonnes, feature a simple and safe ratcheting mechanism and a shaped saddle.
They also come with a two-year warranty and are often offered for less than £20. Consequently, if you need an inexpensive set of axle stands, these could be perfect.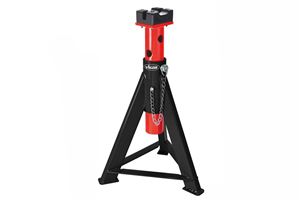 8
Vigor V2648 6 Tonne Axle Stands
If you work on heavy vehicles then you'll want to consider a set of axle stands such as these Vigor V2477s. They're rated to an impressive six tonnes and, like the smaller Vigors, they also have protective rubber saddles that can accommodate axles, flat surfaces or sill seams without damaging them.
They have a maximum height of 575mm, too, so should create adequate clearance. A two-year warranty is standard but extended warranties are sometimes available.
Buy it now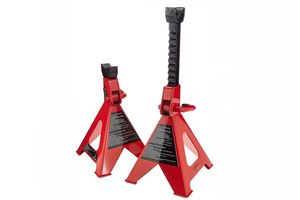 9
AmazonBasics 5.4 Tonne Axle Stands
If the heavy-duty Vigor axle stands are a bit expensive then you could consider Amazon's own-brand offering. These stands are rated to a lower 5.4 tonnes but that should still be plenty for most – and their low price means buying four, to support a project car or similar, won't cost an excessive amount.
They have a ratcheting mechanism for minimal fuss, too, while the shaped saddle should securely locate against most surfaces. A two-year Amazon warranty is standard.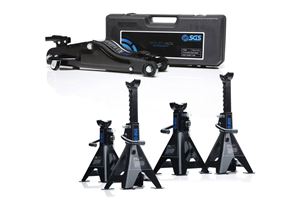 10
SGS Engineering 2 Tonne Jack & Axle Stands
Those seeking affordable garage equipment should have a look at that offered by SGS Engineering. Case in point: this inexpensive package deal includes a low-profile jack and four two-tonne axle stands.
Like the Faithfull stands, they also have both a ratchet and a locking pin – making them safer than some alternatives. Check out the direct price from SGS, though, just in case it's cheaper. In either case, a two-year warranty is standard.