Top 10: Best electric drills 2020
Picking a good drill can be difficult as your options range from inexpensive corded drills through to expensive battery-powered offerings. To help you quickly find something suitable, here are ten of our favourites.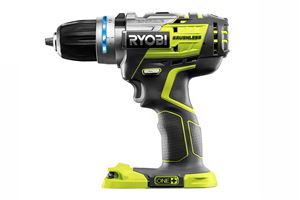 1
Ryobi R18PDBL-0 ONE+ Cordless Brushless Drill Kit
This Ryobi drill might not be one of the cheapest around but it packs a lot of great features into a lightweight, flexible package. It has a powerful brushless motor, for starters, which is more efficient than the brushed alternative.
It also has a tough all-metal chuck to securely and reliably clamp the desired drill or screwdriver bit. This kit includes a charger and a battery, too, which can be used elsewhere in Ryobi's extensive line of tools. A two-year warranty is standard.
Buy it now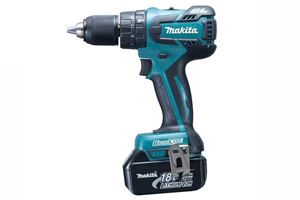 2
Makita BHP459RF Cordless Brushless Drill Kit
Makita makes a wide range of tools and it has a reputation for high quality. Unsurprisingly, as a result, its tools often command a premium – but if you want something that'll last then the premium is worth paying.
This powerful brushless drill comes with a battery and charger, and a three-year warranty if you register online, and it's ideal for those with heavier-duty jobs in mind. Like the Ryobi, it also has a hammer mode to help the drill punch its way through harder materials.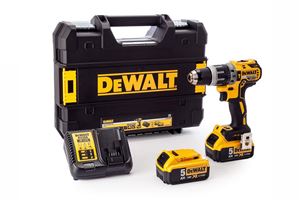 3
Dewalt DCD796P2-GB Cordless Brushless Drill Kit
If you want a powerful cordless drill that's going to run for ages then this DeWalt package is a great option; it comes with a charger and two high-capacity 5.0Ah batteries, unlike the lesser batteries that tend to be offered in other kits.
It's also light, easy to control and has a hammer mode. Register online and you'll benefit from a three-year warranty, too. It's not cheap but if you're looking to build a collection of quality tools then the investment could be worthwhile.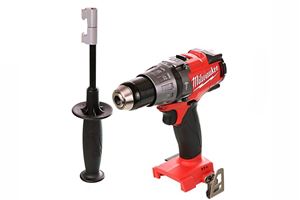 4
Milwaukee M18FPD-0 Cordless Drill
Milwaukee is yet another high-end power tool manufacturer and its products are aimed at heavy-duty users. This drill consequently packs a wallop and should make light work of even the most arduous tasks yet, thanks in part to its brushless motor assembly, it weighs in at a manageable 2.1kg.
If you register online you'll get a three-year warranty, like the DeWalt offerings. This drill doesn't come with a charger or battery, though, but they're easily acquired online.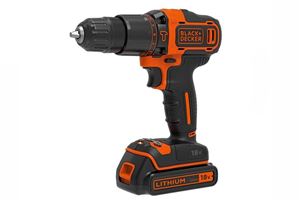 5
Black & Decker BDCHD18K Cordless Drill Kit
If you're not looking to spend a fortune but still want a stout cordless drill then you could opt for this Black & Decker. It's not as tough or as powerful as some of the costlier offerings but it's perfect for light home use and comes with one battery, a charger and a carry case.
It has a hammer mode, too, for when you need to drill into masonry or harder materials. A two-year warranty is standard as well.
Buy it now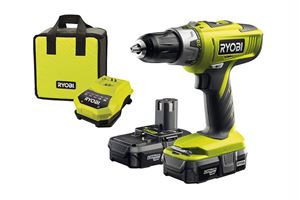 6
Ryobi LLCDI18022 ONE+ Cordless Drill Kit
This cordless Ryobi drill features a conventional brushed motor, which helps keep costs down. Consequently, it's far more affordable than the brushless equivalent – yet this kit uses the same 'ONE+' batteries and chargers, allowing you to build up a stock of high-quality tools without breaking the bank.
It comes with a carry case, charger and two batteries, too, as well as a two-year warranty. It is also heavier than the brushless alternative, though.  
Buy it now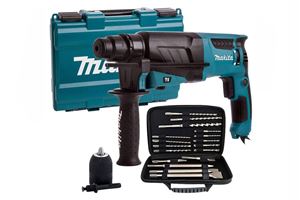 7
Makita HR2630 SDS+ Corded Drill Kit
If you're regularly going to be drilling through harder materials, such as concrete, then you'll need an SDS drill; these use special drill bits that lock into the chuck, which allows for more power to be transmitted and a more pronounced hammering action.
This tough Makita drill comes with a range of accessories, as well as a conventional keyless chuck – allowing you to use it with conventional screwdriver and drill bits if required. A three-year warranty is standard if you register online.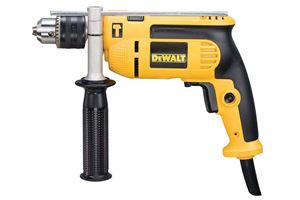 8
DeWalt DWD024KS Corded Drill
This DeWalt corded drill is a good mid-range offering that features both normal and hammer modes, so it can be used for multiple jobs. It's not overly expensive, either, making it ideal for DIY use at home, in the garage or in the garden.
Like some others, it features a depth stop and a multi-position side handle which makes it easier to use. It also comes with a carry case and, if you register online, a three-year warranty.
Buy it now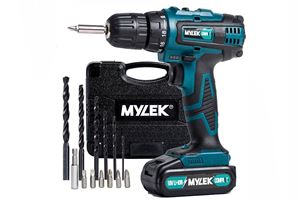 9
MYLEK Cordless Drill Kit
Not every project demands a heavy-duty drill and, in many cases, it's easy to get by with an inexpensive tool. This MYLEK cordless drill is ideal for those who don't want to spend a fortune as it comes with a charger, a battery and an accessory kit to get you started.
It doesn't have a hammer mode, though, so it's best reserved for drilling into softer materials such as wood, plasterboard and plastic.

Buy it now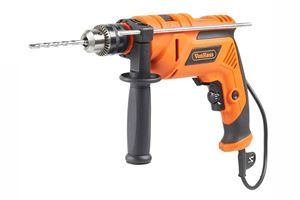 10
VonHaus 810W Corded Drill
Just want an inexpensive corded drill for the odd job? This VonHaus offering could be just the ticket. It packs a range of features, including a depth stop, and comes with a carry case. Its hammer mode also means that you can easily drill into brick, concrete and other hard materials.
VonHaus even throws in some drill bits, a bit adaptor and some screwdriver bits, so you can immediately start using it – while a two-year warranty should alleviate any reliability concerns.