Top 10: Best screwdriver sets 2020
Bored of having a hodgepodge collection of screwdrivers flying around? Revitalise your tool collection with these top-drawer screwdriver sets. In order to help you narrow down the potential options, here are ten of our favourite screwdriver sets.
Top 10: Electric drills | Top 10: Air compressors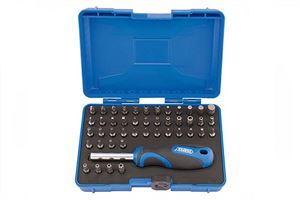 1
Draper 45-piece Screwdriver Bit and Driver Set
If you've not got a vast budget and just want something for the odd job then this Draper set could prove perfect. It comes with a driver, which you simply slip bits into then use to screw or unscrew things, and 44 different bits – so you should have no difficulty finding something that can tackle the screw at hand.
It usually sells for well under £20, too, and comes with a neat storage case.  
Buy it now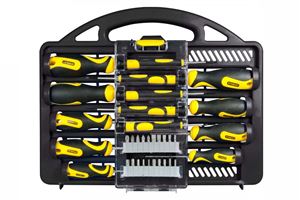 2
Stanley 34-piece Screwdriver Set
If you're looking for a big collection of screwdrivers in an easily transported carry case then this affordable Stanley set could be just the ticket. It features 13 screwdrivers, two of which have Torx tips, and a bit-holder screwdriver with 20 bits.
Consequently, like the Draper Tools set, it should cover all the bases. This comprehensive set is often available for under £20, too, making it ideal for those not looking to spend a fortune.
Buy it now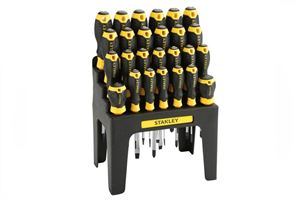 3
Stanley 26-piece Screwdriver Set and Rack
If you're not interested in having a load of random bits and a driver flying around then this straightforward screwdriver set could be ideal. It features 26 screwdrivers, with a range of tips including Pozdriv and Torx, in a variety of sizes – so you should easily and quickly find a screwdriver capable of tackling the job at hand.
Like the Draper set, it also comes with a useful storage rack that's ideal for a workbench or shelf.
Buy it now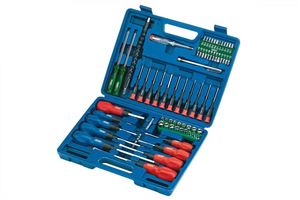 4
Draper 70-piece Screwdriver and Socket Set
Draper is a well-respected brand and this inexpensive set is ideal for anyone looking to start building up a collection of tools. This extensive set of screwdrivers and bits should cover most people's requirements, be it at home or in the garage, and it also comes with many other useful accessories – including magnetic pick-up and a flexible extension shaft.
You also get a selection of precision screwdrivers, which are ideal for taking apart smaller devices and machines.
Buy it now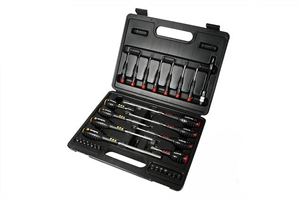 5
Halfords 30-piece Advanced Screwdriver and Bit Set
If you're in the market for affordable and high-quality tools then it's always worth checking out your local branch of Halfords – as its 'Advanced' range offers excellent quality in conjunction with a lifetime warranty and sensible pricing.
This comprehensive set comes with several screwdrivers, including smaller precision ones for working on things such as electronic devices, and a bit driver with numerous bits. It also includes a carry case, which will help keep everything in check and protect it from damage.