Top 10: Pressure washers for under £200
Getting a top-end pressure washer need not required a small bank loan or finance application. Work some cleaning magic with one of these choices for £200 or less.
Top 10: Best pressure washers | Pressure washers for under £100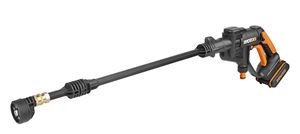 1
Worx WG629E.1 Cordless Hydroshot Portable Pressure Cleaner
Worx takes the portable route with its Hydroshot models by packing the water pump and a rechargeable battery all into the lance, giving you the freedom to operate it wherever you can access a suitable water source. The output pressure is 320psi, which is less than conventionally-powered models but the flip side is portability greater than any alternative offering.
Buy it now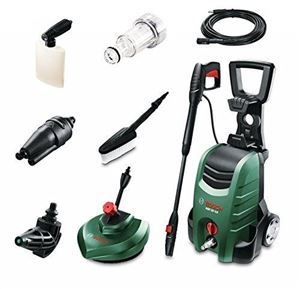 2
Bosch AQT 37-13 High Pressure Washer Combi Kit
Just one of a number of solid Bosch offerings, this mid-range AQT 37-13 model appears here on account of its broad range of included equipment and appealing spec sheet. There's a 1700W motor pushing out 130 bar maximum pressure and a flow rate of 370 litres per hour, while the supplied lance can be fitted with the included detergent nozzle, 90 degree nozzle, wash brush and patio cleaner.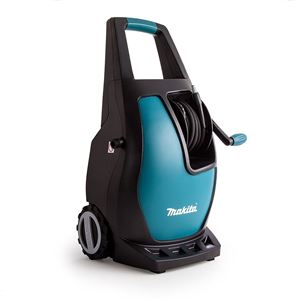 3
Makita HW112 Pressure Washer
With a reputation for well-built, practical power tools this Makita pressure washer makes a sound choice. One of the higher-specification machines in the range, the HW112 has a 1600W motor providing up to 120 bar of cleaning power and a number of sensible features too. There's an internal reel for the 5.5m hose, the lance is steel reinforced and has a water filter to protect the pump. Makita also provides a three-year warranty for added reassurance.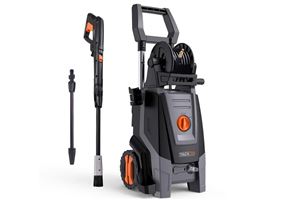 4
Tacklife PPW002R Pressure Washer
One of the most powerful pressure washers at this price point, this Tacklife model offers a mighty 2000W and a maximum 160 bar of pressure for a flow rate of 450 litres per hour. Aside from the impressive specs it includes some useful features such as a child lock, a cooling fan for the motor and the use of copper for the connection joints to avoid rust and deterioration. No surprise then it also comes with a two-year warranty.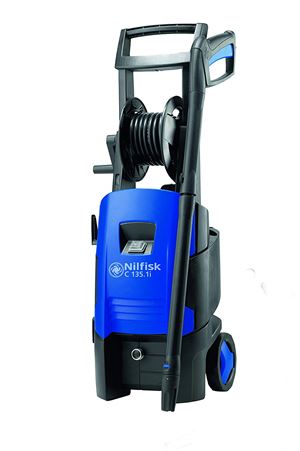 5
Nilfisk C 135 Pressure Washer
Nilfisk are a frequent occurrence in our pressure washer Top 10s due to their mix of good value and appealing features. This C 135 model is a little higher up the range, offering a more powerful 1700W motor pushing out up to 135 bar maximum, although this can be switched down to 115 bar to reduce water usage if required. The kit includes a 6m water hose, a choice of two nozzles and a detergent bottle for adding cleaning products.
Buy it now