Top 10: Pressure washers for under £200
Getting a top-end pressure washer need not required a small bank loan or finance application. Work some cleaning magic with one of these choices for £200 or less.
Top 10: Best pressure washers | Pressure washers for under £100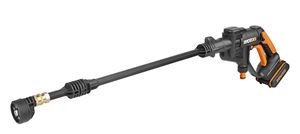 1
Worx WG629E.1 Cordless Hydroshot Portable Pressure Cleaner
Worx takes the portable route with its Hydroshot models by packing the water pump and a rechargeable battery all into the lance, giving you the freedom to operate it wherever you can access a suitable water source. The output pressure is 320psi, which is less than conventionally-powered models but the flip side is portability greater than any alternative offering.
Buy it now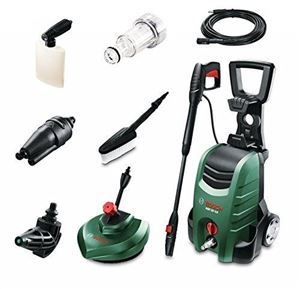 2
Bosch AQT 37-13 High Pressure Washer Combi Kit
Just one of a number of solid Bosch offerings, this mid-range AQT 37-13 model appears here on account of its broad range of included equipment and appealing spec sheet. There's a 1700W motor pushing out 130 bar maximum pressure and a flow rate of 370 litres per hour, while the supplied lance can be fitted with the included detergent nozzle, 90 degree nozzle, wash brush and patio cleaner.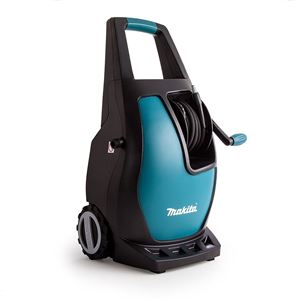 3
Makita HW112 Pressure Washer
With a reputation for well-built, practical power tools this Makita pressure washer makes a sound choice. One of the higher-specification machines in the range, the HW112 has a 1600W motor providing up to 120 bar of cleaning power and a number of sensible features too. There's an internal reel for the 5.5m hose, the lance is steel reinforced and has a water filter to protect the pump. Makita also provides a three-year warranty for added reassurance.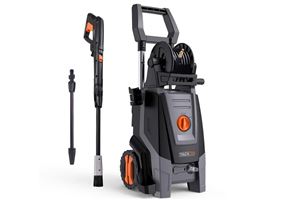 4
Tacklife PPW002R Pressure Washer
One of the most powerful pressure washers at this price point, this Tacklife model offers a mighty 2000W and a maximum 160 bar of pressure for a flow rate of 450 litres per hour. Aside from the impressive specs it includes some useful features such as a child lock, a cooling fan for the motor and the use of copper for the connection joints to avoid rust and deterioration. No surprise then it also comes with a two-year warranty.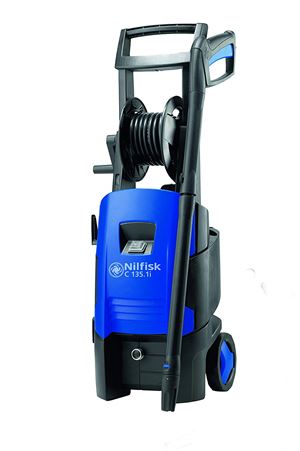 5
Nilfisk C 135 Pressure Washer
Nilfisk are a frequent occurrence in our pressure washer Top 10s due to their mix of good value and appealing features. This C 135 model is a little higher up the range, offering a more powerful 1700W motor pushing out up to 135 bar maximum, although this can be switched down to 115 bar to reduce water usage if required. The kit includes a 6m water hose, a choice of two nozzles and a detergent bottle for adding cleaning products.
Buy it now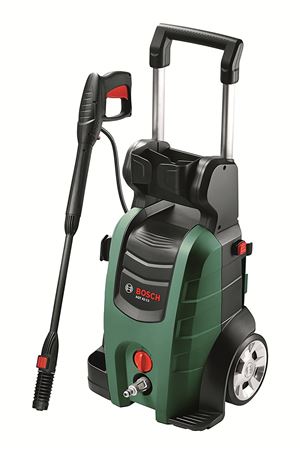 6
Bosch AQT 42-13 High Pressure Washer
Another Bosch model from the AQT family, this high-end model gets significant upgrades in the form of a 1900W motor delivering 130 bar of pressure and a flow rate of 420 litres per hour. Compared to lesser models in the range it has a 7m hose and the addition of a 90 degree nozzle for cleaning hard to reach areas, a roto-power nozzle and a specific patio cleaner.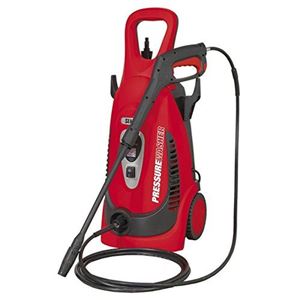 7
Sealey PW2000 Pressure Washer 140bar
This Sealey PW2000 pressure washer is one of the few that is labelled as suitable for light trade use as well as domestic, which is reassuring for the home user. The key factor here is Sealey's Rotablast nozzle which it claims provides equivalent cleaning power of 257 bar (3740psi) despite a modest 1700W motor.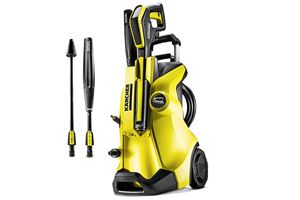 8
Kärcher K4 Full Control Pressure Washer
Frequently the first choice of many buyers when looking for a pressure washer, the K4 Kärcher has the reassurance of a strong brand name and a high specification. Available with a multitude of add-on kits, included here are the Vario spray lance and Dirt Blaster spray lance. The K4 has an 1800W motor offering up to 130 bar of pressure and also has an LED display built into the lance handle to ensure the correct power settings for the job in hand.
Buy it now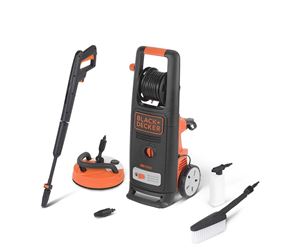 9
Black+Decker BXPW2000PE High Pressure Washer
DIY favourite Black+Decker offer the impressive BXPW2000PE model, which as the name suggests is fitted with a powerful 2000W motor capable of delivering up to 140 bar of pressure and pushing out 440 litres of water per hour. Included is a pack of eight accessories, all of which stow on the back of the machine, plus it features a deluxe patio cleaner and fixed brush for a variety of tasks.
Buy it now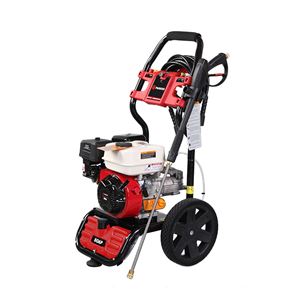 10
ParkerBrand Petrol Pressure Washer 208cc
Right up against our £200 barrier this ParkerBrand petrol-driven jet washer is a serious piece of kit for serious jobs. The 6.5hp four-stroke engine provides a near-industrial level of pressure at 3100psi, and despite its beefy outputs the metal frame and chunk wheels make it relatively easy to transport. Dispensing with the need for electrical power means it can be used almost anywhere too.
Buy it now