Top 10: Pressure washers for under £100
Keep your garden, car and credit rating in fine fettle with one of these excellent pressure washers, all available for £100 or less.
Pressure washers for under £200 | Top 10: Cheapest pressure washers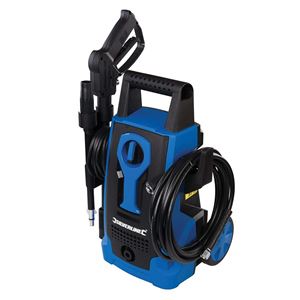 1
Silverline 834832 105 bar High Pressure Washer
A brand you can trust, this Silverline pressure washer is remarkably inexpensive but still comes with a 1400W motor providing a maximum of 105 bar, and a lance and spray gun with an adjustable spray patterns depending on the job in hand. A further bonus is that Silverline's pump allows it to work with low-pressure water sources like butts.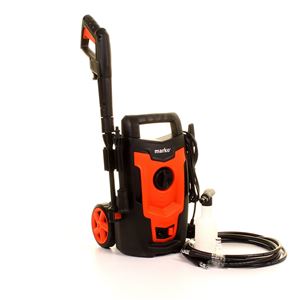 2
Marko Pressure Washer
Still at the bargain end of the table is this Marko model, fitted with a 1400W motor yet still able to deliver a maximum pressure of 110 bar and 390 litres of water per hour. Included is a lance with adjustable nozzle, detergent bottle attachment and a 5m water hose and power cable. In addition, this Marko model has quick-release attachments for the water inlet hose.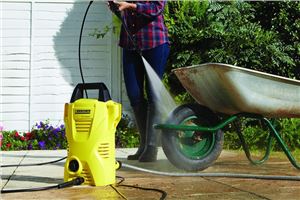 3
Kärcher K2 Compact Pressure Washer
A perpetual favourite and in this most basic form one that comes with a staggering 4.2 stars out of 5 from 1900 Amazon customer reviewers, which suggests people are happy with it. Although light on added equipment there is storage for the lance, cable and trigger gun with a tube rather than a bottle for a detergent feed. However, it does have a two-year warranty and a water inlet filter to prevent damage to the motor.
Buy it now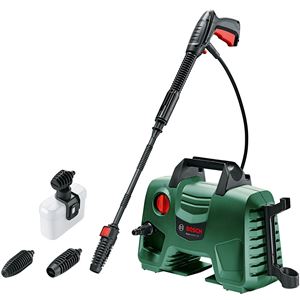 4
Bosch EasyAquatak 110 High Pressure Washer
Bosch offers a logical range of pressure washers that ascend in power and capabilities as well as price, but even at the humble end of the scale the EasyAquatak is a very capable and robust machine. The 1300W motor provides a maximum pressure of 110 bar while the included lance can be fitted with the variable nozzles for a multitude of jobs. Another smart feature of the Easy Aquatak is the design, with a shorter and broader body to give better stability while still providing the space to store all the accessories.
Buy it now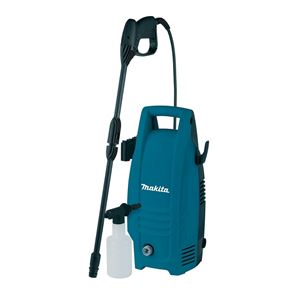 5
Makita HW101 Compact Pressure Washer
Humble and discreet but very capable and excellent value, this Makita HW101 is a hit with buyers having won 4.4 out of 5 stars from customer reviews. There's 1300W of power to provide a maximum of 100 bar water pressure, while the included lance has an adjustable nozzle and a detergent bottle for including chemicals in your cleaning jobs.
Buy it now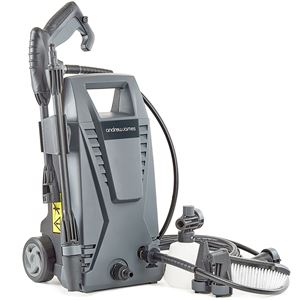 6
Andrew James Immacuclean High Pressure Washer Jet
This Andrew James models is comfortably under our £100 budget but wears a big specification with a 1500W motor and up to 105 bar of pressure. The 6m hose and 5m power cable gives plenty of reach to get around your car or property while the provided accessories include an angled nozzle, adjustable nozzle, brush, and a turbo nozzle.
Buy it now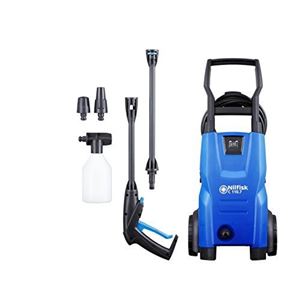 7
Nilfisk C 110 Pressure Washer
Another highly rated model by Amazon customers, this Nilfisk C 110 is just one of many models offered by the firm but this particular version was updated in 2017 and has netted 4.3 stars out of 5 from over 500 reviewers. There's a 1400W motor providing a maximum of 110 bar of cleaning power and is made from aluminium for durability, comes with a choice of two nozzles and a detergent sprayer for chemical cleaning.
Buy it now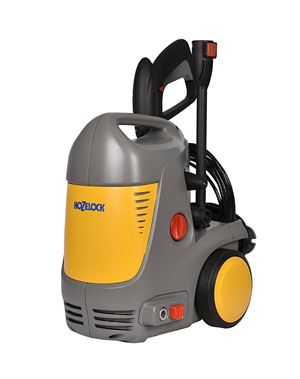 8
Hozelock 140 Bar Pressure Washer
From the people who know a thing or two about hoses and water comes this 140 bar pressure washer, considerably higher than most rivals at this price bracket. That's thanks to the aluminium 1700W motor designed for long life, and the deep rather than tall shape makes it easy to move while still providing space for the lance and two nozzles that are included in the price.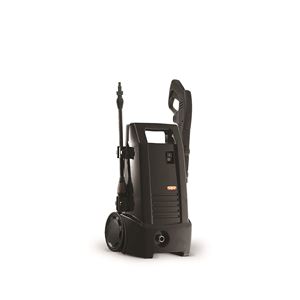 9
Vax P86-P1-C Pressure Washer
With a fine knowledge of carpet cleaners and wet and dry vacuums it makes sense that Vax also offer a pressure washer in the shape of this P86 model. Discreet in black from the outside, within the tough exterior there is a 1700W motor able to deliver 130 bar maximum pressure for a flow rate of up to 370 litres per hour. Included in the kit is a choice of nozzles, a tool for cleaning them, brush attachment and a detergent bottle.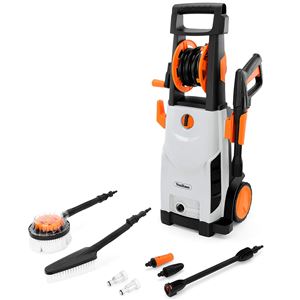 10
VonHaus 2200W Pressure Washer
Another VanHaus product with many favourable customer reviews on Amazon, this 2200W model is the most powerful in the range. That provides a working pressure of 110 bar up to a maximum of 165 bar for exceptional dirt removal, with a provided kit of two nozzles, two brushes and a detergent bottle for adding cleaning products to the mix.
Buy it now