Group 0+ Child Car Seat of the Year shortlist
Choosing the right car seat can be a very confusing process, in no short part down to the sheer number of different types and models on sale. We aim to make choosing the best Group 0+ seat a little less difficult, so here are the five that stood out to us the most.
See all our Kit Awards Shortlists for 2019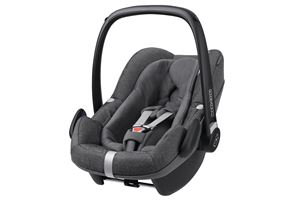 1
Maxi-Cosi Pebble Plus
The Pebble Plus is an update of the very popular Maxi-Cosi Pebble, featuring impact-absorbing side protection, new harness system and a two-year guarantee. The 2wayFix base, which is essentially an ISOFIX base that's sold separately from the seat, allows the Pebble Plus to be used until your baby is around 12 months old. If you then move onto the 2wayPearl car seat with the same 2wayFix base, the i-Size seat can be used rear-facing and forward-facing till your child is four.
The new harness can be adjusted in two ways – shoulder sections move up and down the base of the seat, while the straps can be lengthened or shortened. The seat also comes with the baby-hugger newborn inlay, which is really well cushioned. As a standalone car seat, the Pebble Plus is at the upper end of the Group 0+ market, so it really depends if you plan to move onto the 2wayPearl car seat.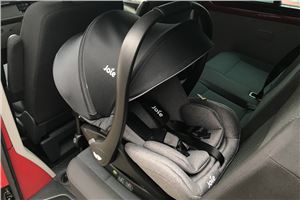 2
Joie i-Level
The i-Level is excellent in many ways, and great value given the safety elements it comes with. The high-quality materials and the comfortable memory foam means that this value isn't kept tucked out of sight, though. What will tempt many, and rightfully so, is the ability to lie it totally flat – a position that is much better for small babies over a long period of time. If you are out all day and don't want to take a carrycot, then the i-Level will be an excellent option.
It's also great at doing the basics, as it is very easy to fit, simple to carry and has an excellent cover. The only thing we'd like to improve is the strap adjustment system and the slightly fiddly buckle. Other than that, it is a fantastic seat that will provide reassurance in and out of the car for the first year or so of a child's life.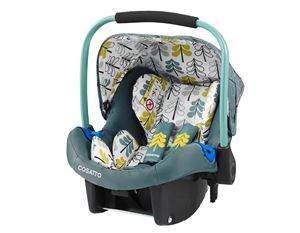 3
Cosatto Hold
This Group 0+ car seat from Cosatto is suitable from birth to 13kg. It's getting on a bit now but the Hold remains ever popular with parents. It features a five-point harness with quick release buckle and can be rearward or forward facing in a car. Chest and head pads on the seat also make it extra comfortable for long car rides.
The seat also comes in a wide range of colours and designs, which makes it perfect for parents who don't want the standard red, black, purple etc you get with most car seat brands.
Buy it now
4
Mothercare Maine
This lightweight car seat from Mothercare is a great option for those looking for a budget Group 0+ car seat. The Maine features deep padding and side impact protection and is supplied with a newborn body support cushion, chest and buckle pads for comfort and safety, and a sun canopy.
The three-point harness that can be tightened with one hand and the seat comes with a two-year guarantee. The car seat is compatible with the Maine ISOFIX base (sold separately) which remains in the car and allows you to simply click the seat on and off the base. The Mothercare Maine car seat can also be used with a range of Mothercare pushchairs, but these do require adaptors.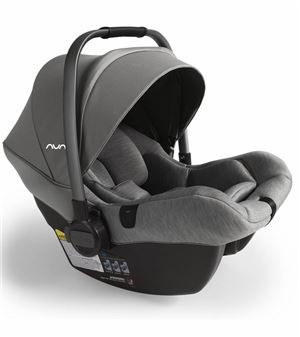 5
Nuna Pipa Lite LX
This lightweight car sear from Nuna offers an impressive amount of comfort and protection. The Pipa Lite really lives up to its name, being an exceptionally light car seat despite its strong shell - which is great for parents who struggle to lift and carry seats in and out of the car. There's also side impact protection and a stability leg for added safety. 
The dream drape sun canopy and organic cotton harness pads and body inserts are also thoughtful touches, which go some way to justifying the high price tag. The Pipa Lite LX is compatible with all Nuna pushchairs, too.