Top 10: Baby car seats under £250 2020
Between £100 and £250 there are lots of high-quality seats from well-known brands that offer thoughtful design as well as practicality. Here we pick ten Group 0+ seats at various price points.
Don't forget to check the compatibility of your own car by using our unique Car Seat Chooser.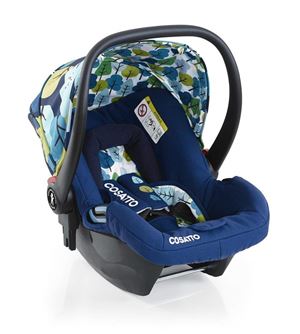 1
Cosatto Hold Car Seat
Cosatto's Hold car seat range has been around for a number of years and this latest version offers a range of features that should suit almost everyone. Unlike some rival offerings the Hold seat can be mounted in several ways; via a standard three-point belt, to a belt-mounted base allowing quick release or an Isofix base also with quick release, although the bases do cost extra.
The Cosatto brand also means compatibility with Giggle 2, Ooba, To & Fro & Woop travel systems too, and is suitable from birth to 13kg.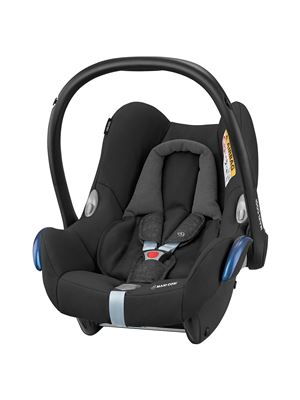 2
Maxi-Cosi Cabriofix
The popular Maxi-Cosi Cabriofix is suitable for babies from birth until they reach a maximum weight of 13kg/29lbs (approx 12-15 months). It features side impact technology for optimal protection and, when using the Maxi-Cosi familyfix ISOFIX base, the cabriofix car seat can be positioned in a more upward seated position for older babies.

The stay-open harness allows you to easily place your little one in the seat and as they grow, the harness and headrest can be altered to ensure that they are always positioned correctly. The seat also comes complete with a headhugger, newborn support pillow, chest and buckle pad plus an integrated sun canopy. The car seat also features an extra comfortable ergonomic carrying handle to make it easier for you to lift and move, as well as a handy storage compartment and washable cover.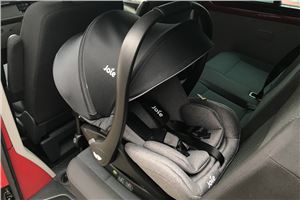 3
Joie i-Level
The i-Level is excellent in many ways, hence why it won our Group 0+ Child Seat of 2019 award. It's also great value given the safety elements it comes with. The high-quality materials and the comfortable memory foam means that this value isn't kept tucked out of sight, though. What will tempt many, and rightfully so, is the ability to lie it totally flat – a position that is much better for small babies over a long period of time. If you are out all day and don't want to take a carrycot, then the i-Level will be an excellent option.
It's also great at doing the basics, as it is very easy to fit, simple to carry and has an excellent cover. The only thing we'd like to improve is the strap adjustment system and the slightly fiddly buckle. Other than that, it is a fantastic seat that will provide reassurance in and out of the car for the first year or so of a child's life.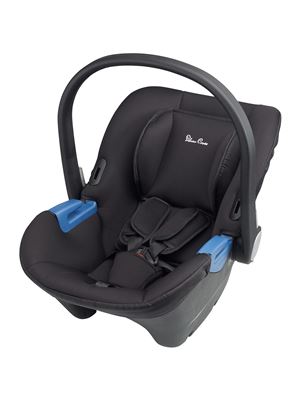 4
Silver Cross Simplicity
The Silver Cross Simplicity seat is a Group 0+ seat suitable from birth to 13kg. It features a five-point safety harness which can be conveniently adjusted with one hand, as well as side impact protection and head support. A free two-year guarantee is included.
The Silver Cross Simplicity comes complete with a comfort wedge for newborns plus a head support and thick padded harness pads to keep your baby comfortable whilst travelling. It's compatible with the Silver Cross Wayfarer and the Silver Cross Surf pushchairs (both sold separately) to form a travel system, too.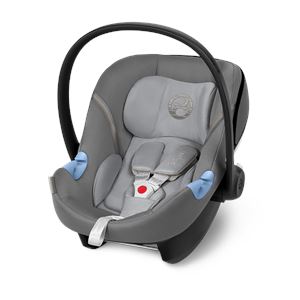 5
Cybex Aton M
The Aton M is another that can be used on a base that can accommodate a bigger seat, meaning you don't need to buy a second base as your child grows (so long as you buy another Cybex of course).
It's chunky, at 4.6kg, but that is pretty much par for the class. Although it isn't designed to take a child any heavier than 13kg, there is a wide range of adjustment in the headrest – it can be put in one of 11 positions.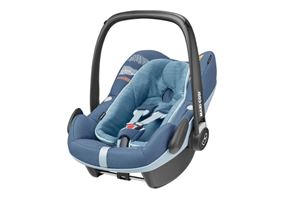 6
Maxi-Cosi Pebble Plus
The Pebble Plus is an update of the very popular Maxi-Cosi Pebble, featuring impact-absorbing side protection, new harness system and a two-year guarantee. The 2wayFix base, which is essentially an ISOFIX base that's sold separately from the seat, allows the Pebble Plus to be used until your baby is around 12 months old. If you then move onto the 2wayPearl car seat with the same 2wayFix base, the i-Size seat can be used rear-facing and forward-facing till your child is four.
The new harness can be adjusted in two ways – shoulder sections move up and down the base of the seat, while the straps can be lengthened or shortened. The seat also comes with the baby-hugger newborn inlay, which is really well cushioned. As a standalone car seat, the Pebble Plus is at the upper end of the Group 0+ market, so it really depends if you plan to move onto the 2wayPearl car seat.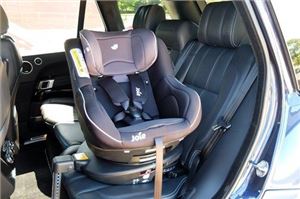 7
Joie Spin 360
The Spin 360 is also the cheapest swivelling Group 0+/1 car seat on the market priced at £250 and is suitable from birth - thanks to a neat extra padded insert - up to around 18kg or four-years-old.
The easy swivelling action, sturdy handles and metal seat belt buckle give the Joie a reassuringly quality and safe feel. It's no budget model either with plenty of features like a ventilated base and plenty of recline position.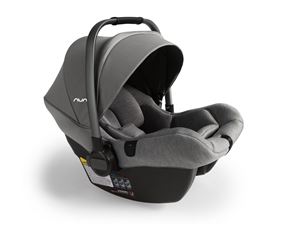 8
Nuna Pipa Lite LX
This lightweight car sear from Nuna offers an impressive amount of comfort and protection. The Pipa Lite really lives up to its name, being an exceptionally light car seat despite its strong shell - which is great for parents who struggle to lift and carry seats in and out of the car. There's also side impact protection and a stability leg for added safety. 
The dream drape sun canopy and organic cotton harness pads and body inserts are also thoughtful touches, which go some way to justifying the high price tag. The Pipa Lite LX is compatible with all Nuna pushchairs, too.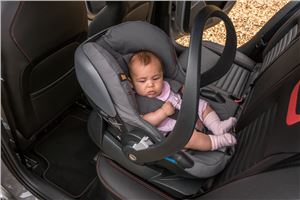 9
BeSafe iZi Go
Norwegian company BeSafe says that the iZi Go goes beyond the latest i-Size safety requirements, with extra padding increasing its side impact protection. Some parents have said this makes it seem as though the baby's head is quite snugly contained, but it should ensure that they are kept still and this shouldn't be an issue unless your little one has a problem with their head being held a little closer while driving.
The iZi Go is a relatively lightweight seat, at just 3.5kg, but it still boasts a five-point harness with a magnetic belt holder to help keep the clips out of the way while popping the little one in and out. The same seat is sold branded as a Stokke.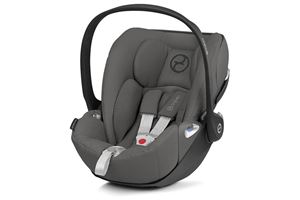 10
Cybex Cloud Z i-Size
As part of the flexible Z-Line modular system, the Cloud Z i-Size fits onto the Base Z (available separately) to always ensure a safe ride from birth to approx. 18 months. The Base Z's innovative rotating mechanism makes it quick and easy to switch between positions that face the rear. A free three-year guarantee is included too. 
The Cloud Z features an ergonomic lie-flat position when attached to the stroller, with a removable inlay for newborns which helps to reduce the risk of the baby's head tipping forward while asleep. In the event of a side-impact collision, the LSP System offers increased safety by reducing impact forces in combination with the energy-absorbing shell by approximately 25%. Completing the safety features are the extra-wide Y-harness, which is softly padded and designed to offer comfort and safety for your baby and the height-adjustable headrest.
Related Articles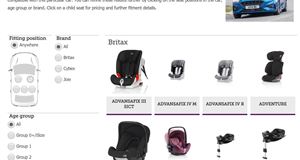 Child seats
Our unique car seat calculator shows you which child and baby car seats will fit your car.