What is it?
The Joie Spin 360 is one of few swivelling car seats on the market - allowing you to start with a rear facing seat and then change to a forward facing when the time is right. The best part however is that you can swivel it to face you when you're strapping your little one in, or getting them out.
The Spin 360 is also the cheapest swivelling Group 0+/1 car seat on the market priced at £250 and is suitable from birth - thanks to a neat extra padded insert - up to around 18kg or four-years-old. As a price comparison, the Nuna REBL, which we rate as the best car seat in this category, will set you back almost £400.
Like the competition, the Spin 360 is a fixed seat, it doesn't come off to fit on a pushchair. For those with newborns this may mean it's a no-go straight away. After all, who is going to risk waking a sleeping baby just to put them in a pushchair. It's also not i-size compliant - the new standard for child seat safety which will run parallel to the current regulation until 2018.
It doesn't have rebound bar at the rear but there is a support leg. This means it's one of the smallest swivelling seats around - ideal if you've got a smaller car. There are five recline positions plus an adjustable headrest.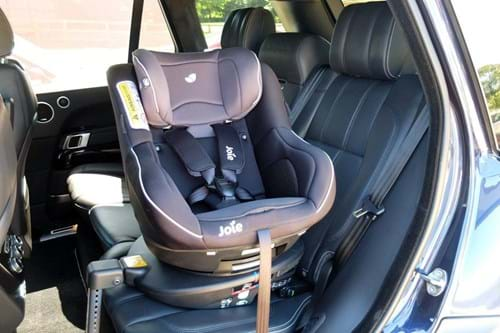 What's it like?
What you first notice when you get it out the box is that the Joie is noticeably lighter than other swivelling car seats at less than 12kg. This makes it easier to fit and also less back breaking if you're going to be moving it between cars. But just because this is a lighter - and cheaper - car seat than the competition from Maxi-Cosi and Britax, doesn't mean it's of less quality.
In fact, the Joie feels like a much more expensive seat than its price tag suggests. The seat is well padded and the sides are nice and thick. It may not be i-size compliant but it certainly appears to have good side support, especially the deep headrest which you can easily adjust up and down. It also swivels with a nice action and the buttons and switches have a reassuringly solid feel to them.
In fact it feels very similar to the excellent Nuna REBL. Like that seat, the Joie Spin 360 has proper metal seat belt buckles, the two halves easily clipping together to slot into the fastener. The seat belt straps are reassuringly thick and the protective pads for your little one's shoulders are nice and flexible.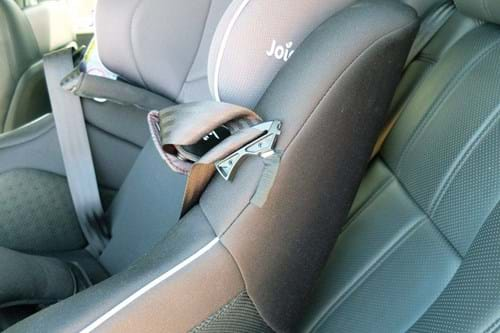 There are also some very handy little vertical pockets so you can keep the seatbelts out of the way when you're getting your baby or toddler in. Other car seats use magnets which can be easier - the little pockets are quite tight and it's not always easy to slot the buckles in when you're getting your little one out. Half the time we ended up just leaving them hanging over the sides.
The centre fastener has a nice thick padded cover, which is handy in the summer to stop the seatbelt pinching little ones legs. Getting our chief tester - our 15 month old daughter Eden - in and out the seat has proven really easy.
In the summer months any child will get a bit hot and sweaty in a car seat but the Joie does at least attempt to help with side ventilation. Plus of course the cover and seat belt pads are removable and washable. For those mushy banana and biscuit stains...
We've tried the Joie in everything from sports cars like the Audi TT to people carriers like the Ford C-MAX. It's been easy to fit in everything thanks to Isofix arms which slide out a long way. Plus easy to use buttons that click green to show you it's securely fitted. Again these are near identical to the ones on the Nuna REBL, giving the Joie a quality and strong feel.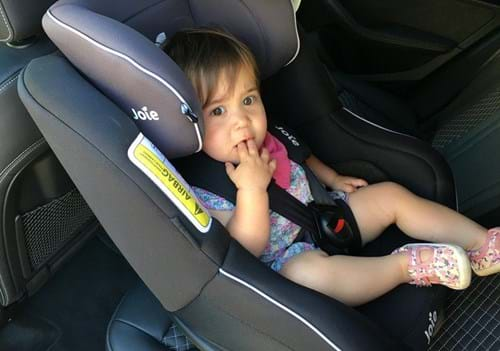 There are five recline adjustments, with a decent range of movement, although it doesn't recline particularly flat for newborns. The picture above shows it in its most reclined position when rear facing. One criticism is that the two handles for rotating and reclining the seat are above each other on the front of the seat. So it's all too easy to get the wrong one, especially when the seat is rear facing and you're doing the whole thing by feel.
One oddity is the fact there's no rebound bar. That does mean the seat takes up less room - handy if you have a small car or someone very tall in the front passenger seat. But it also means there's no guide to how tight to the rear seat of the car you should be. So you can get the Joie in a snug fit, only to find it won't rotate as it's too close up against the back rest.
On a purely cosmetic front, the Joie only comes in two colours. The rather drab black you see here and a more vibrant red. But that's all you get. Other seats like the Maxi-Cosi AxissFix come in a huge variety of colours and patterns so it's a shame the Joie is so limited. 
Should I buy one?
At £250 the Joie Spin 360 is great value for money. Especially when you look at the competition which costs from £350. It certainly doesn't feel like a cheaper product, if anything it's easily a match for the Nuna REBL, the most expensive - and in our opinion the best - swivelling car seat on sale.
True it doesn't have all the features of rivals, for instance there's no rebound bar, but the seat itself has a top quality and more importantly, sturdy feel to it. The fact it's a bit lighter means it's easier to move between cars, although like most of these swivelling seats, it's not something you'll want to keep doing as getting any seat into Isofix points can be fiddly.
It looks even more seat for your money when you take into account the fact it can be used from birth until around four-years-old, although it's always best to go on the 18kg weight limit as age is always just a guideline. At 15 months you can legally switch from rear to front facing, but we'd suggest sticking with rear facing for as long as possible as it's far safer.
The easy swivelling action, sturdy handles and metal seat belt buckle give the Joie a reassuringly quality and safe feel. It's no budget model either with plenty of features like a ventilated base and plenty of recline position. At this money there's no seat that can match its all round ability.  
Details
Price: £250.00 (seat and base are all one unit)
Size: Group 0+ to 1 (Birth -  4 years/18kg approximately)
Weight: 11.95kg 
Alternatives 
Maxi-Cosi AxissFix i-size £375.00 
Britax DualFix Combination £350.00
Nuna REBL £395.00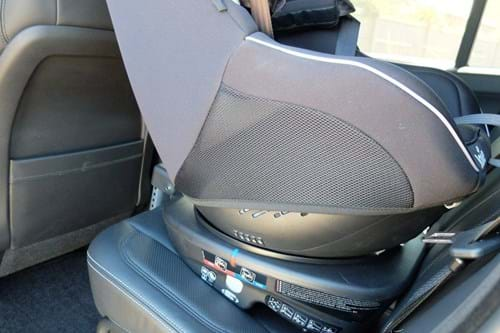 The Honest John Kit Car Seat Chooser
Choosing - and buying - a car seat for your baby or child is a pain. It means visiting every child seat manufacturer - either online or in-store - to see if their seat fits your car and, if it does, it goes where you want it to. So we decided to do something about it. We built a car seat choosing tool that starts with the most important thing (well, after your child, that is): your car.

Tell us what car you have, or plan to get, and we will show you those that fit your car.
Select your car's make to get started
Tell us what car you have, or plan to get, and we will show you the car seats that fit.