What is it?
Nuna's car seat range isn't the biggest but that does mean it's very easy to understand. The MYTI is its Group 1/2/3 car seat that's suitable for children from 9kg right up to 36kg. That's approximately 9 months up to 12 years, so while it's not cheap at £275, it is an investment that will last you until your not so little one doesn't need a car seat any longer.
It's an i-Size seat, which means it's designed with better head and neck support along with improved protection from side and frontal collisions. It has a five-point harness (for up to 19.5kg) which can be tucked away when you want to turn the seat into an i-size booster using the car seatbelt. The MYTI also features a top tether system.
It comes with extra padding inserts for babies and has three recline positions, adjusted by a handle under the base of the seat. The headrest can be adjusted between nine positions and as you move it up, the shoulder width also expands to give more room as your child grows.  
What's it like?
We've been very impressed with Nuna car seats, especially the REBL Plus which won our Group 0+/1 Child Seat of the Year award in 2019. The high-quality finish of that seat is replicated in the MYTI, even down to the nice packaging when it arrives in its big box. This is not a cheap purchase and the Nuna feels like a premium product right from the get-go.
In terms of weight, it's about average at roughly 13kg. If you choose the MYTI, it's not a seat you will be moving between cars often. Not because of the weight per se, but due to the fact that it has a top tether system. If you're not familiar with a top tether, it's essentially like another seatbelt fixed to the child seat that loops around the headrest and fixes to an anchor point on the back of the car seat. You'll find a picture below.
This means more space, as the MYTI doesn't require a support leg like the REBL Plus. It can be a bit tricky getting the top tether belt fitted correctly and tight enough, but once done it's not something you need to worry about. It does, however, present an issue if you need to fold down the back seats to carry something big as removing the child seat isn't as simple as just releasing the two Isofix arms.
Along with a steel-reinforced shell, the materials used and the quality of the finish are two highlights of the MYTI. It feels like a hardwearing seat that should certainly stand up to plenty of years use without bobbling or fraying. That's important when you consider this seat is going to last till your little one isn't so little any more and turns 12 years old. It comes in several colours, sadly nothing especially bright or exciting, but the 'aspen' grey of ours looks very neat. Although our tester, four-year-old Eden, would have preferred something pink...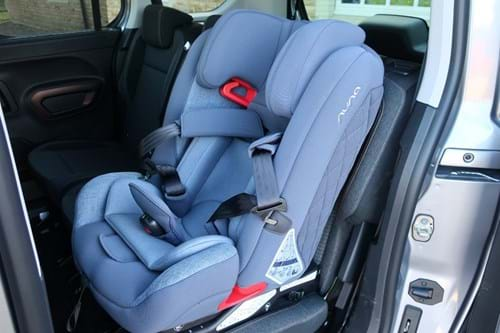 For babies, the MYTI comes with a padded insert (shown above) which is easy to take out when they grow. The five-point harness comes with nicely padded covers on both the top and lower sections of the seatbelt, which is especially handy in the summer and helps protect bare arms and little legs. The harness is easy to clip together, the only issue we had is with the belt, which we found tricky to tighten. We found pulling down rather than horizontally helped, but it still didn't feel as secure as we'd like. We had no such issues with the same harness in the REBL Plus so maybe it will get easier to use over time. 
Once your child reaches a metre tall (around 15kg in weight) you can convert the MYTI into an i-size booster seat. It's simply a case of tucking the five-point harness belts and buckle into dedicated slots and using the car seat belt instead.
As Eden is just about a metre tall, we've been able to test both methods of using the MYTI. The one thing that she really likes is the thickly padded headrest, especially the side sections - handy when she falls asleep as it stops her head rolling from side to side. We did find the base of the seat a little hard, but it doesn't seem to bother Eden.
From the age of 3 to 12 years old, children grow on average 60cm in height so a seat has to change a lot to accommodate this. The MYTI comes with an adjustable headrest with nine positions. It's easy to slide up down but the clever part is that the shoulder sections move out as the headrest moves up, giving more shoulder room for growing kids.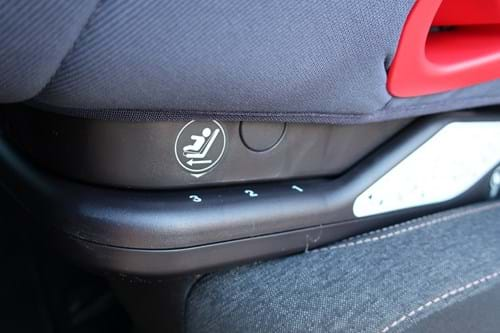 As well as adjusting the headrest, the seat itself also has three recline positions, which is handy if you're on a long journey and your child wants a nap. Or indeed, decides to fall asleep on a five-minute journey to the local shops. We didn't find it very easy to adjust on the go though - certainly not compared to the Nuna REBL Plus. It's something that's best done before you set off - although predicting when/if your child will fall asleep isn't always that easy.
Using the car seat belt is straightforward as all the crucial clips and guides are in red plastic, so it's easy to know where the seat belt should be threaded. Of course, you still have to lean across and find the buckle as with any car seat...
The seat comes with ventilation panels on the seat to help airflow and stop your child getting too hot and sweaty in hot weather. You can also remove the cover if you need to clean it, although it is a little bit fiddly. We tried and it took us quite a while to remove it without feeling like we were going to break something. The covers are washable, but there's no spare or summer cover included so if you wash it, you'll need to factor in some drying time before you can use the seat again.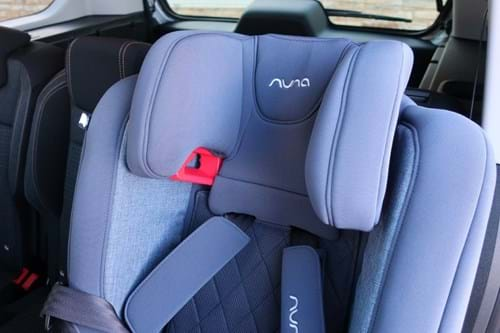 Should I buy one?
Nuna products are at the pricier end of the car seat market, but the quality shines through and the MYTI certainly feels worth the price. Yes, £275 is a significant investment, but given this seat will last till your child is 12, it works out at good value given the tough shell and hard wearing material. We did have some issues with tightening the five-point harness and reclining the seat itself, but aside from that, there's little to find fault with.
If you have a baby or toddler, you may prefer a swivelling car seat, making it easier to strap them in and get them out. However, the MYTI has the advantage of a top tether system rather than a supporting leg, saving space. 
We have moved from a 360 rotating seat to the Nuna MYTI as our daughter turned four years old and the transition has been very easy. The fact that the seat feels substantial with lots of support means you can strap your little (or not so little) one in knowing they will be safe and the top tether gives you that added security.