Choosing a car seat can be a pain. It means visiting every child seat manufacturer — either online or in-store — to see if their seat fits your car and, if it does, whether it goes where you want it to. Instead, try our Car Seat Chooser tool. Tell us what car you have, or plan to get, and we will show you every seat that fits your car. It's really that simple.
What is it?
The Cybex Sirona Z i-Size R is a purely rear-facing, Group 0+/1 car seat designed to fit a child from birth to approximately four-years-old. With 12 adjustable headrest positions and five reclining seat positions, Cybex boasts this seat to be extra ergonomic and extra luxurious. It offers a one-hand mechanism for the recline and rotate functions and is for Isofix bases only. It also has a helpful installation indicator.
The Sirona seat offers a rotating mechanism for easy boarding (when used with the paired Isofix base — which is an extra £185) and integrated linear side impact protection for extra safety, reducing the force of a side impact to the shell by approximately 25%. However, being in the Cybex Platinum range (along with the Cloud Z and Sirona S), it isn't exactly cheap at £260.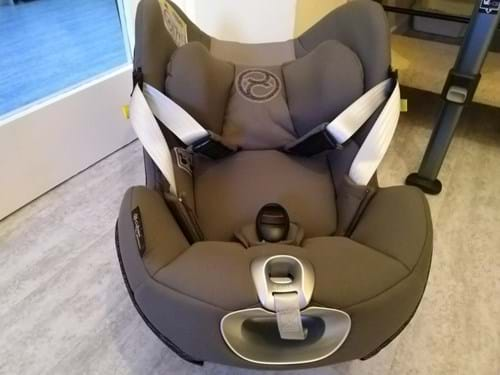 What's it like?
On first impressions, the Sirona Z i-Size R looks like a first-class seat. It appears very well made and sturdy, plus it looks extremely comfortable and smart with all the seat padding around the sides and headrest. There is a newborn inlay that can be removed once your small person is approximately 61cm/three months old to provide more space.
Our tiny tester fitted snuggly and securely into the seat with plenty of space to grow, surrounded by all the padding. The five-point harness is done up and released with much ease. There is padding around the seat belt itself on the shoulders too, so there are only soft fabrics next to our little one, rather than a seat belt.
The seat cover is easy to take off and it's machine-washable, which is very handy when the cover inevitably gets dirty over time. Handy magnetic belt holders keep the belt free of the seat, too, and save searching for seat clips under a sleeping baby — while the one-handed mechanism to recline/rotate is useful if you needed to hold a baby on your other side with one arm, so you can get the seat ready in position.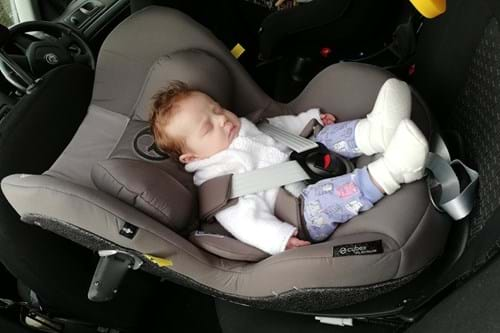 The Sirona Z is big when compared to a carrier car seat for a newborn, but it's designed to remain in the car. The seat is easy to fix onto the Isofix base by simply clicking it in and would be easy to move to another car if needed. Depending on where you're going and what you're doing this could be a negative in the first 6-12 months as you would have to move your little one from the seat each time as there's no option to pop this seat onto a set of wheels as a travel system.
It's also worth remembering the seat can last until approx. four years of age (105cm) so it does have long term use in mind. It's purely a rear-facing seat so there is no option to put forward-facing, but this is much safer for children anyway.
The Sirona Z also scores well in crash safety testing with the ADAC results showing there's a low risk of injury in the event of a frontal crash and a very low risk of injury in a side-impact collision. The seating positions were found to be comfortable and there's a low chance of incorrect fitting due to the guides (this test was conducted using the Z Base), although the buckling system was said to be a bit complex.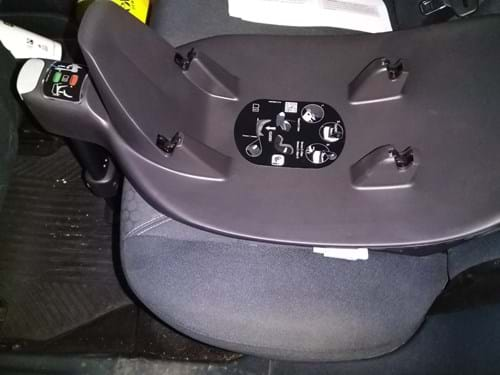 As with the Cybex Cloud Z, which we've also reviewed, the seat comes with the option of SensorSafe technology. The device is a unique child monitoring system, which attaches to the harness. The system alerts you if your child unclips the buckles, is left unattended in the car, when the temperature is too hot or cold or if they've been in the car for too long. All alerts are sent via Bluetooth to your phone via an app. 
Should I buy it?
As the Sirona Z remains in the car, it means moving a younger baby in and out of the seat if you go anywhere. Personally, this was alright for us as we use a separate buggy or a baby sling carrier, but it does mean you won't have the benefit of lifting a carrier car seat from a car onto a travel system, a shopping trolley or into your hallway — which could be a downside for a sleeping baby. Although, once your child is bigger than the carrier style seat, you would be lifting the child out of a car seat anyway.
Overall it's a great seat; extremely comfortable and very safe as it's rear-facing. And although the price is at the higher end, it could serve your little one for four years, without the need to potentially buy two different car seats to cater for a growing infant, as we did with our 4-four-year-old. In those terms, we think it's great value.