What is it?
The Nuna ARRA is a Group 0+ baby seat that's designed for your little one from birth up to 13kg (or 28.5lbs in old money) - that's roughly around 12 to 15 months. Nuna sells several Group 0+ seats but the ARRA is its most expensive model costing £350.
For that, you get the i-Size compliant Nuna ARRA seat itself plus the Isofix base (the ARRA can only be used with Isofix). The Nuna ARRA doubles as a car seat and a carry cot, being compatible with all Nuna pushchairs - we tested it on the excellent Nuna Mixx. There are three recline positions and it will also convert to a near flat reclining seat with a 157 degree angle - which can be used in the car or pushchair.
There's a fully removable full body insert for newborns to keep them supported plus the usual three point adjustable harness with soft seatbelt covers. The removable headrest insert is made of memory foam for even better comfort.
Nuna itself is a Dutch baby gear brand that has quickly built up a reputation for making high quality and innovative products including a range of car seats. We've already been impressed by the Nuna MYTI and the Nuna REBL Plus so read on for our Nuna ARRA review.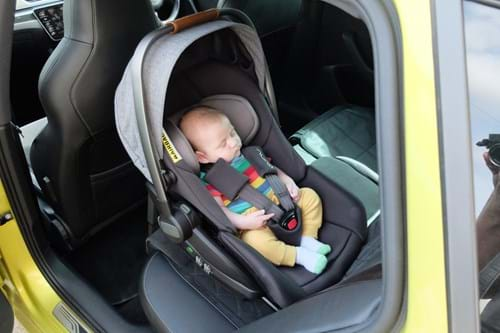 What's it like?
As we've come to expect from the Nuna brand, the Nuna ARRA is a premium car seat. The materials used are lovely and soft, the infant insert is especially cosy, while the canopy feels top quality and the brown faux leather handle is a lovely touch which only adds to the upmarket feel. The buttons to adjust the carry handle are reassuringly solid and everything feels built to last. You can see where your money goes.
It's not the lightest seat around at around 3.5kg (the Nuna PIPA Lite is just 2.5kg) so if you're slight, you may find it hard to lift in and out of a car with a two month on board. But the Nuna ARRA is very solid and easy to fit onto the Isofix base. As we mentioned, the base is included in the box so there's no need to buy anything separately.
Fitting the base to your Isofix mounts is a doddle and it has a steel support leg designed to absorb the force of an impact. It does take up room though, so if you have a smaller car like a Ford Fiesta, you'll have to have the seat in front quite far forward. As we always suggest, it's worth trying it out in your car before buying if you can.
In our pictures we're testing the Nuna ARRA in a Skoda Superb Estate - the extra leg room and wide opening doors really help with family life. Fitting the actual seat is simple, there are two horizontal bars that slot into the base, check the indicator has clicked to green (it sometimes needs an extra push down) and you're ready to go. Removal is just as easy with one handle on the base to release. Once in place, the seat feels very secure and there are no rattles or squeaks on the move, something which can't be said of all the car seats we've tested.
One of our favourite features is the recline function. A button on the back of the seat allows you to recline it through three positions to almost flat. Reuben always looks quite uncomfortable sat in the most upright position so we much prefer the reclined option, especially when we're having to put him in his seat after a feed. 
Having tested the ARRA through the summer (Reuben was born in early July) the canopy has proved useful. It is UPF 50+ to stop the sun, plus there's a little mesh window to help with airflow on a hot day and a front sunblind to keep he sun out of little ones eyes on bright days. You can also remove the cover if need be.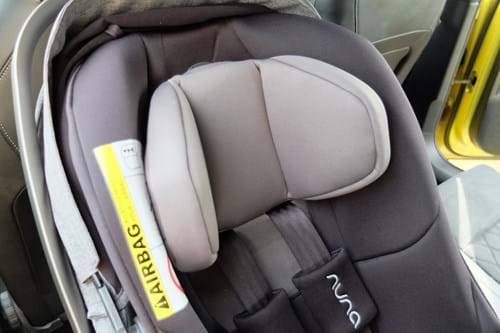 We thought the compatibility with the pushchair would be an important factor, but in fact we have only occasionally attached it to the Nuna Mixx we have, instead opting to take Reuben out of his car seat and sit him in the pushchair. That said, it will fit all Nuna pushchairs thanks to the adaptors which are included, although there doesn't seem to be much compatibility with other pushchair makes.
As Reuben has grown, we've now removed the Merino wool padded infant insert (Nuna suggests removing it when your little one is 11lbs) to give him more room. Usefully, the headrest adjusts too, so you can keep your precious cargo safe with their head always in the safety zone of that headrest. It's also extremely comfortable with a memory foam construction.
Our only one complaint is the padded surround for the seat belt buckle. It's not attached in any way so we often lose it in the process of getting Reuben out of his seat. On other seats we've tested, it has been stitched to the base material which we would have expected given the premium price of the ARRA. But this is only a very minor gripe.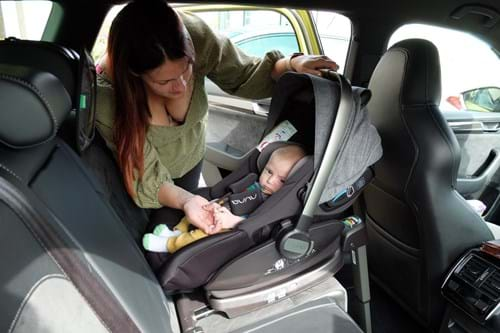 Should I buy one?
As with most people considering a seat like the ARRA, this is the seat we brought our baby home from hospital in, so it's an important investment. At £350 it looks expensive but when you take into account that includes the base as well, it's reasonably competitive. For comparison, a Maxi Cosi Tinca along with a compatible base costs £260 while a Britax Baby Safe 3 plus base will set you back around £430 in total.
The Nuna ARRA feels worth the money though. It's clearly a premium seat that's very safe with high quality materials that are lovely and soft next to your little one's skin. but it's the recline function which really sets this apart from other seats and means it's worth every penny. The ultimate recommendation comes from now two month old Reuben who always sleeps very soundly in the Nuna ARRA, looking relaxed and cosy.