What is it?
The Cybex Pallas G i-Size is a front facing Group 1/2/3 car seat that's designed to last from when children are approximately 15 months right up to 12 years old. It can only be fitted to cars with Isofix and also has a top tether fitting for added security. It comes in a variety of colours from your standard black, to magnolia pink and the river blue we're testing here.
Stand out features include a reclining headrest to stop your child's head dropping forward when they are asleep, something which we really like on other Cybex seats like the Solution Z-Fix.
There is also the reassuring impact shield that has become a Cybex trademark feature. This sits across your child's lap, keeping them secure in the seat. It's designed to reduce the risk of neck injuries in a frontal collision and means you don't have to worry about the usual five-point harness. The Pallas is priced at around £230 and rivals include the Nuna MYTI.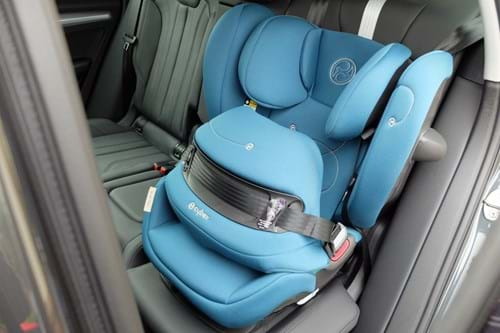 What's it like?
Cybex seats are well known for their quality and the Pallas G i-Size is no exception. Straight out of the box you'll notice how solid the shell is and how soft and upmarket the fabric feels. Our first impressions are that this is a seat that's built to last - which given it's designed to go from 15 months to 12 years, is a pretty handy...
At around 9kg it's considerably lighter than the Nuna MYTI (which is more than 13kg) and although still on the bulky side, it's very easy to install. The Isofix connectors are simple to slide out and have the usual green indicators to show they're fitted properly. Undoing them is a doddle too, so it's easy to release the seat.
The metal Isofix arms themselves are narrow - handy if you don't have those plastics guides built into your seats but rather a gap in the seat fabric. You do have to watch them if you're moving between cars though as they will easily scratch paintwork.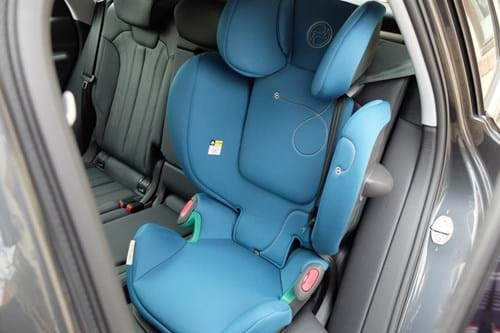 The Pallas also has a top tether fitting which Cybex says must be used if you are using the impact shield. If your child is older, like our almost six-year-old tester Eden, it's optional, although we found it neater to have the top tether fitted rather than having a long strap trailing around. It also gives you that extra bit of reassurance as it's designed to stabilize the car seat and prevent rotation in the event of an accident.
It's an easy seat to fit and once in place feels stable and secure, although it's width means that it won't work in most cars if you want to have three child seats across the back. We tested it in a Skoda Octavia and with a similar Group 1/2/3 seat on the other side, the middle seat room almost disappears.
Adjusting the height is simple, pull one handle and it slides up easily - the picture above shows it in its tallest position. And one of the best features of the Pallas is the reclining headrest with three recline positions. You just have to remember to remove the car headrest to give the Cybex room to sit flush against the seat back.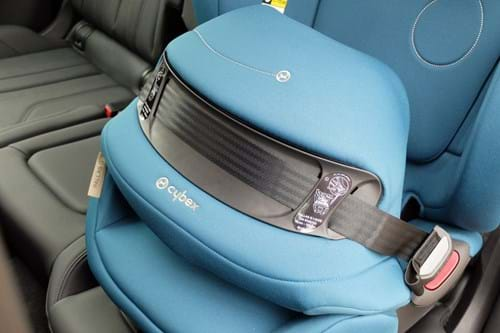 With Eden loving a snooze in the back of the car, her head often drops forward, but the simple yet clever headrest design of the Cybex means she can sleep with her head back, making it more comfortable for her and safer too, as her head is in the safety zone of the car seat. Combine this with the fact the Pallas can also be reclined and it is a great seat for sleepy kids.
Our tester Eden also loved the soft feel of the fabric and found the seat very comfortable, despite my concerns that the padding doesn't feel that thick in places. She did say she'd prefer it in pink though and was disappointed we didn't have the optional cupholder fitted. There's no pleasing kids these days..
What makes the Pallas G i-Size stand out is the impact shield - something that has become a Cybex trademark feature. Rather than having an integrated five-point harness, the Cybex has the impact shield, pictured above. You just sit this across the lap of your little one and strap them in using the conventional buckle system, which is a lot easier and quicker than a fiddly harness with straps going everywhere. They can then rest their arms on it, the only downside is persuading toddlers to resist the temptation of undoing it on the move, something which is harder with a conventional harness.
It also features an air ventilation system (it's basically holes in the plastic shell) that lets air flow through the seat to stop a build up of heat and a sweaty child, even on a hot day. Having tested it through the summer, it does actually make a difference.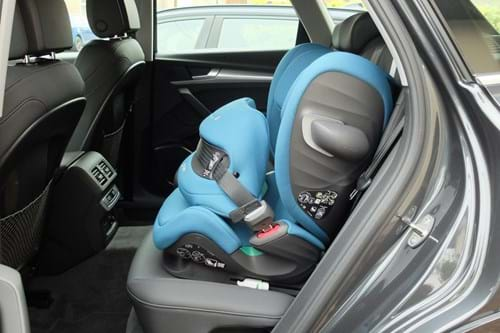 Should I buy one?
If you're after a robust and high quality Group 1/2/3 car seat then the Cybex should be top of your list. It's not a seat you want to be changing between cars very often due to its bulk and the top tether fitting, but if that's not an issue for you, then this will be an excellent and very safe seat for your little one. The usual solid Cybex quality runs throughout and the reclining headrest is an excellent feature which sleepy kids will love.
The Pallas is not a 360 swivelling seat (you'll need the Sirona S i-Size for that) and so getting a planking toddler in can be tricky, but it doesn't need as much room as a rotating seat as there's no support leg to worry about. Instead it has the top tether for security, making it handy for cars with limited room in the back.
But what really sells it for us is the clever impact shield. Not having to fiddle with the buckles of the usual five point harness is such a godsend and makes getting children in much easier and quicker. It's very simple to adjust too, so you know they are properly strapped in and safe. You just have to make sure they don't keep undoing it...
The Pallas G i-Size is reasonably priced at around £230 online which is cheaper than the Nuna MYTI and considering it will last your child till they are 12 years old, it looks impressive value for money. The Nuna MYTI does seem to be more hardwearing in terms of the material but the Cybex has the excellent impact shield and reclining headrest, features which win it points back.